Editor's Note: The views and opinions expressed in all blog posts are those of the authors and do not necessarily reflect those of the Redwood City Pulse or its staff.
This is a continuation of the introduction of the 'Simple Bus Shelter.'
---
The bus shelters in these pictures aren't that luxurious, but they do have features that are unheard of in San Mateo County. Most importantly, many of these features save money, create revenue and increase commercial opportunities.
But first, let's go back to our researchers from Utah and Arizona.
THE ROLE OF BUS STOPS: FIRST POINT OF CONTACT
"A bus stop functions as the point of first contact between the transit operator and the customer. To a potential rider, the characteristics of the stop send signals about how the agency sees itself and the value of its product. What do the various physical components of the stop communicate about the quality of the transit services being offered? If the features of the stop project an image of a bare-bones, minimal-investment style of service, that image is likely to be adopted by the riding public. If a bus stop offers a place of shelter and rest, the message is one of hospitality; that the transit agency cares about the rider's comfort. To someone who uses a mobility device such as a wheelchair, a stop with a concrete pad connected to the surrounding sidewalk network indicates the agency's intention to welcome such riders. The stop with no pad implicitly conveys that such riders are not accommodated. Intended or not, this can send a message of callousness or indifference on the part of the agency."
Now, let's look at these pictures from other continents, other countries, and other counties.
The first picture: this is what Stanford and the Valley Transportation Authority (VTA) are doing in Santa Clara County. It has no special features compared to SamTrans' bus stops. This looks hospitable, comfortable, and inviting. It seems very respectful to the customer. This sends a message of hospitality and the rider's comfort. This bus shelter has one luxury feature the SamTrans shelters won't have: ... a drum roll, please ... a trash receptacle.
The second picture: this bus shelter is in an urban area in Central America. It has all the usual amenities (roof, bench, lighting), but since it's along a busy road, everything is bigger. A lot of bus shelters in Central America have advertising of some kind. Some are pretty ugly; others blend nicely into the urban environment. Some have street food vendors nearby, so people can eat while waiting but still keep an eye on the bus stop. This bus shelter has one luxury feature the SamTrans shelters won't have: ...a drum roll, please ... a simple ADA ramp for wheelchairs.
The third picture: a more advanced version of a bus shelter in Central Europe. On top of all the amenities an ordinary transit agency would provide, this bus shelter had advertised for a bank and included an ATM. Over there, all train services and all bus services are connected through one scheduling and payment software. This works country-wide and often even across EU borders. All bus shelters have either a printed or a digital board to show the schedules. More and more show real-time information.
The fourth picture: Let's compare that to SamTrans' operating at a local high school and along a major transportation corridor where the city and the state want to push high-density housing. Everybody is crammed onto a narrow sidewalk beside a street where cars go 40-50 mph. Jeff Gee - the current Mayor of Redwood City - also happens to be on the Board of SamTrans. This is a city that pretends to understand Vision Zero, Transportation Equity, and promotes a strategy of Transportation, Children, and Youth. So how does his 'agency see itself and the value of their product'?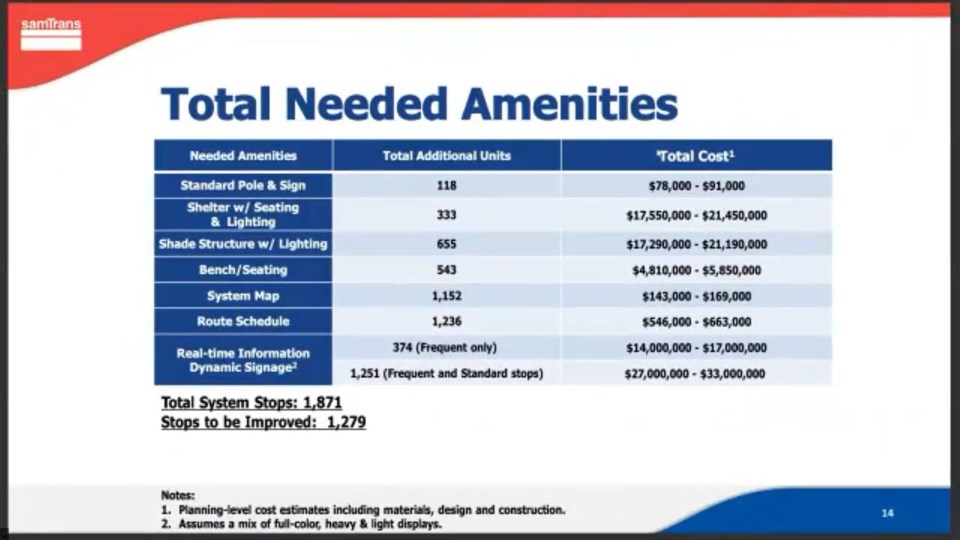 Red Flags at the SamTrans Meeting
Let's let that sink in: Redwood City promotes a strategy of Transportation, Children, and Youth, and yet this high school bus stop is the mayor's vision of customer service in Silicon Valley in the year 2023. SamTrans has several mayors, several county supervisors, and a few transportation experts on their board. Yet, nobody spoke up when they were introduced recently to a bus shelter vision that didn't include ADA compliance, didn't include Safe-Routes-To-Schools (SRTS), and didn't even include simple trash receptacles.
Let's just say that we would NOT fly with real transportation experts in many, many other countries or counties for that matter.
By the way, with $63,000 per shelter, those improvements seem alarmingly high. This could be similar to Caltrain's experimental train story, where they are just blowing through cash to make it look like there is a Fiscal Cliff and they need a bailout from the public. Or it is the Dumbarton Railroad pattern to move project costs out of reach and use the Fiscal Cliff excuse not to add bus shelters.
(By the way, residents and climate change would be ready now for the Dumbarton Corridor Bike/Ped path since there is no chance of a railroad there.)
Luckily, SamTrans seems to have a lot of cash to burn, with little concern for any cliff right now. They want to spend around $200M on two new office buildings, something that doesn't improve service nor ridership. Real transportation experts would prioritize sending a "message of hospitality and that the transit agency cares about the rider's comfort" and prioritize better bus shelters at more stops ... including trash receptacles.