The plans for the SR-101 high-occupancy toll lanes (HOT) project are promising to reduce traffic congestion (goal 1) and GHG emissions (goal 2). They also encourage carpooling (goal 3) and transit use (goal 4). The county gave itself a Sustainability Award because this project "reduced greenhouse gas emissions by 37,000 tons/year" by "encouraging carpooling and transit use and funding trails and open space projects."
These express lanes supposedly create enough revenue to finance operations and additional enforcement (goal 5). There is even money to allow for a Transportation Equity component to make up for all the damage this project does to low-income communities along this freeway (goal 6). After reading all the plans and marketing material, I am sure the project will also cure cancer.
Achieving all six goals would be outstanding! So why does nobody seem excited about this project?
There are plenty of people - with various backgrounds and from both sides of different aisles - griping about this project in various media outlets (StreetsBlogs, Palo Alto Online, SVBC, Nextdoor). To some, these HOT lanes create more congestion; rich people like the HOV part. Some call it a regressive tax, others say the public is charged twice through gas taxes and usage fees. Environmental groups don't seem to be believing the sustainability claims. Advocates say the Transportation Equity component lacks equity. And since none of the promised goals seems achieved, the project price of $600M feels excessive to everybody.
Why weren't promises kept? How many of the goals were achievable, and how many were achieved? The answer is hiding behind the math.
The [very] simplified math behind High-Occupancy Vehicle (HOV) lanes uses two main variables: the capacity of vehicles and the capacity of occupants these vehicles can transport. Let's say the ideal lane capacity for a multilane highway segment is something like 2,000 vehicles per hour. If these are all Single-Occupancy Vehicles (SOV), you can get 2,000 people through the corridor. On HOV 3+ lanes, the people capacity would be at least 6,000 people per hour. But if we think of HOV lanes as bus lanes full of commuter shuttles with 20-30 passengers each, this could be as many as 40,000-60,000 people per hour. Bus lanes are a very efficient use of space, and HOV lanes are all about making the best out of a limited and very expensive resource.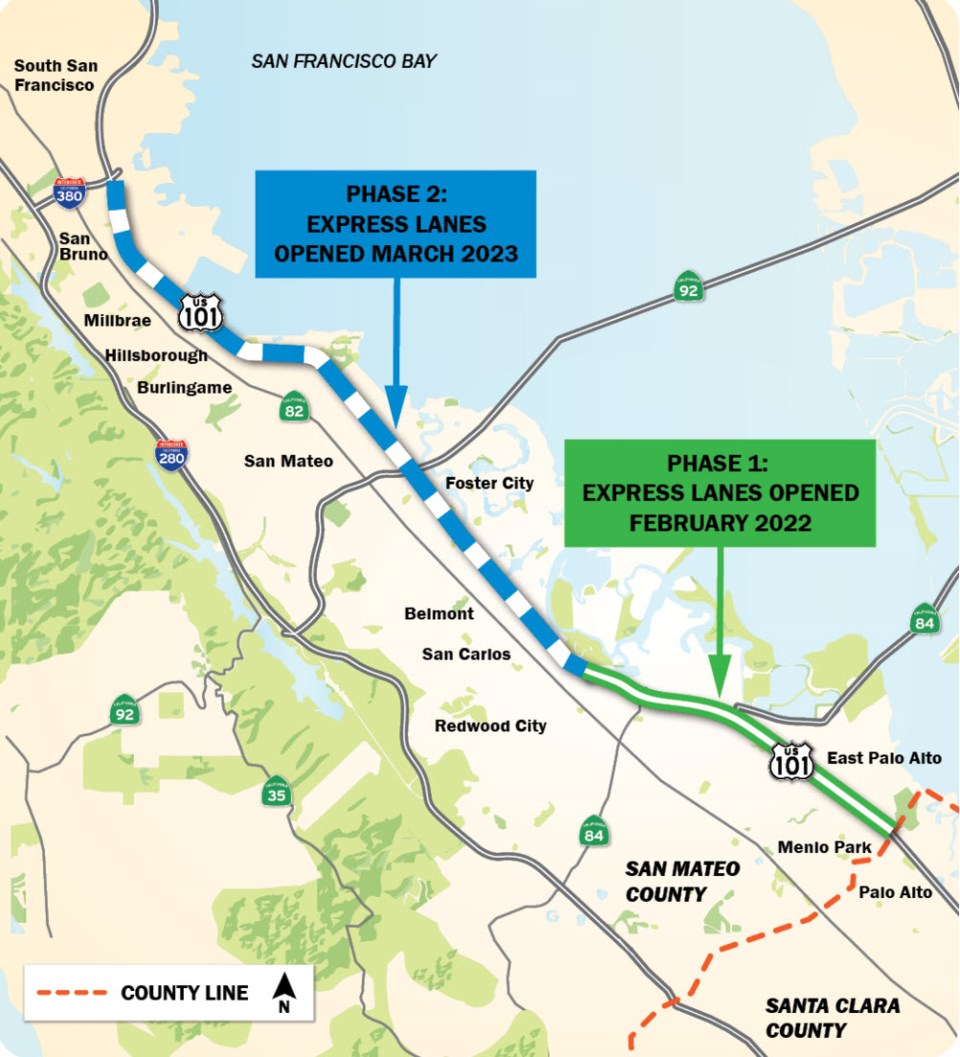 Of course, the project can't cure cancer, but it was also never supposed to be curing congestion either. Without congestion, there is no chance of achieving other goals, like encouraging carpooling and public transit. As long as free vehicle capacity is available, people stay with their SOVs. Only if traffic is stuck will people switch to carpooling or public transit. Congestion is required to make the HOT lanes successful; nobody would be willing to pay to use the express lanes.
Without congestion, there is no congestion pricing. If the project team was serious about the other five goals, they needed to create more congestion, not less. It wouldn't be a great political selling point, but it would be good governance.
This brings us to the two different ways to create carpool lanes. The first way is to transform a regular lane into a bus and carpool lane. Caltrans could have kept 4 lanes but transformed one from an SOV to an HOV 3+ lane. In theory, vehicle capacity, pollution, GHG emissions would stay the same, but people's capacity would go from 8,000 to 12,000 per hour. That's a win for people's capacity but does nothing for overall GHG emissions or pollution. At least GHG emissions per capita would improve a little.
But that is not what the project team did. They added another lane, meaning vehicle capacity is now at 125%, meaning GHG emissions, air pollution, and noise pollution also increased by 25%. But if there is more vehicle capacity, there is no need to switch to carpooling, public transit, or pay for express lanes. This highway widening already means 5 of 6 primary goals are unachievable.
However, highway widening or intersection improvements always have long-term adverse effects; a few years later, congestion becomes stronger than ever before. Before that happens, all the other goals are unattainable and the project is still a money sinkhole. And since a project like this sabotages Caltrain and SamTrans, every dollar of bailout money coming to Caltrain and SamTrans needs to be directly attached to the HOT lane project as well.
At this point in time, we can make the argument all goals of the plan were missed, and it will be hard creating enough revenue to pay for all the promises made. According to the plans, the project team was hoping for more revenue, but traffic starts backing up too fast meaning pricing becomes too steep really quick. That could mean that the initial project math was wrong or that there are already way too many carpool cheaters out there. And enforcing that requires much more manpower and money; money which the project doesn't generate.
It would seem that "griping" should be the correct response as 6 out of 6 goals aren't met, which is common when plans just muddle together some goals, because they sound good, instead on focusing on the goals that would be good and achievable.