TODs are all about creating compact, high density, multimodal, mixed-use developments within one-half mile of a transit station that maximizes existing infrastructure. The Sequoia Station Transit Oriented Development (TOD) narrative promises a new Transit Center, well integrated into downtown. A distinctive, unique and livable, well-scaled neighborhood with iconic architecture, and place-making. The promise continues with walkability, bikeability, and access on a human scale. There would be multimode transportation choice accommodating and promoting easy-to-use pedestrian, bicycle, shuttles, rideshare, and scooter-share connections.
The vision and the narrative of the project seems to be saying all the right things. But if Redwood City has the correct blueprints, why aren't designers following them? The current iteration of plans doesn't look like the Transformational Opportunity that has been promised. Not much Re-imagining has happened so far. Modern Urbanism would still find plenty of flaws with this project, like ...
Place-making
Good place-making requires making good space. And good space is space for people that live here; it's also about the people that are supposed to come here; it's also about the way we want them to come here. None of that has happened. This project seems to lack a central plaza. The real center is the intersection off Franklin Street and Hamilton Ave, and that one is for cars only.
Modal Filter
This project is in desperate need of some modal filters. It doesn't even have to be a big one. But to really be transformational, the inner sanctum of this neighborhood would need to be car-free.
Open Spaces
When a neighborhood goes higher density, a high density transportation focus needs to follow. This allows for some ground level open green space. Projects like this often promise lots of rooftop terrace space, but it's unclear if these would be open to the public.
Transit Orientation
European Cities are built around their plazas in front of railway stations, city halls, churches. One of the first things we notice about this TOD project is that the transit option becomes a sideshow - it moves north and replaces the Perry Ave Caltrain parking lot. It might not look like a 10 min walk to the new transit station would be a big deal, but if your car is just an elevator ride away, 10 min changes everything.
Bus Transit Center
The bus center is not that old, but a study did find plenty of safety flaws in the current design. For this reason, we can expect serious changes to the bus center. However, the buses are also not part of this project; they go around it. Because Public Transit is at the center of this project, we have heard little from Caltrain or SamTrans.
Pedestrian Friendliness
There might be some extra space given to pedestrians here. The walkable sidewalks (not sure what that means) are supposed to become a little wider to allow window shopping. The small plaza looks, in size, similar to the current space between a bagel and a coffee shop. If the project does add pedestrian space, it will probably go to shops and restaurants.
Bicycle Friendliness
The project does not add much for people on bicycles. Bicycles will not be tolerated on walkable sidewalks (now I get it; it means non-bikeable sidewalks). The project team is adding zero additional bike lanes. The project will not add bike lanes to El Camino Real or Broadway. All drawings are purely inspirational. During one of the iterations of the project, the bike lanes leading right through the center of the project disappeared. That street was supposed to connect the Elco Yards projects, the Franklin Street Apartments, and Sequoia Station TOD with the new Sequoia Station. That would be a one-mile bikeway connector stitching together three major housing projects, thousands of square feet of offices, shops, and the nearest Caltrain Station.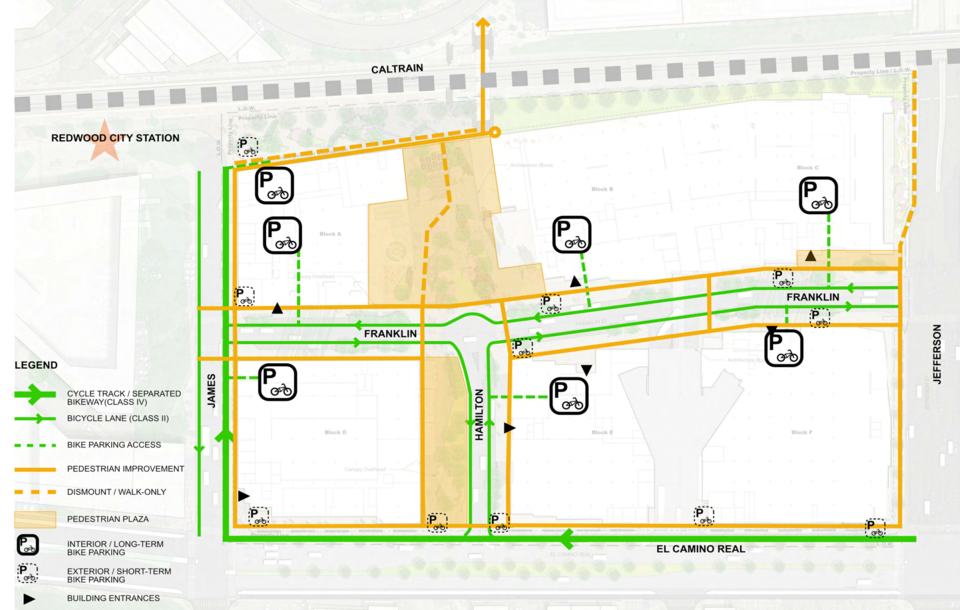 Safe Routes to School
I'm not sure why the project even mentions this. Due to school segregation in Redwood City, the neighborhood school for this neighborhood is 2.5 miles away. And school segregation is also the reason why there is no school bus option. Taking the regular bus requires a 20-minute combination of bus/walk, and 6-year-old children would have to learn how to do that on their own. This is an unlikely scenario since SamTrans isn't exactly known as a beacon of customer-friendly service. Because of this, parents will have to drive their children to school, and Safe-Routes-to-Schools becomes a moot point. Now, there might be an upgrade to James Ave to make it easier and safer for high school students to walk to Sequoia HS; however, that is not a certainty either.
El Camino Real
The city and C/CAG have been promising changes to The Grand Boulevard for at least 25 years. The last Grand Boulevard Progress Report is from 2013; nothing has happened since. This project will also not be adding progress to that report. The city will not start the process of taking over jurisdiction; there are also no plans to do so in the future. And Caltrans already communicated that they are not part of this project nor 'The Grand Boulevard Initiative' before 2028.
Overall grade for this project
This new neighborhood project has been passed through various committees and the City Council without receiving much scrutiny. And yet, it doesn't even pass the most basic of urbanism standards.
The original idea behind TODs requires to have a transit station in the center and shops, services, and housing surrounding it within a 2000-foot radius or 10-minute walk. Garbage trucks, delivery services, and parking are supposed to be moved to the edges of the project or underground - the top level must stay car-free. The added space is given to open spaces, green parks, and high-density transportation modes like walking, biking, buses, and light railways; it can also be used for businesses to better show off their goods; restaurants can use it to provide outdoor seating. Noise and air pollution are lowered; that is what people-centric design would look like.
Not many of the features that are usually common for TODs made it into the project. It adds several levels of parking spaces and even streets that don't exist yet. This plan will invite big and small delivery trucks and thousands of private cars right into the center. They bring noise, dust, car exhaust, GHG emissions, and traffic violence into the middle of what was promised to be a walkable, bikeable, livable, family-friendly neighborhood.
The current maps or circulation plans don't show any of this; it's a high-density housing project that doesn't add high-density transportation options. Even in America, these have become rare; the promised Transformational Opportunity has been missed.