In Sweden, Vision Zero works well as a methodology used for transportation safety; in Germany, it's mostly used for workplace safety. Both times the program successfully reduced the number of fatalities, serious injuries, and the associated cost. Other countries have created similar policies, and so has the UN. While San Mateo County was an early adopter, local success stories are rare.
While Zero might sound highly aspirational, Helsinki and Oslo have already achieved it with pedestrians in 2019. Both cities are the size of San Francisco, which had 29 traffic fatalities in 2019 and increased to 37 in 2022. Also moving in the wrong direction is San Jose, which had 61 fatalities last year. San Mateo County isn't faring better either, and according to data collected by the Statewide Integrated Traffic Records System (SWITRS), Redwood City is the most dangerous city for cycling in bicycle-averse San Mateo County. According to staff reports, Redwood City has an average of 1,100 collisions per year, 7.5% involving pedestrians and bicyclists (2010-2018). The 2018 Mobility Plan promises zero traffic fatalities and zero severe injuries by 2030, but no improvements have been made in the last five years.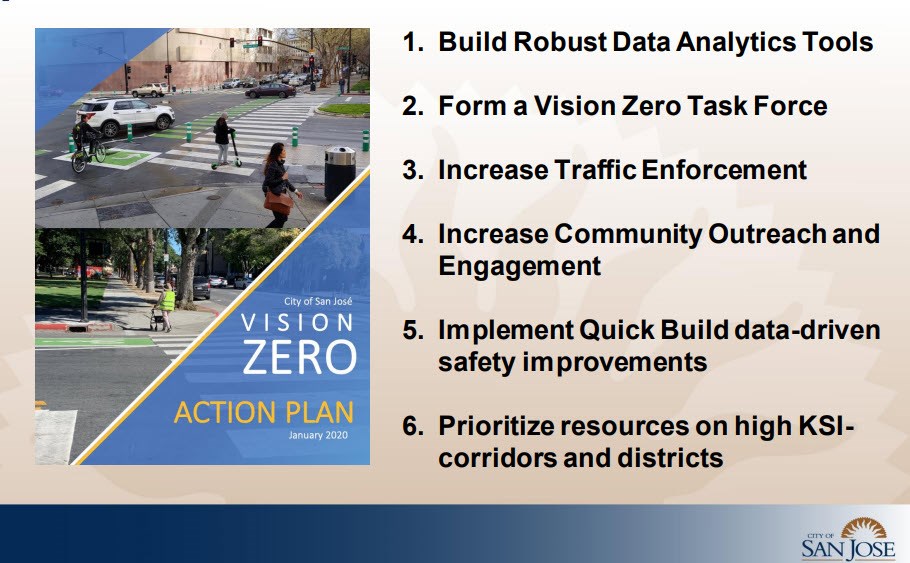 Last April was especially bad for the Bay Area's push for Vision Zero. In very short order, one resident was hit and killed in Redwood City while biking along Veterans Blvd. Another cyclist was hit where the county usually hosts Bicycle Sunday. Even a US cycling champion was killed in San Francisco's bicycle-friendly Presidio. In all three cases, traffic engineers signed off on the design; in all three cases, speed, distraction, and/or alcohol played a role; in all three cases, the motorist was at fault. And in all three cases, Vision Zero would blame the design, the engineering, and the motorist.
The Vision Zero philosophy does acknowledge that even with good intentions, people will still be making mistakes. Therefore, the philosophy puts the responsibility on the shoulders of professional city planners. Once you commit to Vision Zero, a city must build safety into all policies and projects. Those communities have success achieved that through modern design and people-centric engineering solutions. And while European traffic engineers are happily engineering away and trying new concepts, people-centric engineering still has no lobby in the Bay Area. Bay Area cities keep falling behind well-tested international standards because locally, city planners still see the car as king.
While local cities put a lot of time and effort into studies, surveys, outreach, and data dashboards, the engineering solutions aren't coming. This showed especially in 2020 when European Vision Zero countries saw fewer cars on the road, many also saw fewer car collisions. The same can't be said about the US. Wide roads with fewer cars led to more speeding and more crashes.
While the Europeans believe in the separation of speed and power as the number one Vision Zero solution, the US does not want to grant pedestrians or cyclists that separation, nor is there much interest in lower speed limits, not even for the most vulnerable: our school children. The State of California seems to provide most of the necessary tools, but local jurisdictions oppose most. AB321 (2008) or AB43 (2021) allows cities to lower speeds to 15 mph around schools. Fifteen years later, Redwood City schools still don't have these speed limits in place. The city could also benefit from having a Complete Streets group, meeting monthly and discussing only bike/ped projects.
And coming back to Old Cañada Road. Vision Zero would teach us to turn this into a recreational street, making hiking, biking and running the main form of transportation. A tree-lined street, Wild Turkeys, California Quails and our Crystal Springs Reservoir right next to it should only allow low-volume, low-speed, local traffic. There is already I-280 for fast traffic, which would allow to reduce car traffic to a bare minimum on this section. This would make it safer and more enjoyable for all the hikers, walkers, runners, avid cyclists, and families that frequent this stretch of nature instead of people-centric solutions. But the engineers give us the impression that the only thing missing is education. And yet, despite all our knowledge about drunk and distracted driving, people will still drink, eat, call, and text while driving. All three drivers from our earlier examples knew exactly they shouldn't drive drunk, distracted, and/or too fast, and yet all three did. The only thing that would have helped here was lower speed and more separation.