Imagine you hired and already paid a kitchen contractor; he comes back telling you he doesn't deal with appliances or electricity; he says he doesn't care much for cupboards and drawers either. And for all your money, you get a 3D simulation of what a modern kitchen could look like. Welcome to Vision Zero in Redwood City.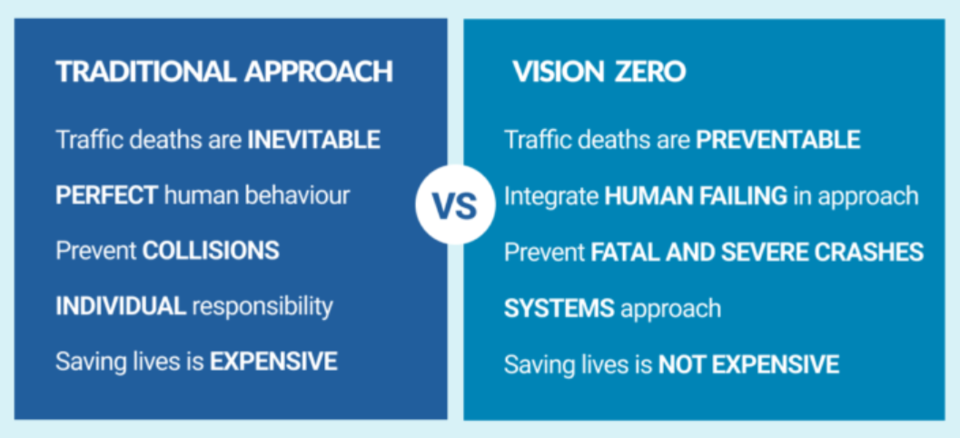 As mentioned before, Vision Zero works well in Sweden and Germany, because it's seen as a closed system. In a closed system, the responsibilities are clear, and no matter the solution, professionals are responsible for all of it. Successful Vision Zero cities have built people-centric safety into their policies and projects. Not so in America, where Vision Zero money is allocated at the traffic engineering level. Those departments put a lot of time, money, and effort into studies, surveys, data dashboards, and hardware upgrades, and then decide they don't want to be part of the solution. Their studies seem to lead to the conclusion that safety is more of an advertising problem. The pretense is that Education and Enforcement will eventually do the trick and increase safety. No systems, however, are in place to make that needed education happen. Elementary schools don't even provide the most basic traffic education; local high schools don't provide driver's ed anymore; Safe-Routes-To-School (SRTS) topics are constantly missing from city council agendas. It's assumed everybody magically knows all the laws and rules and always behaves accordingly. And that is exactly the Traditional Approach, which has already failed.
While European traffic engineers are trying new concepts to reign in drivers and provide more people-centric solutions at the same time, the most deployed traffic calming solutions in Redwood City are still the speed hump and the 4-way STOP. These, however, don't count as pro-pedestrian, pro-transit, pro-cycling, or Vision Zero solutions; these still center around cars. And car-centric, anti-auto solutions push the problem further down the road - it's just a game of Traffic Calming Whack-A-Mole. If expensive anti-auto solutions really are needed, the very least they should do is benefit other modes of transportation; they should incentivize people to switch. However, these incentives are not built into local project plans.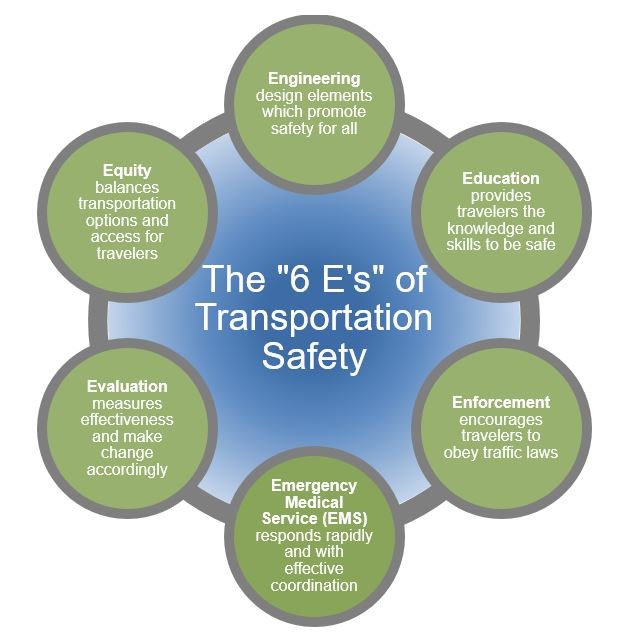 There is another problem with incentives in this system. Other safety initiatives use performance indicators and even a bonus-malus system. Why is funding going to a department that doesn't want to be part of the solution in the first place? And why do they get to keep the funding? If the city manager really thinks the solutions are within Education and Enforcement, then the Vision Zero funding needs to go to school districts and RCPD. Whoever promises and provides the best outcomes, should get the funding. Currently, traffic engineers really have no good reason to provide safety; less safety means more Vision Zero funding is coming in the future. A better incentive system would be to de-fund traffic engineering departments depending on safety-related outcomes. A company using Vision Zero would set up a bonus-malus system to ensure all participating parties are equally invested in the outcome. After a short while, either the safety numbers are improving, or the traffic budget will be taken to task; in both cases, the city and the residents win. Traffic engineering would quickly cut back on excuses and come up with faster, cheaper, more pragmatic solutions.
Modern design would replace the speed hump with a raised pedestrian crossing; the 4-way STOP would become a raised intersection; maybe a neighborhood roundabout would fit; speeds would be lowered and enforced via Automatic Speed Enforcement (ASE); lanes for cars would be narrowed to 9ft, which lowers speed and creates space for bike lanes. Historically, right-turn-on-red (RTOR) didn't deliver on its promises and has proven disastrous for safety; let's get it outlawed again. Residential parking gets organized to help instead of hurt a neighborhood. Chicanes and cobblestones can add beauty.
According to a recent Grand Jury report, not much of this is happening along the Peninsula. Redwood City isn't the only city still applying the Traditional Approach. The City of San Mateo adopted Vision Zero even earlier. In 2015, they claimed to be the third California city. But just in the last few months, city leadership promoted a very flawed approach to Vision Zero. In one meeting, their traffic team tried to make the case that raising speeds could lead to more safety; in another meeting, the Mayor argued to remove bike lanes in an Equity Priority Area, with the reasoning that the city does not have a safe bicycle network anyway. It's not hard to see how both projects reduce safety, could lead to more collisions and would, therefore, violate Vision Zero policies. And it's also not hard to see that San Mateo city leaders only tried to help cars here; it looks like they want them to drive faster and provide more free car storage.
Redwood City staff excused their status of being the worst offender in San Mateo County because this city has more bicyclists and pedestrians and transit users, a higher concentration of activity around El Camino Real, a larger equity priority area, and more households without vehicles than other communities. And only five traffic officers to provide education and enforcement [ ... because of decisions like buying more military equipment and license plate readers].
And somehow, all these excuses led to the conclusion that Redwood City can get away with doing less in regard to Vision Zero. No bike lanes, no bus shelters, and no transportation equity will be coming. Or in other words, for that to be fixed, we would need to hire a different kitchen contractor, this city council won't be helping.
Bay Area cities keep falling behind well-tested international standards because city planners still see the car as king and see no need to switch locally. A stricter, performance based system would lead to safer decisions at city halls in San Mateo County.