The first ship in America made from concrete was built in Redwood City.
During WWl there was a need to build durable ocean-going ships in a short amount of time.
Enter Mr. William Leslie Comyn, a successful businessman and shipbuilder. A forward thinker, Comyn favored deploying ships made of concrete. He attempted to convince the USSB (United States Shipping Board) to build concrete ships.
He suggested concrete was more flexible than steel and could better stand the stress of duty on the open sea. Also, concrete would be less likely to sustain a hole in the hull.
Another advantage was it took less time to construct a concrete ship. This was an important factor during the war. Plus, the cost was much lower than a steel ship.
To his dismay, Comyn was unsuccessful in his effort to convince the USSB.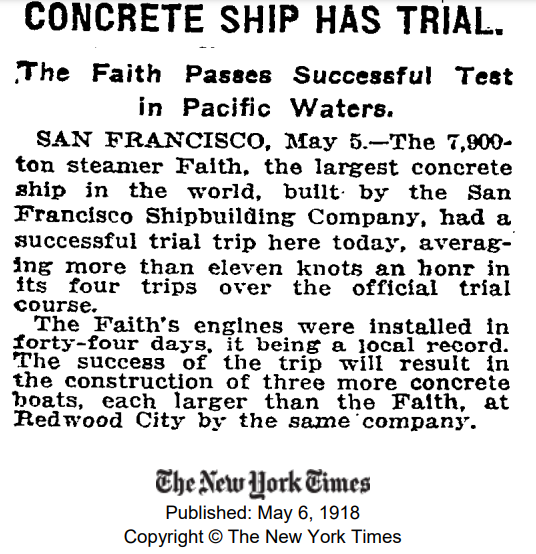 A Determined Man
Not to be deterred, he decided to create his own company, which he called The San Francisco Shipbuilding Company.
Comyn commissioned Alan Macdonald and Victor Poss to design the first concrete ship in America- the SS Faith. Construction began Sept. 17, 1917.
Built on Redwood Creek, the ship was completed Feb. 26, 1918. It was 336 feet long, just over the length of a football field. Power came from two triple expansion steam machine engines, which generated 1,760 pounds of horsepower. Ship speed was 10 knots with a load capacity of 8,000 tons.
In March of 1918, the SS Faith was successfully launched from Redwood City, becoming the first concrete ship in America. Upon hearing of this President Woodrow Wilson approved the Emergency Fleet Corporation program which was designed to build 24 concrete ships.
However, only 12 ended up being built. Plus, by the time they were ready, the war had ended.
As for the SS Faith, it was used to haul various materials worldwide until 1921, when it was decommissioned in Cuba. In 1926 it was broken up.
Everything else is just history
Some of the photos used in this blog are courtesy of the Local History Room, Redwood City's best-kept secret. The Local History Collection covers all aspects of Redwood City's development, from the 1850s to the present day, with particular emphases on businesses, public schools, civic organizations, city agencies, and early family histories. The Local History Room is not affiliated with the Redwood City Public Library, but it is inside it.