El Camino Real (The Kings Highway) stretches for roughly 800 miles through the Golden State. It's also known as the Mission Trail, referring to the many missions founded initially by Father Junipero Serra.
No doubt you have seen signs along this historic route in the shape of bells with the words "El Camino Real" on them. Have you ever wondered how they came to dot California's north/south artery?
Here's the story…
In 1892, Anna Pitcher, an enterprising and civic-minded woman, was looking for a way to promote what she felt were treasures in California. She especially wanted to preserve its Hispanic heritage. She decided El Camino Real was the perfect venue to advance her vision, as it was the link to the missions, which she saw as connecting points.
She put a plan together and presented it to the General Federation of Women's Clubs and the Native Daughter of the Golden West. It was well received.
However, in 1902 she became ill.
She discussed her vision with a friend named Harrye Rebecca Piper Forbes, who was happy to run with the project. Forbes spent the ensuing years marking specific locations along El Camino Real.
These women's clubs became the driving force to promote "El Camino Real" as the route's name. Before this effort, it was known as Route 2. By the end of 1920, you could drive from San Diego all the way to Sonoma. Route 2 later became formally known as Highway 101, in addition to El Camino Real, or as some called it, the Mission Trail.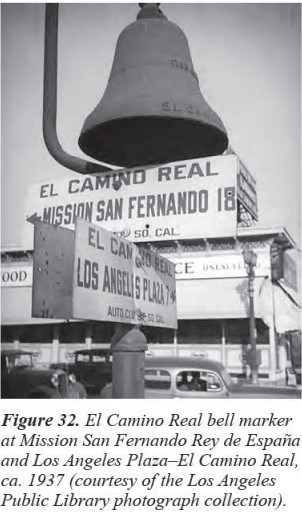 The first bell sign was installed in 1906 in Los Angeles. By 1920 over 400 signs had been placed along El Camino Real. Eventually, in addition to being placed along Highway 101, signs were installed along routes 82, 37, 121 and 12.
Over time the signs were not maintained and were vandalized, and steadily fell into disrepair. The damaged signs were not replaced.
However, in 2001 Caltrans began a project to re-establish these historical markers along the Mission Trail. By 2006 their numbers surpassed 500, reminding every passerby of California's rich Hispanic history.
Everything else is just history
Some of the photos used in this blog are courtesy of the Local History Room, Redwood City's best-kept secret. The Local History Collection covers all aspects of Redwood City's development, from the 1850s to the present day, with particular emphasis on businesses, public schools, civic organizations, city agencies, and early family histories. The Local History Room is not affiliated with the Redwood City Public Library, but it is inside it.