When US involvement in World War l became imminent, the government went on a crash course for a location to house thousands of able-bodied men for military training. In addition to being large enough, the site needed to be within manageable distance of San Francisco.
The choice ended up being Menlo Park. Aside from a suitable location, the climate was considered excellent.
Once Menlo Park was selected, construction began in July 1917, and the small Peninsula town of 2,300 was completely transformed. Spur tracks were laid and connected to additional tracks to supply warehouses with necessary materials. Thousands of carpenters were employed, and within weeks the town of 2,3000 had exploded into tens of thousands. Over 1,100 structures were put up; almost all were temporary.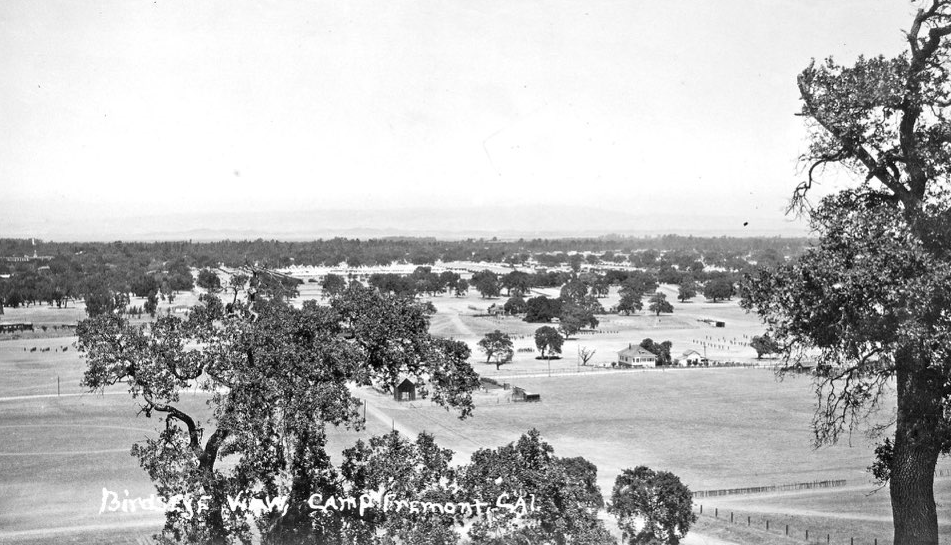 El Camino, which was pretty much a muddy dirt road, was paved and became a busy thoroughfare. Other streets were repaired and resurfaced. Sewers were installed. Existing buildings and businesses along El Camino were repainted and resurfaced to keep pace with the upgrades.
County Supervisors established a five-mile "dry zone" around the camp, preventing liquor sales. Beltramo's winery was required to suspend operations.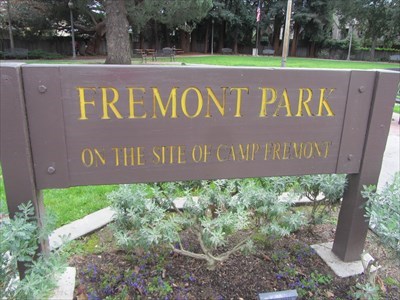 Miles of trenches were dug and subsequently blown up to train soldiers to protect themselves in combat. Some of this was done on today's Stanford Linear Accelerator site. Long lines of infantrymen became a common sight around the transformed town. Today's Stanford Golf Course was where the artillery regiment was located.
Camp Fremont, as it was named, ended up housing some 43,000 would-be soldiers, who were trained and then sent off overseas. Stationed there during its existence were the National Guard's 41st Infantry Division, the 12th Infantry, the 8th Infantry Division, and the 332nd Auxiliary Remount Depot, which was used to procure, organize and train horses and mules. Altogether over 5,000 were trained there.
After the war, the Army ordered the camp closed. Some local businesses that serviced the camp remained open subsequent to the camp's closure.
Menlo Park got its first paved streets, along with its municipal gas and water supply, during the existence of Camp Fremont since the Army constructed them.
The camp hospital became the VA Hospital after the war.
Two once popular restaurants (MacArthur Park and the Oasis), which have closed, were located in buildings that were part of Camp Fremont.
Looking at Menlo Park today, it seems almost impossible to envision the majority of today's affluent suburban city, full of millionaires, was once an army camp.
MacArthur Park restaurant, which began operations in 1981, was closed during Covid but has since reopened.
Everything else is just history
Some of the photos used in this blog are courtesy of the Local History Room, Redwood City's best-kept secret. The Local History Collection covers all aspects of Redwood City's development, from the 1850s to the present day, with particular emphases on businesses, public schools, civic organizations, city agencies, and early family histories. The Local History Room is not affiliated with the Redwood City Public Library, but it is inside it.