This is a story of what became two churches. We'll focus on one in this writing.
In 1853, a young Irish immigrant named Dennis Martin founded the very first church in what would officially become San Mateo County three years hence in 1856.
Martin, born in 1821, of Irish descent, joined his father and several other Irish pioneers in 1844, crossing the U.S. and heading to California. They followed the same route as the infamous Donner Party and are credited with being the first to successfully cross the Sierra Nevada Mountains. Legend has it that they were also the first white men to see Lake Tahoe.
Upon arriving on the Peninsula, Martin worked in the lumber industry, which was booming at the time. He married Bridget O'Neil, the daughter of a fellow Irish immigrant.
Once he saved enough money, he acquired almost 2,000 acres of land and built several lumber mills. He purchased a schooner he named "Mary Martin," and became wealthy by shipping lumber to San Francisco.
Martin attended church regularly.
Since there was no Catholic Church between San Francisco's Mission Delores and Mission Santa Clara, he built a church for his family and travelers between San Francisco and the South Bay.
The altar had six silver candlesticks and a beautiful crucifix made in France. St. Denis Parish got its name from the patron Saint Denis. It was also to honor its founder, Dennis Martin. It became home to roughly 50 families after its official dedication in 1856. Some of them walked from Redwood City.
Unfortunately, a court decision determined the property he owned, in fact, did not belong to him. This decision drastically changed Martin's life. He was forced to give up his home, lumber mills, and church.
St. Denis became neglected not long after the Church of the Nativity was founded in 1872.
Martin moved to San Francisco in 1882 and remained there until 1890, when he died. A marker was placed on Sand Hill Circle about the church and adjoining cemetery.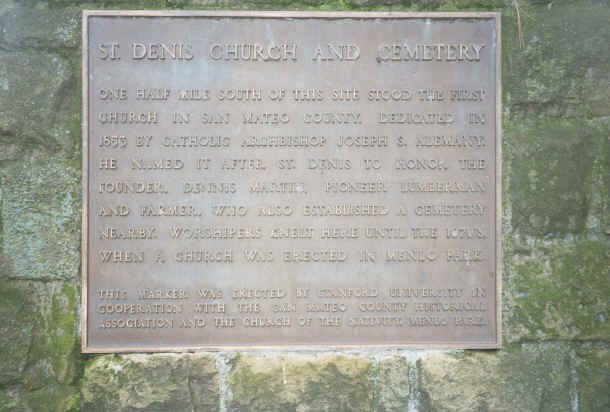 By the turn of the century, the church was torn down.
Leland Stanford acquired Martin's land, and the story of St. Denis seems to end. Not quite.
St. Denis came alive once again in 1959 when the Archdiocese of San Francisco purchased 14 acres in Sharon Heights. This site became an activity center for events and education.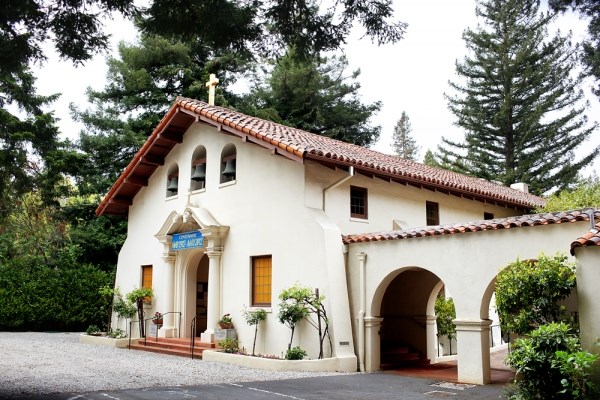 A St. Denis Church was opened in June 1963 in downtown Menlo Park.
In 1995, the Archdiocese decided to merge St. Denis Parish and Our Lady of the Wayside. The newly created Parish would maintain both churches.
The original candlesticks and crucifix from St. Denis can be seen today at the Church of the Nativity in Menlo Park.
Everything else is just history
Some of the photos used in this blog are courtesy of the Local History Room, Redwood City's best-kept secret. The Local History Collection covers all aspects of Redwood City's development, from the 1850s to the present day, with particular emphasis on businesses, public schools, civic organizations, city agencies, and early family histories. The Local History Room is not affiliated with the Redwood City Public Library, but it is inside it.