One of the most popular film series over the years has been the Tarzan films. Several actors have played the role of Tarzan. Moreover, several actresses have played the role of Jane. The eleventh actress to play said role of yesteryear was Joyce MacKenzie, in the 1952 release of Tarzan and the She Devil, opposite Lex Baxter as Tarzan. The daughter of Dr. & Mrs. Norman MacKenzie, Joyce was a very active gal. In fact, she actually worked in shipyards as a carpentry helper during WWll.
She unexpectedly got "discovered" while working as a cashier in Southern California at the Pasadena Playhouse. While not rising to the top of Hollywood stardom she had a fair amount of silver screen time. Her film career consisted of 22 films, seven of which were uncredited roles.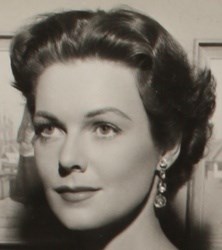 She appeared with several major Hollywood film stars including James Stewart in the 1950 film "Broken Arrow." She also played the wife of Robert Mitchum in the 1961 crime drama "The Racket." Another big star she shared the silver screen with is Humphrey Bogart in the 1952 film "Deadline USA."
However, her biggest role was as Jane in the 1953 film "Tarzan and the She-Devil," opposite Lex Baxter.
MacKenzie also did some television, starring as Nancy Gillman in a 1961 episode of Perry Mason.
After her acting career, she became an English teacher.
Joyce MacKenzie was a local gal, and a Sequoia Cherokee, graduating from San Mateo County's oldest high school in 1943.
She died June 10, 2021, in Hollywood. She was 95.
Everything else is just history
Some of the photos used in this blog are courtesy of the Local History Room, Redwood City's best-kept secret. The Local History Collection covers all aspects of Redwood City's development, from the 1850s to the present day, with particular emphasis on businesses, public schools, civic organizations, city agencies, and early family histories. The Local History Room is not affiliated with the Redwood City Public Library, but it is inside it.