It was early summer 1970, and school was about to get out. I was poolside with friends at a house in Woodside, which subsequently would be purchased by Joan Baez. We were discussing how to spend the summer. Someone suggested we drive across the country to New York City. We agreed this sounded like fun.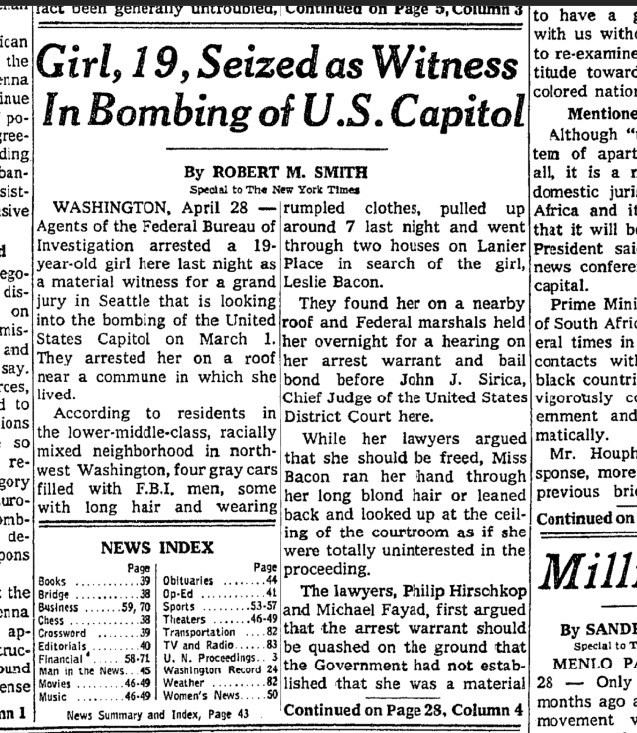 None of us had a vehicle that would suffice, so we hatched a plan. We went to Stanford University's Student Union. On the wall was a large United States map with notes in various geographic locations. We found a note from someone who had a new car and needed it driven from Stanford to Larchmont, an upscale suburb of New York City. We made contact, and bingo, we had our vehicle! He even agreed to repay us for all the gas. Far out!
Less than a week later, four guys and one gal were on our way across the country.
Once we arrived in the Big Apple, we had a place to stay arranged by Bob Glessing, a journalism professor at Cañada College. We spent a couple of weeks exploring the city that never sleeps. While there, we attended the premiere of "Woodstock," the film. Everyone in the theater had been to the event, so it was a unique experience.
Eventually, each of us went our own way. I returned to the Bay Area.
Media Headlines
The gal in our group, Leslie Bacon, remained in NYC. She got involved with some pretty serious radicals. In April the following Spring she was arrested. Her arrest attracted national attention. Why? Before her arrest, a bathroom in the Nation's Capital in Washington D.C. was damaged by a bomb blast. Leslie had been hanging out with people who were suspected of the bombing. While not being accused herself, she was arrested as a 'material witness,' which suggested she had valuable information the authorities wanted. She was detained because they felt she would flee if they released her.
Meanwhile, back at Cañada, I was teaching a couple of special classes. When Leslie was arrested, the Cañada campus became 'ground zero' for local and federal authorities and local, national and international media. The campus was abuzz.

While talking about Leslie, someone tapped my shoulder, asking if I knew her. I said I did. He was a journalist and asked if I would answer some questions on camera. I agreed. He took me out into the parking lot with his cameraman, stuck a microphone under my chin, and began interviewing me.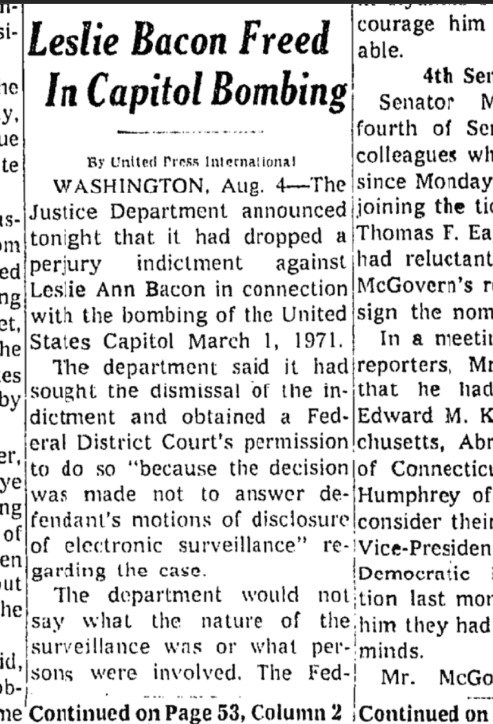 Once done, I asked what he intended to do with the recording. He said, "Turn on the ABC Network News, you'll be on." Sure enough, the next broadcast of ABC's Network News with Harry Reasoner and Howard K. Smith had yours truly front and center talking about Leslie.
Needless to say, my parents were less than thrilled to see their son on nationwide T.V. talking favorably about this girl that was branded as a radical. My poor mother got lots of heat from her friends.
In the meantime, Leslie was put on trial as a witness. It was a nationwide headline story for days. With all the publicity, she became somewhat of a 'celebrity.'
John Lennon
With all the publicity she received, John Lennon, who was living at the Dakota in New York City and quite a radical himself, befriended Leslie. She became so well-known when people saw her walking around with John and Yoko they would come up to them and say, "Hey, are you Leslie Bacon?" while she was with John Lennon!
Almost a year went by, but finally, it was ruled she had been illegally held since she was a witness and never formally charged with a crime. She did pay me a visit when she returned to the Bay Area.
Her family lived in Atherton and her father was quite successful. However, her arrest was costly in many ways for the Bacon family. Her father had to change careers and practically start over again. While it was a difficult period for Leslie and her family, she put it behind her and went on with her life.
When Joan Baez purchased the house from my friend, I was fortunate to meet her and spend some time with her. Her husband, at the time, David Harris, was in prison for draft evasion. Joan had just recently given birth to their son Gabriel. The time spent with Joan was memorable.
Needless to say, this left some vibrant memories…
Everything else is just history
Some of the photos used in this blog are courtesy of the Local History Room, Redwood City's best-kept secret. The Local History Collection covers all aspects of Redwood City's development, from the 1850s to the present day, with particular emphasis on businesses, public schools, civic organizations, city agencies, and early family histories. The Local History Room is not affiliated with the Redwood City Public Library, but it is inside it.