Along Middlefield Road at the intersection of Linden Avenue stands a portal to the past of the affluent community of Menlo Park. It's a large ornate gateway to the community of Lindenwood.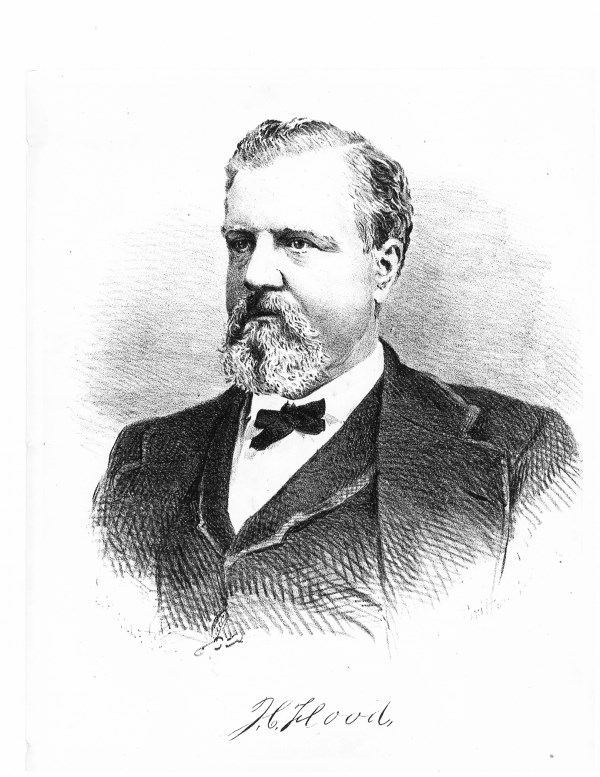 It's also where a massive ornate mansion owned by James Flood once stood.
His rise to wealth began modestly when he opened a saloon on Washington Street in San Francisco in 1857. A year later, he sold the saloon and became a stockbroker. After silver was discovered in Nevada, he began investing in mining stocks. By 1878, Flood amassed a fortune from the Nevada Comstock and was nicknamed "Bonanza King." He built a large home in San Francisco.
Many wealthy San Franciscans of his era wanted to escape from big city hecticness, so they came down the Peninsula and built summer homes, which also afforded them the ability to escape the typically cold climate of the city. Flood decided on Menlo Park.
His considerable wealth afforded him the luxury of indulging in the best of everything for his dream home, which sat on an expansive 600-acre tract.
Construction of the mansion took three years, which tried Flood's patience more than once.
Rare, beautiful woods were used that came from faraway places. Valuable art treasures from the Orient and Europe were acquired and brought in. Italian masters were hired to paint exquisite murals and frescoes. Crystal chandeliers were explicitly designed for the three story mansion. Copper and bronze work were visible everywhere.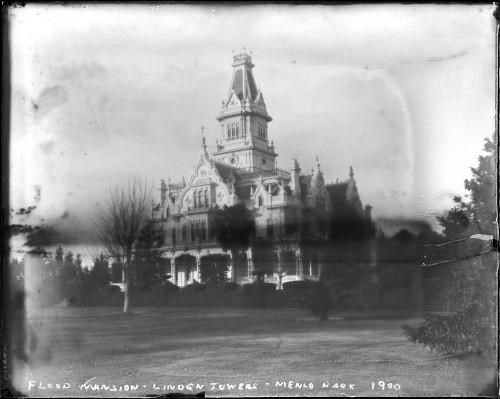 A beautiful swimming pool and a large reflection pool complimented the overall luxurious look of the entire estate.
The 40-room house was three stories tall, with 18-foot ceilings and included an elevator. Lavishly decorated bedrooms, a vast game room including a billiard table, several dining rooms, a library and a grand smoking room made Flood's home a showplace.
In addition, the property had 26 acres of lush lawns, which took no less than three days to cut with horse drawn mowers. The estate also included a racetrack which Leland Stanford enjoyed. Two lavish barns, outfitted with rare woods, sat next to the racetrack.
All in all, the estate named Linden Towers, aka Great White Castle, was widely considered the most lavish home anywhere.
In 1880 when the home was completed, President Ulysses Grant paid a visit. A tree was planted and still exists on what is now Flood Circle. In 1991 it was given the very first Atherton Heritage Tree Award.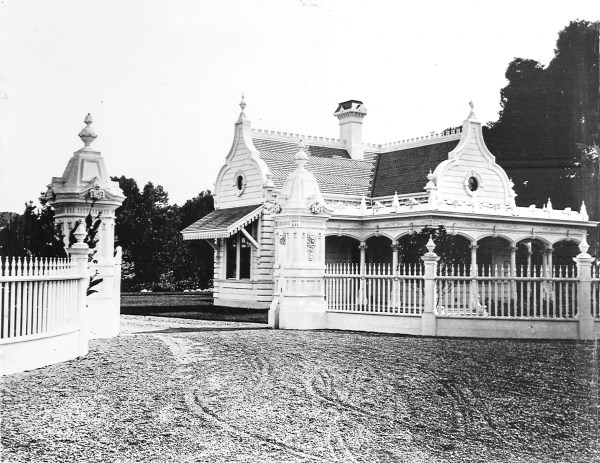 Flood was able to enjoy his opulent residence for less than a decade, passing away in 1889. However, his family continued to live there until 1934. At that point, everything inside was auctioned off, and in 1936 the once magnificent mid-Peninsula castle was destroyed.
Today all that remains of the enormous estate are a couple of gates and fountains. The red brick wall that once bordered it still stands along Middlefield Road.
Four hundred eighty homes, many quite large themselves and individually worth millions, now sit on the land once entirely owned by one man.
Everything else is just history
Some of the photos used in this blog are courtesy of the Local History Room, Redwood City's best-kept secret. The Local History Collection covers all aspects of Redwood City's development, from the 1850s to the present day, with particular emphasis on businesses, public schools, civic organizations, city agencies, and early family histories. The Local History Room is not affiliated with the Redwood City Public Library, but it is inside it.