Author Jack London is very well-known. He penned numerous novels, including "The Call of the Wild," "The Sea Wolf," "White Fang," and many more. Quite a few of his novels were made into films.
Places London is generally associated with include Glen Ellen in Sonoma County, where a park is named after him, Oakland where Jack London Square is located, the San Mateo coastal area, where his stepfather lived for many years, and Livermore, where Jack himself owned an 87-acre chicken ranch. Unfortunately, an epidemic killed the chickens in 1884 and he lost the ranch.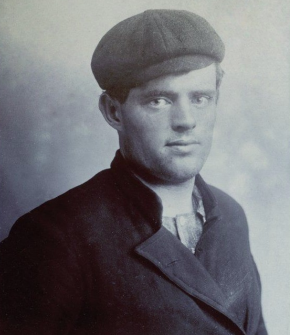 One place people hardly ever associate London with is the Peninsula.
Just a five minute jaunt from Redwood City is Belmont, which for a very short time in the 1850s was the San Mateo County Seat.
London's association with Belmont was short and for him personally unpleasant. He worked long hours in the laundry room at the Belmont Academy, making $30 per month for his efforts.
He also docked his first boat "Razzle Dazzle" at the Belmont slough sometime later.
The Belmont Academy is long gone. The property which was located at the intersection of Ralston and Alameda de las Pulgas was purchased in 1918 by the Catholic Archdiocese of San Francisco. It became St. Joseph's Military Academy.
The Immaculate Heart of Mary's Church opened its doors there in 1952, replacing the academy.
Today's Carlmont Village Shopping Center across the Alameda took over the other half of the same property.
One of London's novels, "Martin Eden," is said to loosely chronicle his less than rewarding time working at the academy.
At the close of the 1897 spring session of the Belmont Academy, Jack London left Belmont never to return.
London, who lived a hard life passed on at the young age of 40 in Glen Ellen.
The rest is just history
Some of the photos used in this blog are courtesy of the Local History Room, Redwood City's best-kept secret. The Local History Collection covers all aspects of Redwood City's development, from the 1850s to the present day, with particular emphasis on businesses, public schools, civic organizations, city agencies, and early family histories. The Local History Room is not affiliated with the Redwood City Public Library, but it is inside it.