Redwood City had a world-class flying ace.
As the twentieth century unfolded technology began up ticking at an ever increasing pace. In particular, man was taking to the skies, and Redwood City proved to be a desirable location for flying enthusiasts.
At the city's southern end a large swath of land became a hub for airborne activity. The area was known as Sweeny Ranch. Part of it included Lynch Field, which was located on land that eventually became AMPEX Corp, known for its own 'groundbreaking' accomplishments.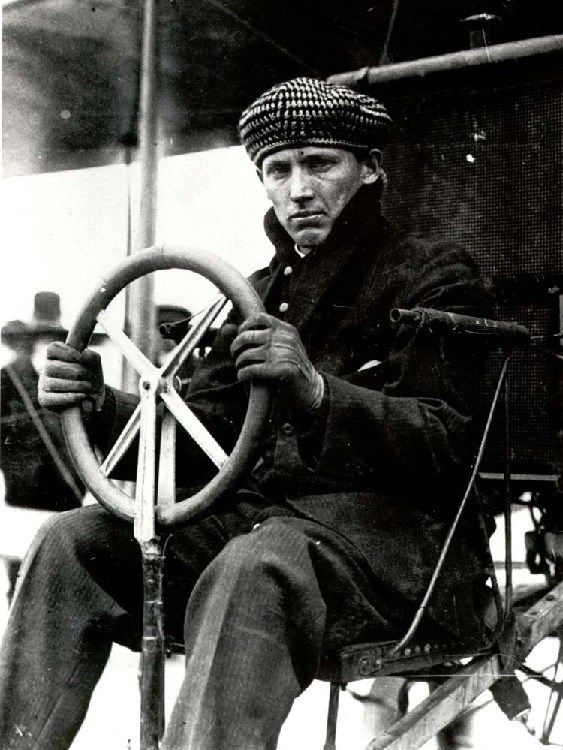 Silas Christofferson
Lynch Field was named after Michael Lynch, who bought part of Sweeny Ranch to establish a nursery. Lynch died in 1905, and the land was sold. Enter Mr. Silas Christofferson, who came to California with his family at age six. Christofferson was well-known and a highly innovative pilot. Among his accomplishments were flying boats, which eventually became known as seaplanes.
He also flew for Pancho Villa's army in 1915.
With the help of the Redwood City Chamber of Commerce, Christofferson established a flying school in 1916. With WWl raging in Europe, he had a grand vision of establishing a manufacturing facility for military airplanes, with specialized engines.
Sadly his vision was cut short. On Oct. 31, 1916 while test flying a military plane he had designed, the engine stalled. The plane nosed dived straight down and crashed, taking his life. His death was felt throughout the aviation industry worldwide.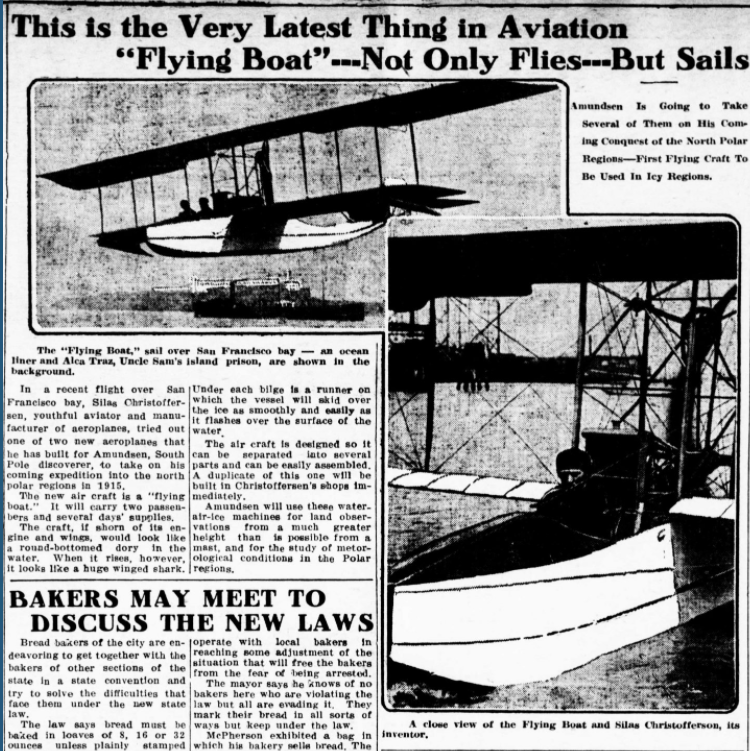 Christofferson's head trainer, Frank Bryant bought the property and renamed it Redwood City School of Aviation. His ownership however was short lived. In 1919 Walter Varney purchased the property. Varney owned other airfields in the San Mateo area. He ran an air taxi service and became one of the most prominent airmail contractors of the early twentieth century. Varney also shipped flowers from Redwood City's greenhouses.
The United Connection
He developed a sizeable organization and ultimately established headquarters in Boise, Idaho. In 1930, he sold Varney Air Group to United Aircraft & Transport. In 1933 United Aircraft & Transport changed its name to United Airlines.
Varney was also involved in the founding of Continental Airlines.
Eventually, the land in Redwood City was sold to developers who built Sweeny Ranch Subdivision, which later included Friendly Acres, Belle Haven and Dumbarton Acres.
The rest is just history
Some of the photos used in this blog are courtesy of the Local History Room, Redwood City's best-kept secret. The Local History Collection covers all aspects of Redwood City's development, from the 1850s to the present day, with particular emphases on businesses, public schools, civic organizations, city agencies, and early family histories. The Local History Room is not affiliated with the Redwood City Public Library, but it is inside it.