In 1895 something groundbreaking—at the time—took place in Redwood City. The very first high school between San Francisco and San Jose opened. It was a building block in the development of the Peninsula. The school was established as a result of meetings between parents from seven elementary school districts which took place the same year. Formed as a preparatory school to feed Stanford University, which opened in 1891, it was called Sequoia Union High School.
"Sequoia" has a Cherokee origin meaning "giant redwood tree." The name honors the legendary Cherokee - Sequoyah, who is credited for being the first person in history to create a written language alone, without being literate in another language. His creation was the Cherokee syllabary, which is a list of syllables representing unique sounds in the Cherokee language. In Cherokee, his name is "Sikwayi." He was also known as George Gist, after his probable father, a Virginia fur trader named Nathaniel Gist.
The First Classes Begin
The new high school began classes on the third floor in the Redwood City Grammar School building located on Broadway near Middlefield Road, with an enrollment of 53 students.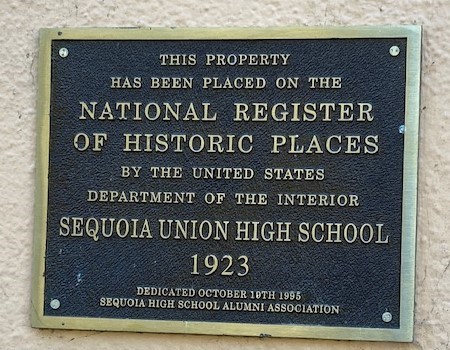 In 1904 a new campus was built down the street. It was heavily damaged in the 1906 earthquake, however, after needed repairs, it continued to house Sequoia High School for another eighteen years.
A Beautiful New Campus
A growing population necessitated a larger facility. In 1920 the widow of Albert Pissis, (then-current property owner) agreed to sell the land on the condition it would be used for municipal educational purposes. Prior to this, the land belonged to the Arguello family. Then it was sold to Horace Hawes, who built an estate on the property. Subsequent estate owners included Moses Hopkins and William Dingee, the property's last private owner before it became municipal property.
The sprawling new campus opened its doors in 1924. At the time, it was considered one of the most beautiful high school campuses in the state.
Such is the case almost 100 years later.
In 1995, Sequoia was placed on the National Registry of Historic Places.
Everything else is just history
Some of the photos used in this blog are courtesy of the Local History Room, Redwood City's best-kept secret. The Local History Collection covers all aspects of Redwood City's development, from the 1850s to the present day, with particular emphases on businesses, public schools, civic organizations, city agencies, and early family histories. The Local History Room is not affiliated with the Redwood City Public Library, but it is inside it.
Editor's Note: A previous version of this story incorrectly stated the date the school was placed on the National Registry of Historic Places.