Would you like to be under the sea in an octopus garden? Scientists have solved the mystery of why thousands of octopi gather off the coast of central California to nest, but the story reminds us how little we really know about the deep sea floor and the animals that live there.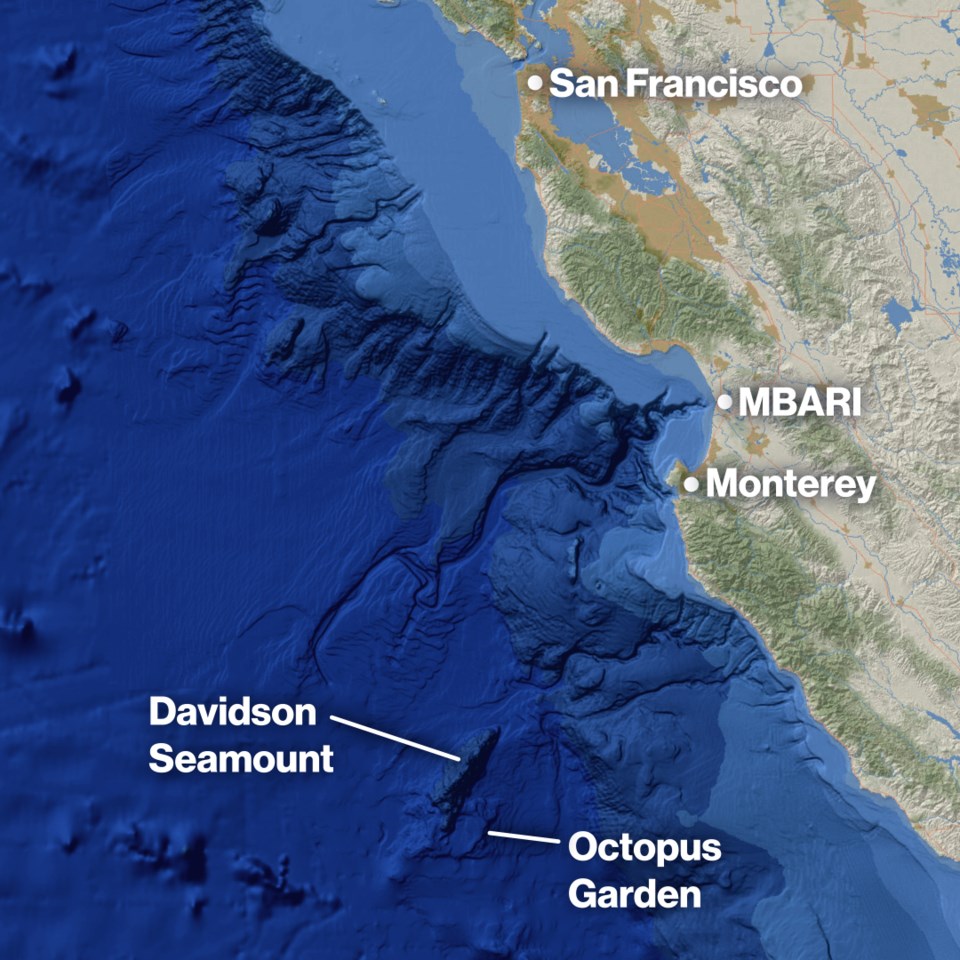 Almost 80 miles southwest of Monterey, and two miles below the surface, an estimated 20,000 or more Muusoctopus robustus (nicknamed "pearl octopus" because when nesting, they look like pearls) are nestled into nooks and crannies on the sea floor. They are drawn to this spot, near the base of the Davidson Seamount within the Monterey Bay National Marine Sanctuary, because of the warmth exuding from the hydrothermal springs around this extinct volcano. By laying their eggs in this warmer water, octopus mothers can cut down the time it takes them to hatch their eggs from as much as eight years to less than two years – a significant advantage.
The Monterey Bay Aquarium Research Institute (MBARI) has released a video about this on YouTube.
Scientists from the MBARI discovered the octopus garden back in 2018. They suspected that warm water from the hydrothermal springs might be what attracted the octopus mothers to this spot, but it took years of painstaking research to confirm the hypothesis. Exploring with the remotely operated vehicle "Doc Ricketts" (a name that fans of John Steinbeck's Cannery Row will appreciate), they measured water conditions, like temperature and oxygen level, and observed individual pearl octopus mothers to see how long it took their eggs to hatch, confirming the greatly reduced brood period for octopi who managed to score a spot in the hydrothermal hot tub.
Even though the Davidson Seamount is one of the most-studied seamounts in the world, and it's been part of the Monterey Bay National Marine Sanctuary since 2008, it wasn't until a few years ago that we even knew about the existence of the octopus garden. What other natural wonders might be in the deep sea, unknown and therefore unprotected?
The deep sea is the largest ecosystem on Earth. The seafloor covers more territory than all of the continents combined. And yet we know more about the moon than we do about the deep sea ecosystem, the creatures that live there, and how our actions might impact it. Deep-sea mining, where the ocean floor is scraped in a process much like strip mining on land, is still an experimental technology. But interest in extracting valuable minerals, like nickel, copper, cobalt, manganese, zinc, gold and other rare-earth metals, is driving corporations to explore this new territory.
Only 2% of the world's oceans are protected in marine reserves. We need to protect much more of this poorly-understood ecosystem before greenlighting industrial activity that could potentially wipe out octopus gardens and other, as yet unknown, natural wonders before we ever even get to know that they exist.