We might think the trails in our local nature preserves are there for humans, but plenty of animals use those trails, too. Here's how to tell when a four-legged trail user has been there before you.
Why do animals use human-made trails?
It's no surprise that many animals, especially large mammals, find hiking trails a convenient way to move around. They offer a clear path across the landscape and improved visibility for many animals. Where human-made trails are absent, they will create their own trails, but in parks and preserves used by people, a nice, well-maintained trail can be a highway for wildlife.
But it's also important to remember that human presence usually drives away wildlife. Studies have shown that when new trails are built through previously undisturbed habitats, animals change their behavior to avoid humans -- for example, they may become more nocturnal or more wary. Even mountain lions will run away from the sound of human voices. That's why, when constructing new trails or opening up a remote wilderness area to public access, we need to leave plenty of wild areas undisturbed for the animals.
Signs of wildlife
The two best ways to spot whether an animal has been on the trail are tracks and scat.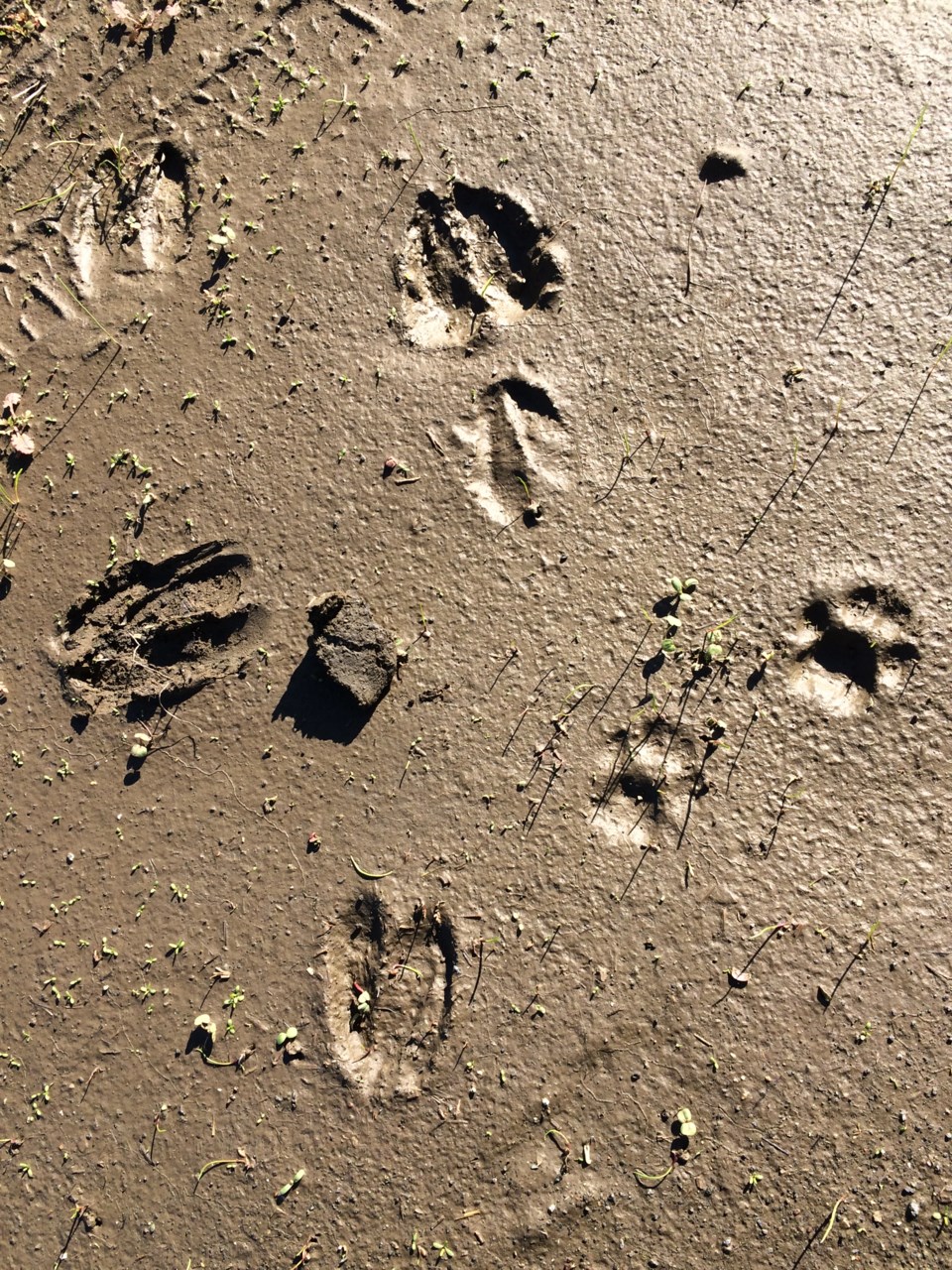 I took this photo at Edgewood Park after a heavy rain. The mud here perfectly preserved the tracks of both deer (on the left side) and bobcat (on the right side). Deer tracks look like two longish ovals right next to each other. Bobcat tracks look, unsurprisingly, like domestic cat tracks.
Besides deer and bobcat, you might also spot coyote tracks on the trail. Those look similar to bobcat tracks but are a little bigger, and they tend to be longer and narrower, while bobcat tracks form a rounder shape. (This great resource from the Peninsula Open Space Trust has images of tracks for several animals.)
Although it's hard for the untrained eye to spot wildlife tracks unless they are very distinct, it's a lot easier to spot animal scat. Bobcats and coyotes leave their scat (i.e., poop) on trails as a way of marking their presence, often leaving scat near where another animal has left theirs.
I'll refrain from providing any photos of scat in this blog post (you're welcome), but if you want to see images, a quick internet search will give you all you need and more. Like their tracks, bobcat scat is visually somewhat similar to that of domestic cats and coyote scat to domestic dogs. Also, if you've ever seen what looks like a hunk of old gray cotton fibers on the trail, that is very likely old, dried-out coyote scat. Because coyotes ingest their prey fur and all, their scat contains a lot of fur, and after several weeks or months out in the open, the fur is pretty much all that's left.
Deer scat is also very common on our local trails and looks like a clump of small dark pebbles. Smaller animals like rabbits and hares, opossums, and squirrels also live in local parks, but their tracks can be harder to spot due to their small size and lighter weight.
Even though we all know these animals are sharing the trails with us, it can be a real thrill to spot the evidence that a bobcat or coyote was present on a trail just a few hours before you. With enough practice, you, too, can become an expert wildlife tracker!