With news of another major development being proposed in Redwood Shores, residents and environmentalists alike are wary of what the future might hold for this bayfront community.
Project plans for three life science labs at 10 Twin Dolphin Dr. were submitted to the city late last month, marking the fourth significant project proposal in Redwood Shores and the second in two weeks.
Also in the works are a proposed five-story life sciences building at 1 Twin Dolphin Dr. (submitted mid-April), a five-story office building at 240 Twin Dolphin Dr. (approved March 2021 and not yet under construction) and a proposed 16-building life sciences campus called Redwood LIFE (still awaiting a final application).
If approved, these four projects would add more than 3.6 million square feet of office and housing space to Redwood Shores over the next 10 to 20 years.
The latest application, which was submitted by IQHQ in late April, includes 654,000 square feet of research and development space, as well as public plazas and pedestrian and cyclist pathways, connecting the Shoreline and Bay trail networks. The project would demolish an existing five-story office building to construct what the preliminary plans call "a world class life science campus."
However, new development plans raise questions about the long-term sustainability of growth within Redwood Shores. A neighborhood built on landfills, Redwood Shores, like many other coastal communities, may soon have to reckon with its precarious foundations in the face of growing floods, earthquakes, rising sea levels and other environmental risks.
As entrepreneurs envision a modern hub for life sciences and biotechnology, critics warn that unfettered development could spell future disaster for an already fragile ecosystem.
Residents raise concerns
In the wake of the newly submitted Redwood LIFE proposal, a group called Save the Shores emerged in the spring of 2021.
In recent years, Redwood Shores residents have taken it upon themselves to raise awareness about the potential dangers posed by continued development on former marshlands.
"We became aware of the development. We formed a committee to investigate the project and understand what the implications may be on the community," said Board President Steven Tsujisaka. "As we started digging deeper into the development, we realized a lot of the concerns we had with the project stemmed around the environment."
Save the Shores, which began as an offshoot of the Redwood Shores Community Association, has since grown to include four board members and roughly a dozen volunteers. According to their website, their main rallying call includes concerns about big development and the potential harms caused by increased noise and carbon pollution, the release of soil toxins, sea level rise, and destruction to the natural habitat.
"Right now our main priority is to raise awareness of not only the Redwood LIFE project, but also the general concerns for our environment, in terms of sea level rise, toxic tides, levee mitigation," Tsujisaka said.
He added that Redwood Shores is home to several endangered species, including the salt marsh harvest mouse and the California clapper rail. Their habitats have shrunk, largely due to human activity.
With final proposals for Redwood LIFE still pending, members of Save the Shores are currently working on building partnerships with local groups like the Sierra Club and the San Mateo County Office of Sustainability. Despite the "Say 'No' to Big Development" prominently displayed on Save the Shores' website, Tsujisaka said he's more interested in making sure their concerns are heard and factored into any future development decisions.
"As of right now, we understand that Redwood City is very pro-development," he said. "So we are really hoping to try and make major changes in the project to make sure it is safe for the community, to make sure there's significant oversight and that all of our environmental concerns are addressed."
An unstable foundation
Construction on modern-day Redwood Shores began in the late 1960s after the 1,500-acre parcel was purchased by the Leslie Salt Company and annexed by the city. Leslie Properties, Inc., a subsidiary, proposed an ambitious community project—including housing, recreation and commercial sites—that developers hoped would serve a population of 60,000 in the coming decade.
From its origins as San Francisco Bay marshland and salt evaporation ponds, the soft, muddy ground of Redwood Shores was built up into new land, with the goal of creating a thriving community in the image of Foster City. Improvement projects targeted the beaches, sewers and water systems, including reinforcement of the levees along the Belmont and Steinberger sloughs to the north and south, to make the marshy lands as livable as possible.
However, funding and approval issues ran Leslie Properties dry, and the company was forced to sell the property to Mobile Oil Estates, Ltd., a subsidiary of the Mobil Oil Corporation, in 1973. A subsequently revised plan shrunk the number of anticipated residents to 20,000 and put more emphasis on commercial development. By 1978, however, only around 500 homes had been completed.
Throughout the 80s and 90s, housing, parks and trails continued to grow, enticing new residents. Over the years, Redwood Shores has also been home to the now-defunct Marine World/Africa theme park, as well as Oracle Headquarters, Nintendo, Electronic Arts and Shutterfly, among other large technology companies. In recent years, a community center, several schools, hotels, restaurants and a public library branch opened on the Redwood City peninsula.
As of 2010, Redwood Shores had a population of roughly 11,300 residents.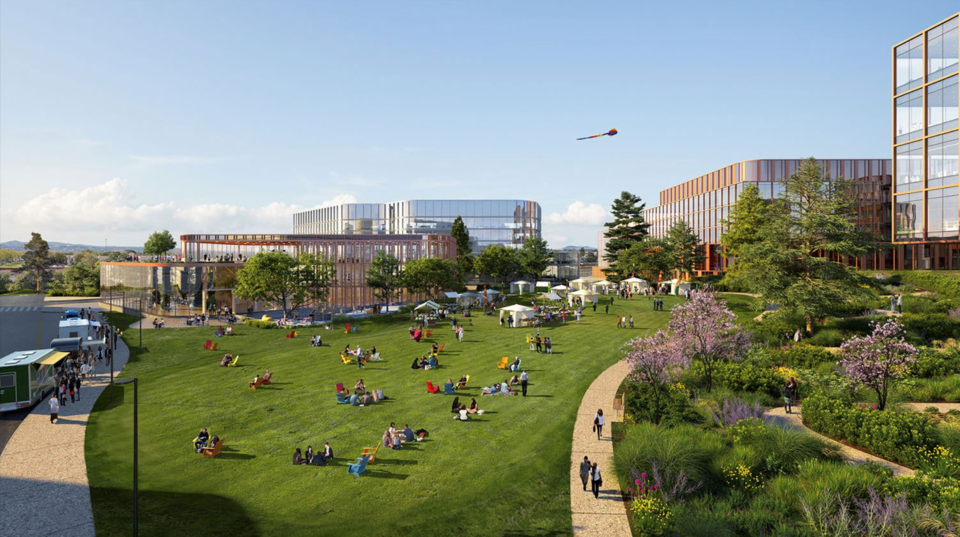 The four projects currently under consideration in Redwood Shores are in various stages of development.
The 1 Twin Dolphin Dr. proposal was submitted in mid-April by project applicant Prince Street Partners and is awaiting review by the city. The plans include nearly 400,000 square feet of office and research/development space, as well as a two-story parking structure with 415 spots and an additional 225 ground-level spots. Developers also proposed creating roughly 36,000 square feet of "public park-like open space" to serve bikers, runners, dog-walkers and other passersby.
Longfellow Real Estate Partners submitted a pre-application for the Redwood LIFE life sciences campus in May 2021. The plans include a four-phase redevelopment of 84 acres between Belmont Slough and Marine Parkway to create a 16-building life sciences campus, including a 150-room hotel, open green spaces and improved trail and waterfront access. A final application is expected in the next few months.
The application for the development at 240 Twin Dolphin Dr. was originally submitted in 2019 and approved by the planning commission in March 2021. Construction hasn't yet begun on the project, which includes a five-story office building totaling more than 200,000 square feet, a five-story parking garage with 690 private spots, 60 bike parking spaces and improved access to the Belmont Creek Trail.
These sites of proposed construction are designated for commercial development, according to Community Development and Transportation Director Mark Muenzer. However, in cases—like that of Redwood LIFE—where the developer is seeking to build more square footage or other additions that aren't currently permitted, they'll have to seek approval from various boards and commissions as well as public input.
Environmental toll
Since its founding, Redwood Shores has seen significant changes, not just in its built environment but in its natural environment as well.
As a coastal community with much of its land below high tide levels, Redwood Shores is particularly vulnerable to climate disaster, according to Kristina Hill, director of the Institute of Urban and Regional Development at UC Berkeley.
"When you build on a wetland soil, that soil gets compacted, gets compressed," Hill said. Gradual sinking of the underlying landfill, as well as rising sea levels caused by global warming, elevate the risk of flooding, from both storms and high tide events and from the groundwater itself, she explained.
"Every foot of elevation you lose from this sinking soil problem, you'll never get back. So over time your flooding problem gets worse."
These warnings are old news to Redwood City, which has taken incremental action to build up flood preventions and ward off disaster.
In 2010, to meet Federal Emergency Management Agency (FEMA) requirements, Redwood City undertook a massive effort to raise the height of more than three miles of levee surrounding Redwood Shores. Just eight years later, San Mateo County's Sea Level Rise Vulnerability Assessment, predicted that Redwood Shores would be completely inundated with water in a 100-year flood event with 3.3 feet of sea level rise. Recently, in 2020, the city was again advised to update the surrounding levee system to comply with FEMA standards. Failure to do so will result in Redwood Shores being designated a 'Special Flood Hazard Area,' forcing roughly 4,700 households to purchase flood insurance.
And, as Hill pointed out, flooding into Redwood Shores could spread inland up to three miles in flat areas.
Unfortunately, the type of foundation most commonly employed for buildings like those being proposed in Redwood Shores, can contribute to the problem, Hill said. Also known as "friction foundations," these structures use pieces of wood or concrete to distribute the weight of the building evenly across the mud, thus causing subsidence. While building foundations down to deeper, harder material can mitigate soil compression, it's much more difficult and expensive, she said.
Today, most of Redwood Shores is also at 'very high risk' of liquefaction, according to the United States Geological Survey, meaning that in the event of an earthquake, the soil would behave like a liquid, likely causing major disruption and sliding to buildings and other infrastructure.
"That's the number one risk to Redwood Shores is that there's an earthquake on the Hayward Fault, and Redwood Shores shakes like jello," Hill said. "And the buildings aren't necessarily designed for that."
Building for the future
Overall, Hill said that building on top of wetlands, not just Redwood Shores but around the San Francisco Bay's perimeter, is inadvisable and not something urban planners would repeat today.
Still, she said, there are opportunities for truly sustainable coastal infrastructure. Highlighting the Netherlands as a prime example, Hill said that one somewhat counterintuitive solution is to build on the water, rather than on the land.
"When you look at the map, you see open water in the center of the community…and then you see building on piles of dirt around it," she said. "What the Dutch have started doing is flipping that, so that the buildings and entire urban districts [are] floating in that interior water."
The advantage of floating buildings, she said, is that they can withstand everything from rising sea levels to large tremors.
"It's really excellent for earthquake regions because it separates the building from the earthquake waves."
Hill acknowledged that such a major shift in infrastructure could be hard for city planners and developers to embrace—not to mention different permits and revenue for pilot projects. To that end, she said, there's no harm in starting small.
"Even if all they did was have a floating swimming pool and a floating hotdog stand that would help people in Redwood Shores figure out, 'oh yeah, things float, oh yeah, we could do this,'" she said. "That's the kind of thing we need to do to make this fun and cool and testable."
And given the looming threat of rising tides, swelling groundwater and the inevitable earthquakes, Hill said not doing so would be a mistake.
"I think it's irresponsible if they're not capturing some of the value to try pilot projects that point the way to the future."