Fifty years ago, six locals came together in the name of books.
In 1972, Harriet Trice, Nancy Vane, Kay Hext, Barbara Hutchinson, Richard Schellens and Lucille Boulevare formed the inaugural Board of the Friends of the Redwood City Library.
Friends, which was officially incorporated on July 5 of that year, became just that—loyal supporters of the public library. Their mission, as articulated in the original documents, was to "participate actively in the constructive movements and endeavors for the benefit of the Redwood City Public Library" and "to stimulate public utilization of these facilities."
From its early days, Friends built a legacy of service to the library, primarily through revenue generated by selling donated books at a discount. The bookstore, which first opened in an empty storefront on Broadway, eventually found a permanent home in the downtown branch of the Redwood City Library when it opened in 1988.
Five decades later, the organization remains a steadfastly volunteer-run operation that, every year, brings in thousands of dollars for library operations and programming.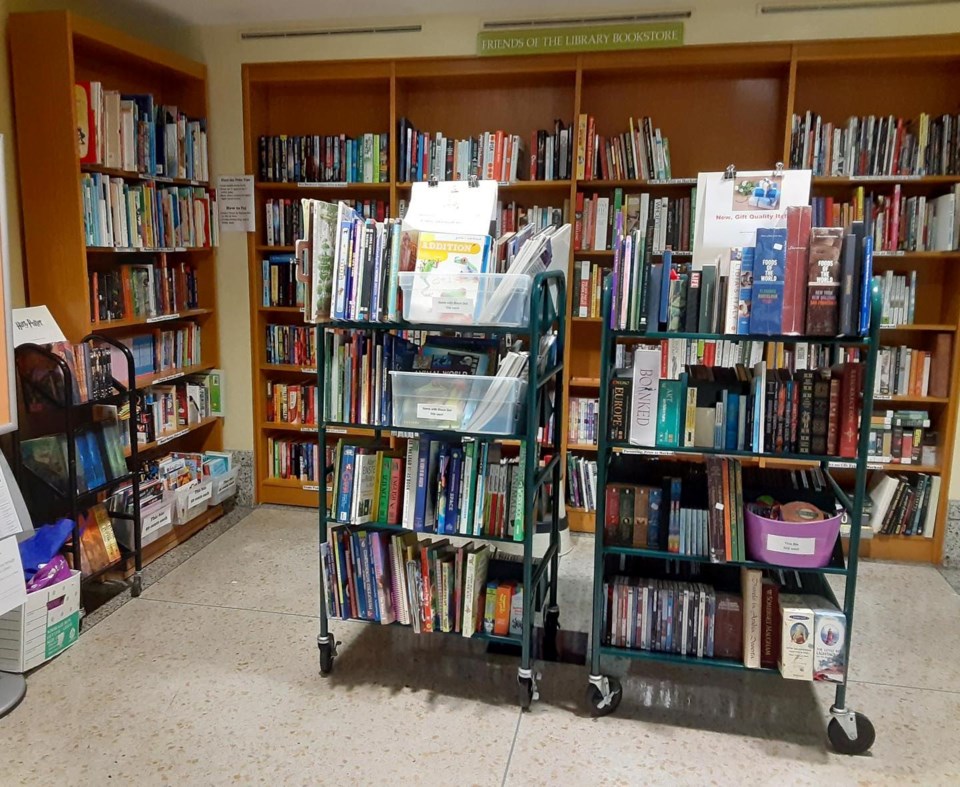 Mary Scavarda is one such volunteer. A Redwood City resident and Chair of the Board, she began her tenure with Friends 16 years ago. For Scavarda, like many of her colleagues, it was the love of books that first drew her in.
"I was taking a sabbatical from work. I had lost my husband and needed some time off," she said. "My next door neighbor was the treasurer with the Friends, and I told him, 'I'd like to volunteer in the bookstore.'"
Scavarda had long dreamed of running a bookstore, but as time passed, it seemed less like a viable career path. As fate would have it, however, Friends was looking for a bookstore manager.
"I was just like, 'Really? Oh my god, it's like my dream,'" she said. Within a month of starting her first shift, she was running the shop and serving as a board member.
Now, 50 years since Friends opened its shop in downtown Redwood City, the Pulse spoke with Scavarda about the organization's humble roots, its recent birthday celebration and its unwavering belief in the value of books.
The Redwood City Pulse: Can you tell me a little about Friends of the Library's operations?
Mary Scavarda: Pre-pandemic, we were really doing very, very well. We operated on a number of different levels. We've had online sales for a long time. We operate a bookstore right next to the lobby that has been there ever since the downtown library opened several decades ago.
We have a kiosk at Redwood Shores filled with books for sale, and you just pay at the front desk there. Really, really nice books—so people using the Shores [library branch] don't have to come to downtown.
And our prices are very low. I mean, it's really meant to get books out to the community.
The brand new hardback fiction you'd pay $15 for at Costco, we're going to charge you $5. And it's going to be a perfectly lovely copy of the book. So that's a fun thing to know—that somebody's getting a really good bargain in a book they really want to read.
Pulse: You worked behind-the-scenes for several years. What does running the Friends bookstore entail?
Scavarda: We are an all-volunteer organization. Pre-pandemic we were about 45 people. Right now we're under 25. Hopefully we'll start ramping that number back up again.
In the back, we sort and scan all the donations, you know, whether they're going to be sold online or they're going to the store or they're not in good enough shape to keep. So we have a whole separate operation doing that.
Everything that can be sold online, we sell online because it's a higher profit margin for us. We sell sort of your everyday books through an Amazon seller account, which literally every Friends group in the world does. This is not unique to us. Then the—what I call sort of regular books—not high ticket value, they go in the store.
People will donate things that, you know, I question their sanity. The rat-eaten book or the one with duct tape on it. But for the most part, we get really lovely donations. And we're able to really provide terrific books for a really reasonable amount of money in the bookstores.
Pulse: Do customers typically come in search of a particular book or just to browse?
Scavarda: People just want to come in and browse for the most part. And a lot of people come to buy books for children.
We have our regulars who come to check for a particular thing. People who come looking for graphic novels or people come in looking for the latest hardback novel.
We do theme sales. So right now, for example, we have July 4, and we've got all kinds of books for summer, like kids workbooks and fun things to do in the summer kinds of books and Madlibs. Things that you can take on vacation with you.
We store local history books, and whenever we put that out, it sells like crazy. People really love it. So coming up with these new ideas of topics that we can do—sort of custom sales—is really fun.
The thing that surprised me the most way back when I started that I always laughed about: One of our bestsellers is cookbooks. People love their cookbooks, that is for sure.
Pulse: How did Friends fare over the course of the pandemic?
Scavarda: It's been really tough.
Before the pandemic, we were making net about $95,000 a year. Right now, we are nine months into our fiscal year and we are only at about $55,000 net revenue.
With the pandemic, we tried all kinds of things just to keep books out there for people and to try to keep some income flowing.
We did book bags: People could fill out a Google form, and they could pick them up.
Something we started during the pandemic was to drive up behind the library and drop your books off to get donations. And that's been very, very popular because you don't have to park and lug your books in. You can just drive up, put them on a cart and drive off. And we have kept doing that.
Pulse: Have you still been able to sell books?
Scavarda: Our bookstore has been open back in the library for a year. It's a little different.
It used to have a little room and an outside portion, but in that close of an area, even though there are windows open to the lobby, we have not really been comfortable with it.
Right now it's just outside there in the lobby. It's a pay at the front desk with a credit card kind of a thing. We're hoping after our big event Sunday to start putting some volunteers back at the store. We've got people who want to volunteer.
It was a great volunteer gig for older people because it was very social. People would come in to talk, and it wasn't strenuous in any way. You sit there you take cash for the books.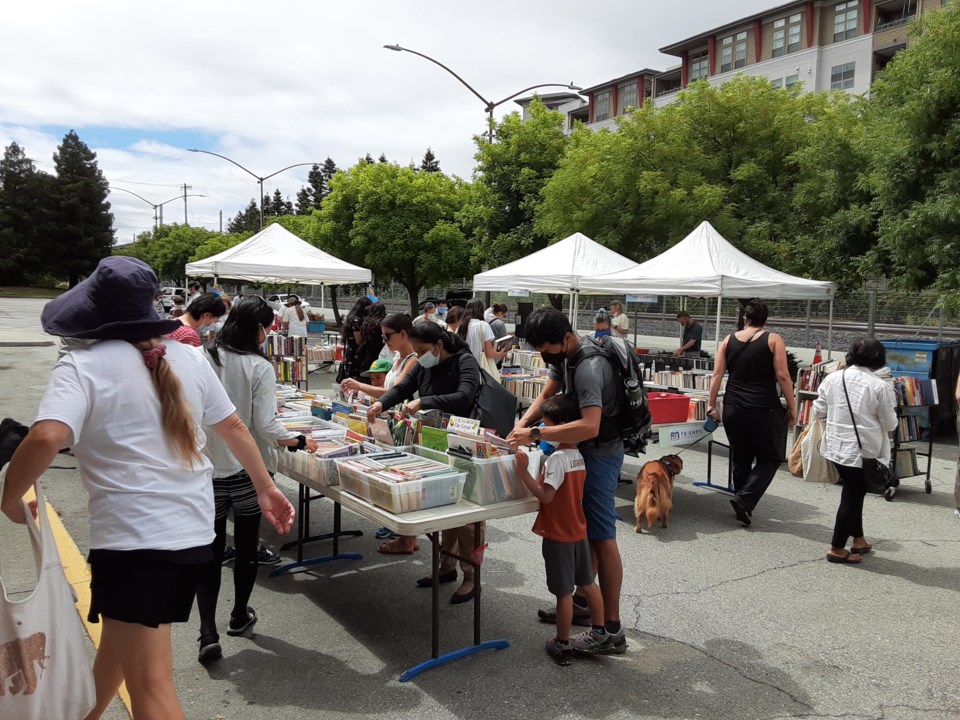 Pulse: How was Sunday's 50th anniversary celebration?
Scavarda: Every year, our library joins with the Peninsula library system, and they do a summer learning challenge. We have in the past had kickoff events, so we partnered again.
It was great to celebrate the 50 years. The temperature was perfect. Many more people came than I expected. Youth services had 450 people. We had a lot of shoppers; we think we had at least another couple hundred. That's a very big turnout.
People were really excited to get 50-cent books. The children's tables were just swarmed for well over an hour.
I probably sold, oh gosh, hundreds and hundreds of books that weren't kids books. People were walking away with boxfuls and bagfuls of books. People were definitely buying their summer reading.
The ice cream man came at noon, and the kids all got ice cream. Everybody was really happy.
Jan [Pedden], one of the librarians and one of the two organizers told me that 'there were a lot of people here, but the goodwill that we created for the library was incalculable. You can't measure the goodwill that you generate.'
I think people [were] really excited just to sort of feel like, 'Hey, Friends is still there,' you know?
Pulse: So, beyond books, what's the deal with the honey that Friends sells?
Scavarda: The library bees produce honey and we are the venue for selling that to the public. So when you buy a jar of honey, you are supporting the library.
They're on the roof of the downtown library. There's actually a web page and you can watch the live camera of them flitting about their hives up there.
There's a licensed beekeeper who comes out and manages them and harvests the honey and jars it up for us. It's pretty cool.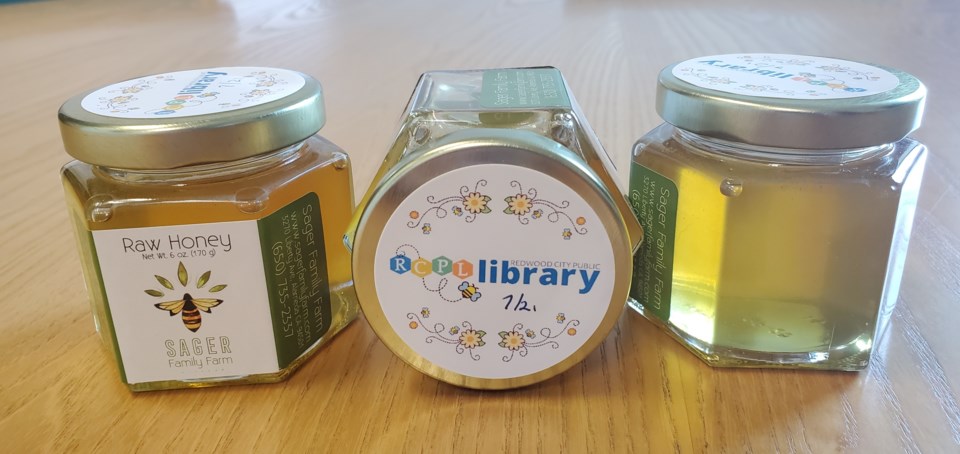 Pulse: How did that come about?
Scavarda: Derek Wolfgram [Redwood City Library Director] initiated the whole thing.
They actually had to go to the city council and get an ordinance changed to allow the bees to be there.
I'd say they've been up there five years, but maybe it's even been six.
It's great. It is absolutely wonderful. And we sell quite a lot of honey. We have a big harvest right now. It's not cheap—it's $10 for a six ounce jar, but it is really good honey.
Pulse: Libraries, and of course the way that we read, have changed over time, with big movement towards digital platforms. What are your thoughts on the state of books and reading?
Scavarda: Well, what's interesting is the library has done a really good job of, of having digital out there.
We were very worried that if digital had kept on a massive ascent, nobody's going to want to buy from us. But what we found is there are plenty of readers who still want a book. Especially kid books—it's a tactile thing, it's a learning thing. I could be wrong, but I really don't think, especially for children, anything's really going to replace a book and a child's hand learning how to read.
I prefer to read a regular book. I have friends who only read digital; I understand that. But they might come in and get an art book or a how-to book because the illustration's easier to read than on a digital platform. So I think there's always going to be that need—and I hope so for our sake—to have to have paper books.
I think they coexist. You know, that book on how to quilt is a lot easier when you can really have the pictures there in front of you and write your notes. And I just think that that's going to stick around a long time.
People still want books. The people who volunteer really are book lovers. And to see that you can still come and get books, that's wonderful.
Pulse: What do you envision for the future of Friends?
Scavarda: I have tried to broaden the age group on our board. We have a teenager on our board. A lot of Friends groups are run by senior citizens, and I've really focused on trying to get somebody from every decade of age involved to get a variety of perspectives. Because what a teenager thinks about books is different from what a senior citizen thinks about books.
I'll give you an example. When our teenager joined the board, it was her idea to, 'why don't we do a honey cookbook to promote our honey as a tie-in?' So we asked for recipes, gathered recipes and she put together a honey cookbook—which you can download as a PDF—to promote the honey. And that's the kind of idea that was novel and great.
I think support for your library is so important. You know, in our library came out with a very strong statement about their position on the banned books. And in my bookstore, I added a shelf of banned books authors. You know, there's nothing sensational about these books—here they are on a shelf.
And it's not just about coming in and checking out the books. You can study there, you can meet your friends there, you can work on a computer there, you can go into the new Makerspace and work with the 3-D printer there.
Pulse: So do you do your book shopping at the Friends of the Library bookstore?
Scavarda: I do! I am a fiction reader. So I'm always excited when a book that I've been wanting to read gets donated.
And when it's a book that I can't get, and I have to actually like pay retail for a book? Very stressful, very stressful for me! I'm like, 'What do you mean [that's] how much this book costs!' Because when you're used to paying just a couple bucks for a book, and you have to pay $22, it is painful.