For Jennifer Bautista, going to college seemed like a pipe dream.
Born in Guatemala, she and her family immigrated to San Mateo when she was only 6 years old. They shared a house with 15 other people to make ends meet.
Bautista was a freshman in high school when her father was deported. Her family was close-knit, and his departure turned their lives upside down, sending Bautista into a deep depression. But with rent and legal fees piling up, she accepted what she believed was her only option: to work and support her parents.
"You feel like your only purpose to come from a different country is just to work," she said, adding that her experience mirrored that of many immigrants. "We don't really think about college; we just think about money and about working. If it wasn't for my counselor, I don't think I would be here today."
With the help of a high school counselor, she began to work through some of the trauma around immigrating and witnessing her father's deportation. She applied to and attended college, ultimately graduating with a degree in psychology and child development.
"That's when my passion started to spark," she said. "I want to be that person to make a difference in teens' lives."
Now a marriage and family therapist and program director at the local counseling center, Una Vida, Bautista—like her colleagues—is eager to help other immigrants like herself confront the challenges of a new country and carve their own path.
Located in the heart of Redwood City, at 525 Veterans Blvd., Una Vida grew out of the One Life community health model and aims specifically to serve the local Latinx and Spanish-speaking communities. Like One Life, a San Carlos-based community health organization, Una Vida offers affordable one-on-one counseling and free support groups and classes. They also host a weekly mercado on Mondays from 12-2 p.m., where families can come pick up free food.
"Sometimes they don't know that these kinds of services exist," said Cony Fuentes, a peer counselor and the director of community partnerships. She noted that many immigrants arrive in the Bay Area with limited education, little money, and a lot of trauma. The scarcity of Spanish-speaking clinicians combined with the social stigma around mental health often deter people from seeking support, she said.
The office, which celebrated its grand opening on Thursday, June 30, provides completely bilingual services.
"We're trying to educate our people to see that sometimes they need this help," Fuentes said. "And it's a safe place for them. Because sometimes they are really afraid to ask."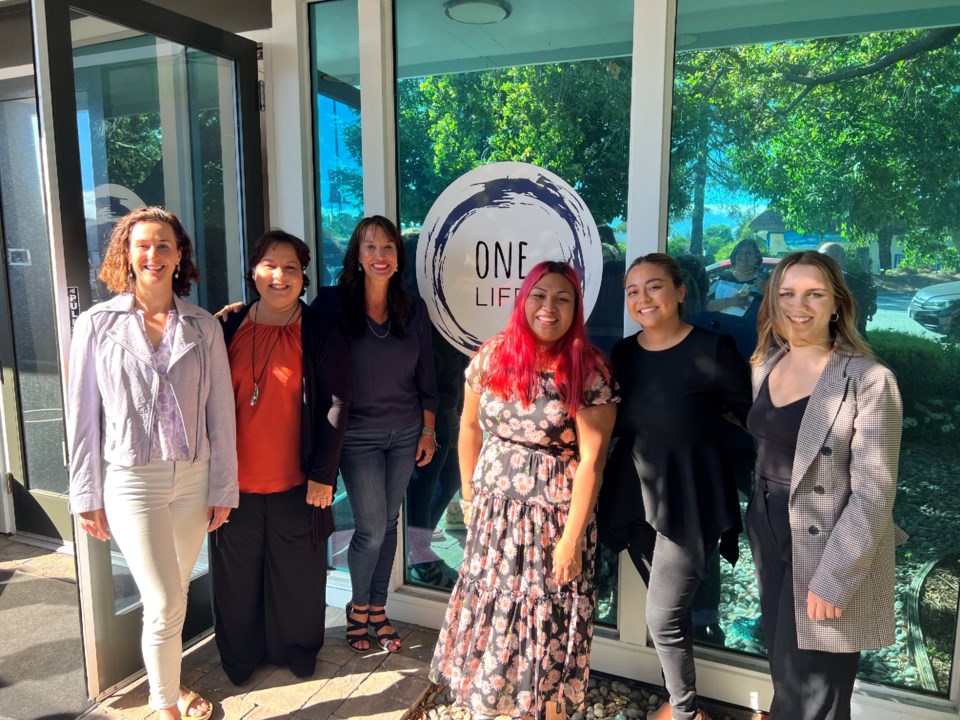 Jackie Gonzalez had been employed as a marriage and family therapist at One Life for about six months when she conceived of Una Vida. As she connected with more Redwood City residents and clients of Latin descent, she realized that she missed "having this cooperative ability to surround myself with my other Latinx colleagues."
In December 2021, Gonzalez reached out to her executive director Suzanne Hughes and pitched the idea of a dedicated space where Spanish-speaking clinicians and residents alike can "feel comfort and safety in a mental health setting."
Now the director of clinical development at Una Vida, Gonzalez wants to help the Latinx community, newcomers especially, meet their basic needs and get on stable footing. Her ultimate goal is to build a network of resources to supplement the counseling services.
"Whether it's legal, whether it's financial, whether it's food, we want to make sure that this community can live at least comfortably in their everyday lives," she said.
One way they do this is through free, weekly groups such as Fuentes' recently launched "moms group."
The group, which meets six times, for one hour each week, is open to anyone—the only requirement is to sign up—but specifically targets mothers, often immigrants, who are struggling to adjust to motherhood while navigating an unfamiliar environment.
"Here the culture is different. They need to learn how to be a mom in a different country, and how to raise a kid in a different country," she said. "They're always stressed."
During their first class last week, six mothers and their children were in attendance—all of whom, Fuentes included, happened to be from Mexico. After introducing themselves, the women shared their pent-up exhaustion and fears around being first-time mothers. Fuentes said the moms seemed "really happy" to connect with each other.
"We're trying to have this space, this time just for the moms to learn by themselves, to learn how to meditate, how to manage their stress and how to communicate with the little ones," Fuentes said.
Bautista, too, has already witnessed therapy's transformative effects. She gave an example of two of her clients, a mother and her sixth-grade daughter, who immigrated from Peru and struggled to integrate into the community.
"They experienced a lot of trauma…abuse," Bautista said. "And so they were always kind of talking about their generational patterns." When she brought up the subject of schools for the young girl, they were completely lost. "They had no idea where they wanted to go," she said.
In the two years since starting to work with Bautista, the mother and daughter have developed strong ties with the community and are actively involved in local organizations like the Police Activities League. The daughter is currently enrolled in a summer program at Stanford and is starting to think about where she wants to go to high school.
"She really looks up to me not just as a therapist, but also like a role model," Bautista said. "Now she has these big dreams—like she wants to be a lawyer."
For Bautista and her colleagues, the recent ribbon-cutting ceremony at Una Vida was a culmination of months of hard work and their official induction into the community.
"I think it was very powerful for us because, again, we're all women and we're all Latinas," Bautista said. "We don't really see that a lot in our culture. And so I was very proud of us."
Several local officials spoke, including Mayor Giselle Hale and Lena Silberman of Supervisor Don Horsley's office. They were also joined by community members and representatives from Una Vida's local partners.
"Jackie's mom cooked up some bomb pupusas and food," Bautista added, laughing. "I think that's what attracted people."
Gonzalez agreed that the celebration reflected Una Vida's ethos as an organization.
"It was just this commitment that we made to the community, but also it felt kind of like being at home," she said. "I felt like I was at home at one of my family parties."
Una Vida currently employs three directors and roughly 20 Spanish-speaking clinicians, but they're hoping to grow, expanding opportunities for both licensed therapists and for people seeking support.
The organization is primarily supported by several local organizations, including Sequoia Healthcare, the Bella Vista Foundation and Menlo Church, as well as their parent organization, One Life. They also partner with dozens of other groups, such as Generations United and Samaritan House, to expand their available client resources.
One of the biggest challenges Gonzalez and her colleagues continue to face is a lack of Spanish-speaking clinicians, which she attributes to financial and logistical barriers to education. Many of the Bay Area's Hispanic residents, immigrants specifically, have jobs or family responsibilities that preclude attending daytime classes.
In the long term, Bautista hopes to inspire other youth in the Latinx community to seek higher education—and maybe even pursue a career in counseling. She describes herself as proof that mental health support and basic resources can be transformative.
"It has been such a long and hard journey being immigrants in this world," she said, adding that she took her oath of citizenship on Wednesday. "We kept fighting and now I get to help others who are going through similar situations."
For her, these shared experiences are invaluable in helping her connect and build trust with her clients.
"I tell them [my story] so that they know that they can count on someone who went through the same thing," she said. "That really gives them hope…that they can do anything and that anything is possible, as long as they have that drive and that motivation."
She added: "Sometimes they don't have it. And that's why we're here to help them."
Una Vida's new office is located at 525 Veterans Blvd. in Redwood City.