As dusk settled over Redwood City, a small group began to convene at the farthest end of a driveway winding through the densely packed homes of the R.C. Mobile Park. Reggaeton bumped through a speaker, energizing crews as they greeted one another, unfolded tables and unpacked mountains of paper towels and food.
On Jan. 5, just days after historic rainfall had drenched the city, sending nearly knee-deep water pouring into several mobile home parks along East Bayshore Drive, more than two dozen volunteers came out to assemble and distribute emergency supplies.
Clad in a turquoise and black windbreaker, 25-year-old Tito Alvarez bounded among his fellow volunteers, hugging and high-fiving as he went. As the lead organizer of the operation, he rarely had a moment to pause between directing traffic in and out of the narrow street and orchestrating the arrangement of goods.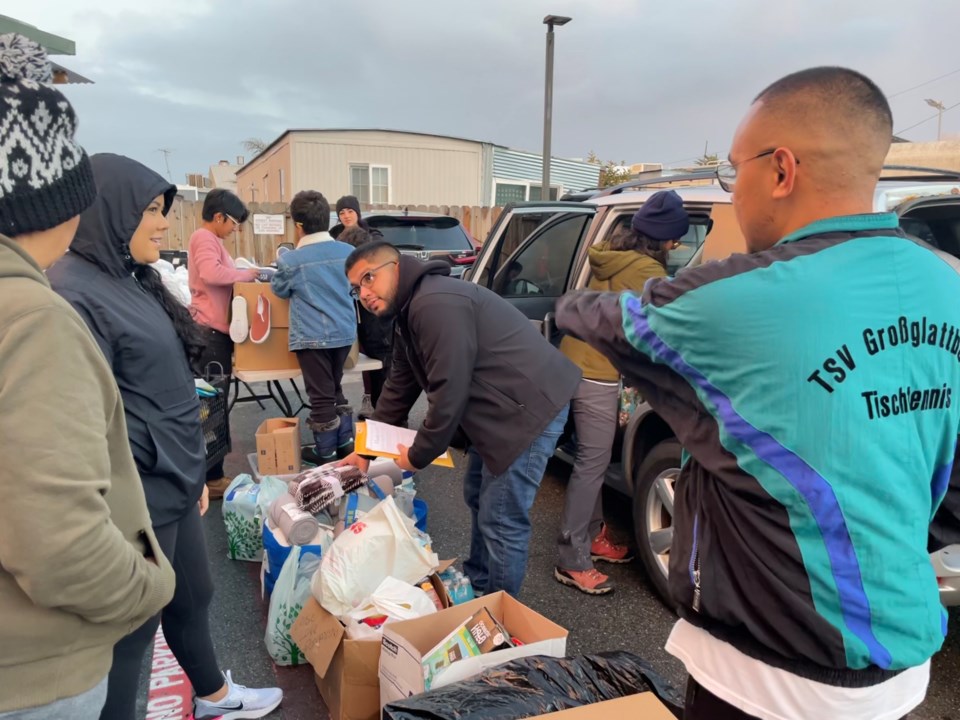 In a dramatic start to the new year, a spate of winter storms caused widespread flooding and power outages throughout the Bay Area. The bomb cyclone of Jan. 4, which dropped roughly 1.6 inches of rain on an already saturated Redwood City, hit just four days after New Year's Eve's atmospheric river. With roughly 4.5 inches, New Year's Eve marked the third wettest day in the city's recorded history.
While neighborhoods from Friendly Acres to Emerald Hills were badly hit by the storms, residents living in mobile homes experienced some of the worst impacts, as debris-filled floodwater from around the city poured into their yards, damaging personal property and trapping several in their homes. The mobile home parks, which are designated as "special flood hazard areas" according to FEMA, are particularly vulnerable to flooding and have been evacuated during previous storms. Their proximity to the Bayfront Canal exposes them to the city's floodwaters that drain down towards the bay and, in extreme cases, can cause the canal to overflow.
Climbing behind the farthest homes, Alvarez pointed to where water from the canal poured over the fence and into the residents' yards. Days after the New Year's Eve storm, puddles remained.
"That's why when they say, like, 'oh we've got sandbags,' but like what is that going to do?" he said.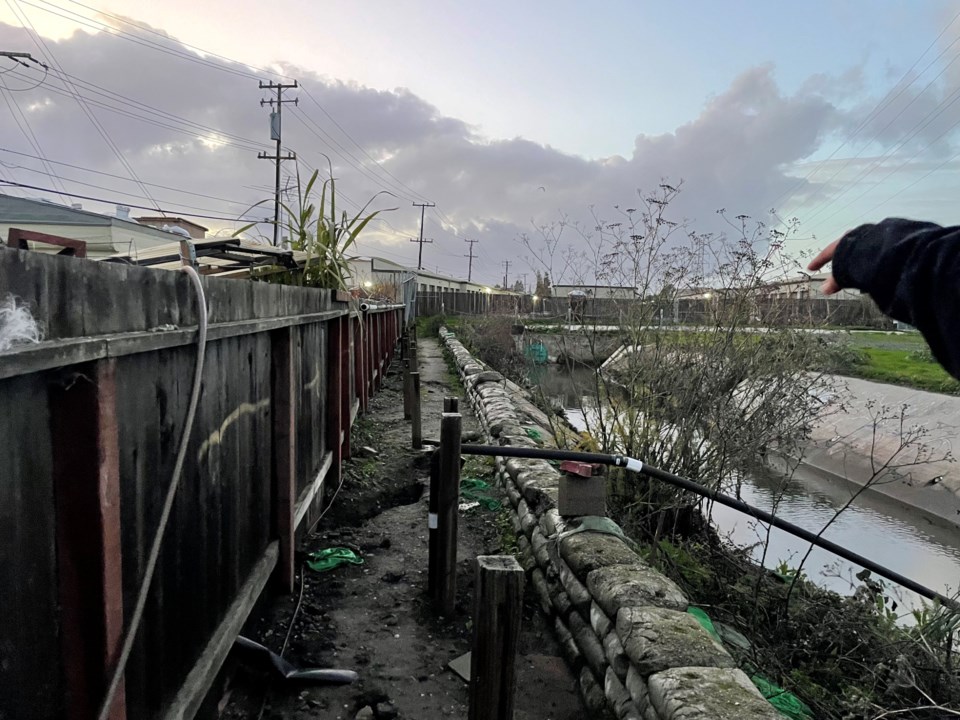 Having heard from residents about the devastation caused by the storm, Alvarez immediately tapped into his networks to mobilize a mutual aid effort.
"I'm a point of contact when it comes to a lot of community outreach," he said. "I met with Sarahi (Espinoza Salamanca), and we started to put together an outreach plan."
Espinoza Salamanca, a fellow organizer and founder of the nonprofit Dreamers Roadmap, spent five hours waiting with residents of the park during the New Year's Eve event.
Describing a joint effort between Espinoza Salamanca, the residents and himself, Alvarez said, "it was a three-way plan."
Rising waters
When Dionicia Barrera woke up on Saturday, Dec. 31, she immediately knew something was wrong.
Looking outside the door of her mobile home, she saw ankle-deep water pooling around on the ground below her house, with more pouring in fast. One of some 50 residents of the R.C. Mobile Park, Barrera immediately thought of her elderly and disabled neighbors, as well as her daughter, who has asthma and had begun to show signs of a panic attack.
"I felt that our life was in danger," she said. She dialed 911.
More than 25 minutes later, two patrol officers arrived but declined to get out of their vehicle because of "contaminated water," according to Barrera, who said they instead advised her to call the fire department. In an internal update, the city disputed this claim, saying that "it was not necessary to leave the vehicle" because "no residents indicated they needed assistance."
As she waited for the emergency responders, the water continued to rise.
"The water smelled horrible," she told the city during a recent council meeting, describing dirty diapers and other debris floating outside her house. Feeling abandoned by the city and fearing that their lives were in danger, Barrera turned to a close friend for assistance.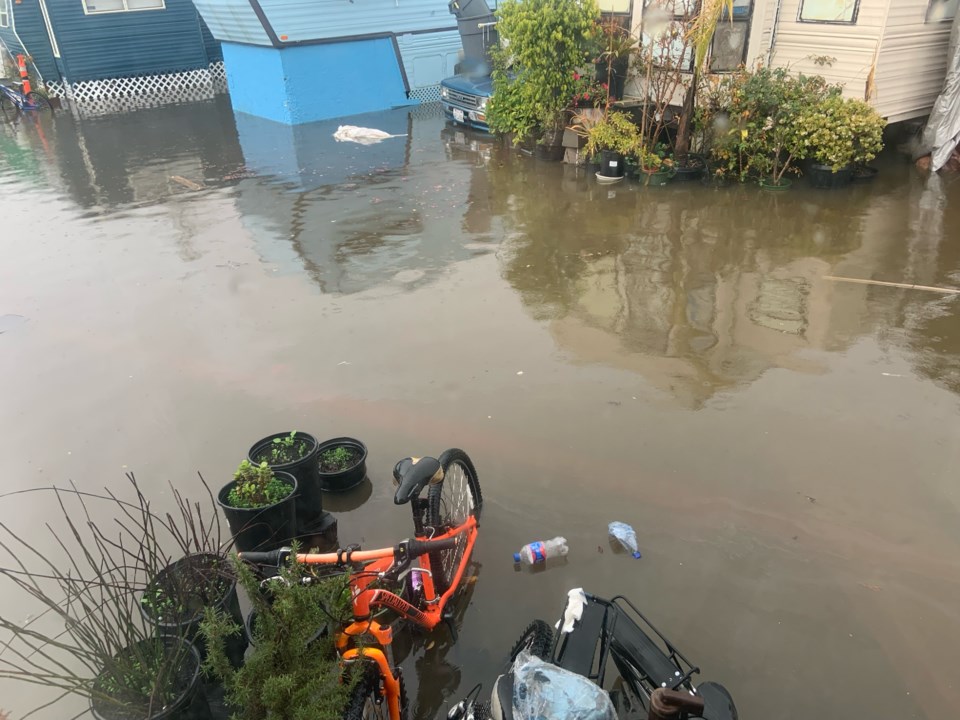 "My friend Dionicia calls me at about 9 a.m. to tell me that her property has been severely flooded and that she didn't know who to call," Sarahi Espinoza Salamanca said. Heeding Barrera's advice, she took her husband's elevated truck and drove across town to the mobile home park.
"I felt a little in danger, to be honest, going in through that street because you couldn't really tell how deep it was," Espinoza Salamanca said. She described seeing residents walking through the contaminated water, "some with boots, some with sneakers and some even barefoot," and children playing with floating oil cans and other debris.
Though the residents had grown used to annual flood events, to Espinoza Salamanca, "the whole thing was obviously not normal."
Word quickly spread about the flooding at the mobile home park. Alvarez said he was notified through a group chat with Espinoza Salamanca and Barrera.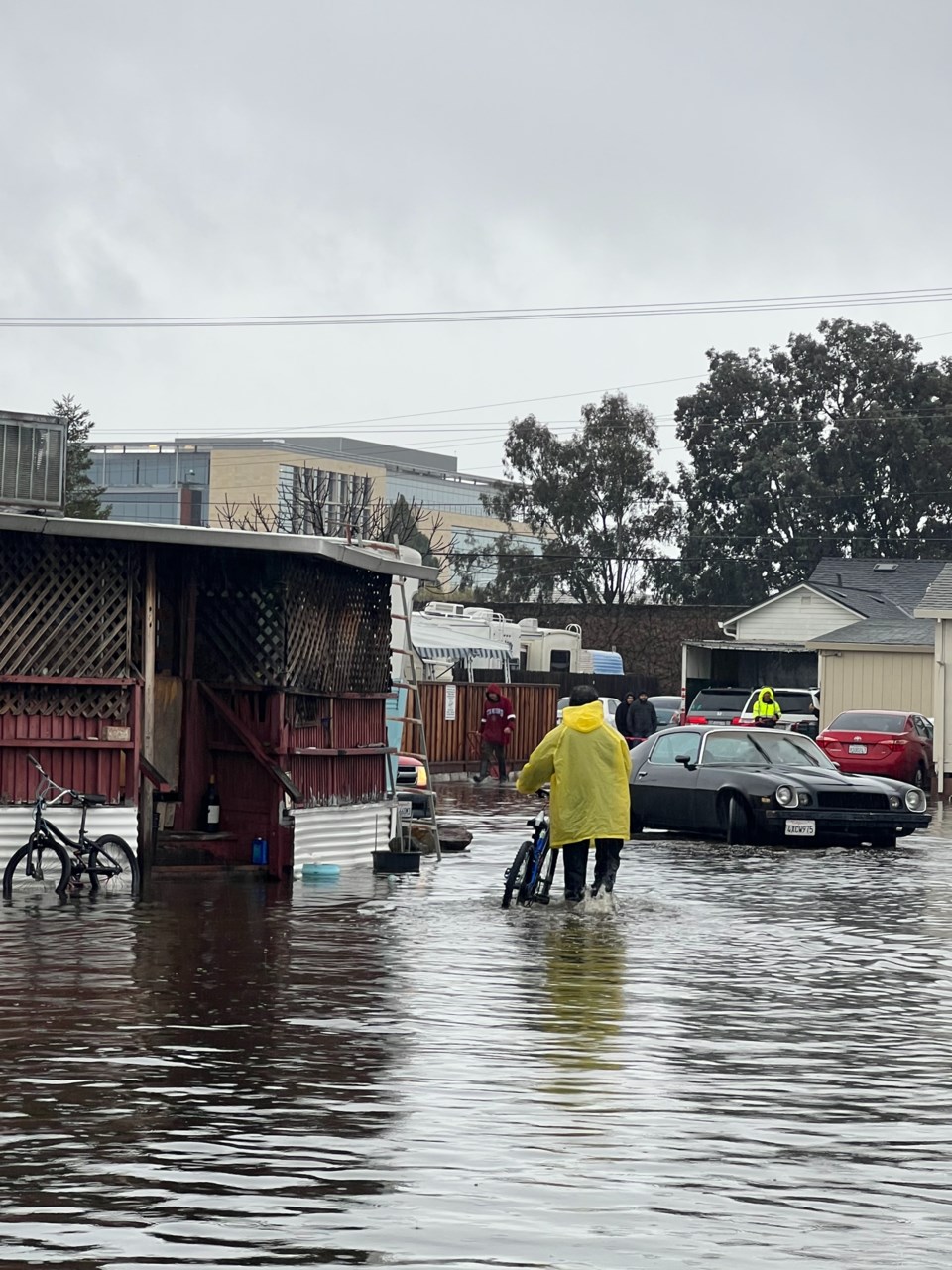 A Redwood City resident, Alvarez has long dedicated himself to supporting those in precarious living conditions, particularly the city's unhoused and mobile home residents. After losing their home during the 2008 financial crisis, he and his family were forced to relocate to Mexico for a couple of years. He returned to Redwood City in eighth grade with what he called a "new perspective…on the importance of having resources"—and a mission to support the housing insecure residents of his city.
Luis Rodriguez, a former Sequoia High School classmate of Alvarez's, described his friend as a local leader in mutual aid.
"In high school, after school you know how kids go do, like, random shit? He would just leave and go help the homeless community," Rodriguez said.
About eight years ago, Alvarez founded the nonprofit ChaseLove, which hosts fashion shows and other events to raise money to support people experiencing homelessness and other at-risk residents.
When he heard about what was happening at the mobile home park, Alvarez immediately put out a call for donations of basic items including rain-protective clothing, food, blankets and hygiene products. While Espinoza Salamanca stayed with the residents to coordinate emergency evacuations, Alvarez took to social media, sharing photos of rising floodwaters, setting up drop-off locations and soliciting volunteers for the clean-up and supply distribution effort.
"We've already seen what the rain has caused," he said in an Instagram post. "It takes a village."
Door-to-door service
Once the goods were acquired—including 150 bags of groceries, five truckloads of clothing and other supplies and roughly $3,100 in cash—it was time to mobilize.
Around 5 p.m. on Jan. 5, during a brief respite between winter storms, a team of roughly 15 volunteers of all ages, many of whom had never met before, assembled outside Barrera's home in the R.C. Mobile Park.
Iliana Garcia-Ruiz, the community health director at the Redwood City Police Activities League, said Alvarez, who recently joined her team at PAL, had recruited her.
"That's why I'm here," she said. "Because I just saw how there's so much support for everybody else, and then, like, nobody's thinking about this community."
Vice Mayor Lissette Espinoza-Garnica also joined Alvarez's on-the-ground volunteer crew. Having visited the park on New Year's Day, they said they saw the damaged property and other impacts from the previous night's storm.
"It was the next day when we were seeing the real aftermath," they said, describing stagnant pools around people's homes and storage units that were submerged by rising water.
Espinoza-Garnica said they'd heard about historic flooding in the mobile home parks but had never experienced it first-hand. "But I've seen the footage from this one. And that was a lot."
They also expressed frustration with the lack of multilingual—particularly Spanish—outreach to residents during the New Year's Eve deluge, which they said resulted in "miscommunications" between emergency workers and the mobile home park tenants.
"It makes no sense because we know that the mobile home park is largely Spanish speaking residents in a high flood zone area," Espinoza-Garnica said.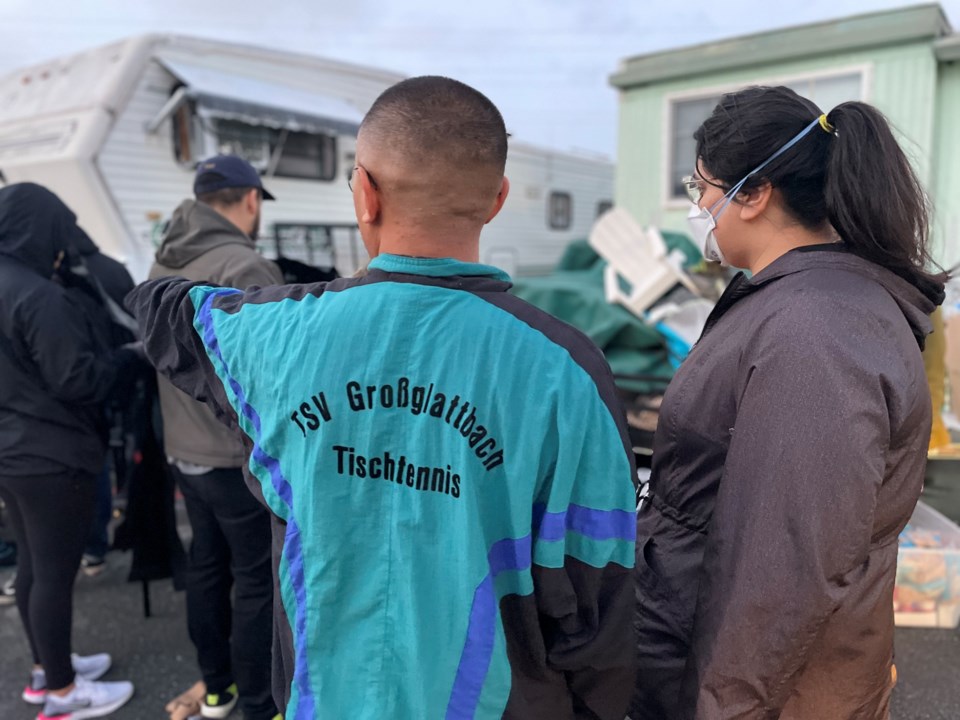 The first round of supplies were slated for the tenants living at the back of the park, no more than fifteen feet from the Bayfront Canal. Each care package included ten items: blankets, socks, beans, trash bags, paper towels, a frozen chicken, dish soap, laundry soap, bottled water and a jacket.
It was nearly dark by the time the distribution began, but residents welcomed the volunteers. One woman named Barbara, peeked out her door to thank Alvarez as he unloaded supplies. "I need canned food," she called out, instructing him to leave the food on her doorstep.
Barbara, who lives by herself, was one of several residents hit hard by Saturday's storm. High waters destroyed much of the food and other items kept in the storage unit under her home.
"She's a sweetheart," Alvarez said. "And she's a stubborn one—she's not leaving."