Every year, the event space at 890 Jefferson Ave. transforms into a magical winter wonderland, with dozens of themed Christmas trees, free-flowing hot cocoa and Santa Clauses in every shape and size.
Behind the effort is septuagenarian Carolyn Hoskins, a local resident and the proud owner and curator of the Domini Hoskins Black History Museum & Learning Center. A native of Edwardsville, Illinois, Hoskins joined forces with former 49er Jerry Rice in 1993 to start the NFL Alumni Northern California's Annual Toy Drive.
Hoskins connected with the NFL Alumni through her husband, the late Robert "Bob" Hoskins, a high school football star who went on to play for the 49ers. In the 70s, Hoskins and her four children followed Bob across the country to California, where they settled in Redwood City before moving to Belmont.
Now in its 29th year, the Toy Drive includes a weeklong holiday celebration, where the organizers collect thousands of toys and gifts to distribute to children around the Bay Area. They work with local organizations, from Maple Street Shelter in Redwood City to Voice of Recovery in Palo Alto, to ensure that families in need still have presents to open on Christmas day.
Residents are invited to come make a donation and enjoy the festivities, which run Dec. 5-11, every day from 12-5 p.m. Anyone interested in volunteering can sign up here.
This conversation has been edited for length and clarity.
Redwood City Pulse: How long have you been doing this for?
Hoskins: This will be our 29th year.
When my husband was playing with the 49ers, all of the players would bring toys for [our] kids. One Christmas, they were crying because they were saying, 'Do we have to open any more toys?' So I said, 'Okay, what we have to do is learn to share and know that there are so many kids that are not as fortunate as you are.'
We started off doing it originally as the Jerry Rice Toy Drive. We started small: We blocked off the street in front of my house in Belmont. Jerry would come, and we collected toys. This was when Jerry was playing football, so we kind of worked around his schedule. He would come, and we started doing a picture-taking of Jerry with all of the people bringing toys.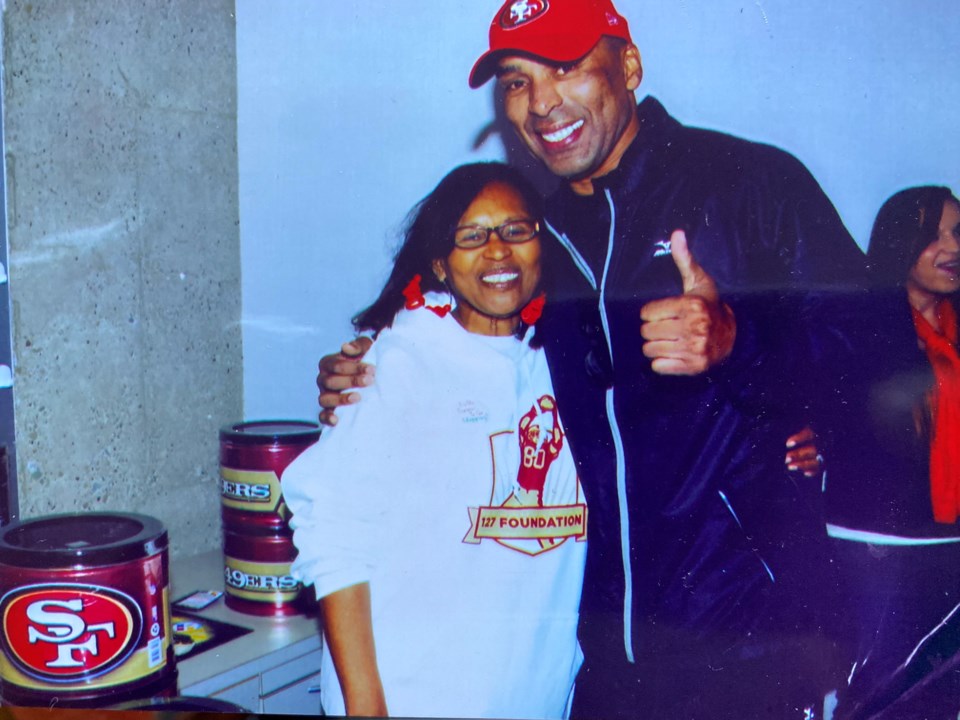 We had hot dogs, hot chocolate, neighbors to decorate their houses, even some of the neighbors and never even thought about decorating. We had groups that sang Christmas carols. It was just a lot of fun. And so we continued to do it every year. Every year it has grown, it has gotten bigger.
Redwood City Pulse: Tell me a little more about the broader purpose of this event.
Hoskins: Christmas is my favorite time of the year. And it is so hard for me to imagine kids not waking [up] with new toys.
We basically work with small organizations that kind of get lost in the shuffle with, not just here in Redwood City, but we do like the Bay Area. Anybody needs our help, we're there.
Not only did we have Jerry, but we have had Roger Craig, Brent Jones, Gary Weaver, Dennis Brown, Allan Kennedy—so many other NFL former players that help support what we do. You never know, when you come in here that you may see a former player that's in here helping to collect toys.
The NFL alumni, our model is caring for kids. So this is what we really strive to do at this time of the year.
Redwood City Pulse: You said you've grown a lot since you first started. What does it look like now?
Hoskins: We've always taken an empty building and we've created it into something we hope is spectacular. What I kind of miss being from the Midwest, you know when you used to go into the mall and you have the Christmas music and you just got that Christmas spirit? Now, it's all about the shopping. So I just feel that that's not what Christmas is really supposed to be about. I know we always enjoyed taking the kids to the malls and to San Francisco to see all the animated animals and toys in all of the windows.
So, we're trying to really create an old-fashioned, fun Christmas.
Now we are at 890 Jefferson. We are going to turn this 22,000 square foot building into a winter wonderland.
Redwood City Pulse: What does that entail?
Hoskins: Last year, I decorated 75 Christmas trees.
Redwood City Pulse: 75 Christmas trees! How long does that take?​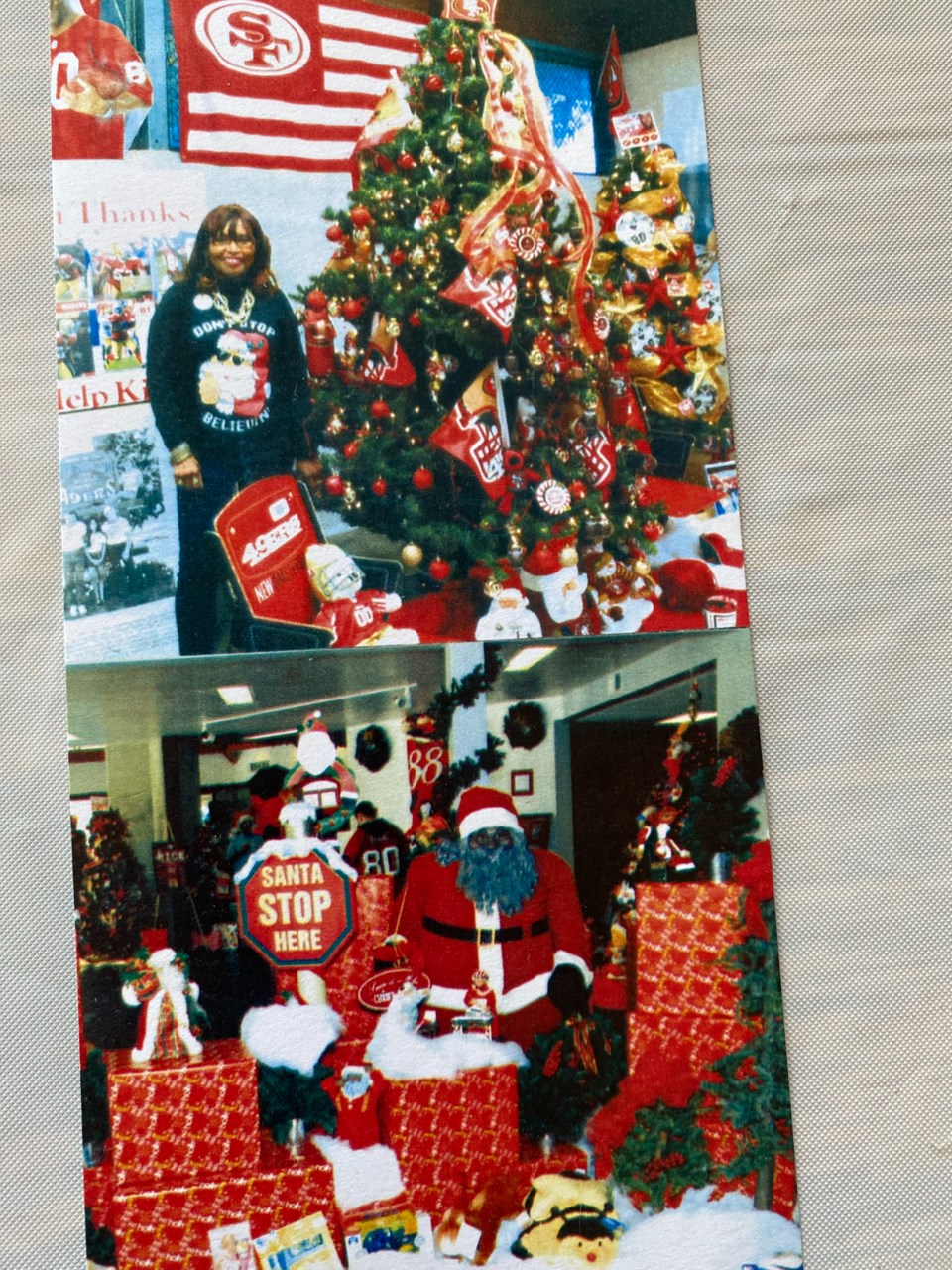 Hoskins: Well, we did it within about three weeks. We were pushing it. This year I am going to do trees—not that many because we donated a lot of our trees last year to people that did not have trees. We are going to be very creative, though, and it's gonna be spectacular.
We have one whole section that we dedicated to sports, so we had Raiders, 49ers, Giants, A's, Warriors, so we'll still do that whole section of trees.
Redwood City Pulse: Do you have a favorite tree?
Hoskins: One of my favorites was the Looney Tunes tree. And then I did an African tree. I really liked that one.
How [the themed trees] started was I used to go to Hillsdale Shopping Center, and they had this whole area and it used to have all of the themed Disney trees, which was amazing. But now, there's no theme to the trees at all anymore.
We have people that have supported us for so long that they come in, and they find their favorite trees. They bring their kids to take pictures of their favorite trees, so they can use it as their Christmas card.
Redwood City Pulse: What else can people expect this year?
Hoskins: You know how people always get excited about going to San Jose, to Christmas in the Park? We try to create something like that, but you're going to be inside.
Each day, we focus on something different. One evening we're gonna have movie night. Then one day we're asking people to donate socks. Then we're gonna have a day where we want you just to donate books. We try to reach out for other things other than toys.
When you come in, we always have tons of goodie bags. We have a big table where we have free raffle prizes. We show Christmas music and Christmas movies all during the day. We have a big counter that is full of snacks.
We have this huge, gigantic Christmas stocking that we raffle off. The value of the stocking is like about $2,000. You also get an NFL alumni autographed football that goes with the stocking. That's a way of generating funding for when we go out to purchase more toys.
And then we're going to have a huge village that we're setting up this year. We also have a really great nativity scene.
It's hard to explain—you really have to see it because it just becomes so creative.
Redwood City Pulse: And how does the toy drive work?
Hoskins: To come into the Winter Wonderland, we ask you to bring a toy or to make a donation.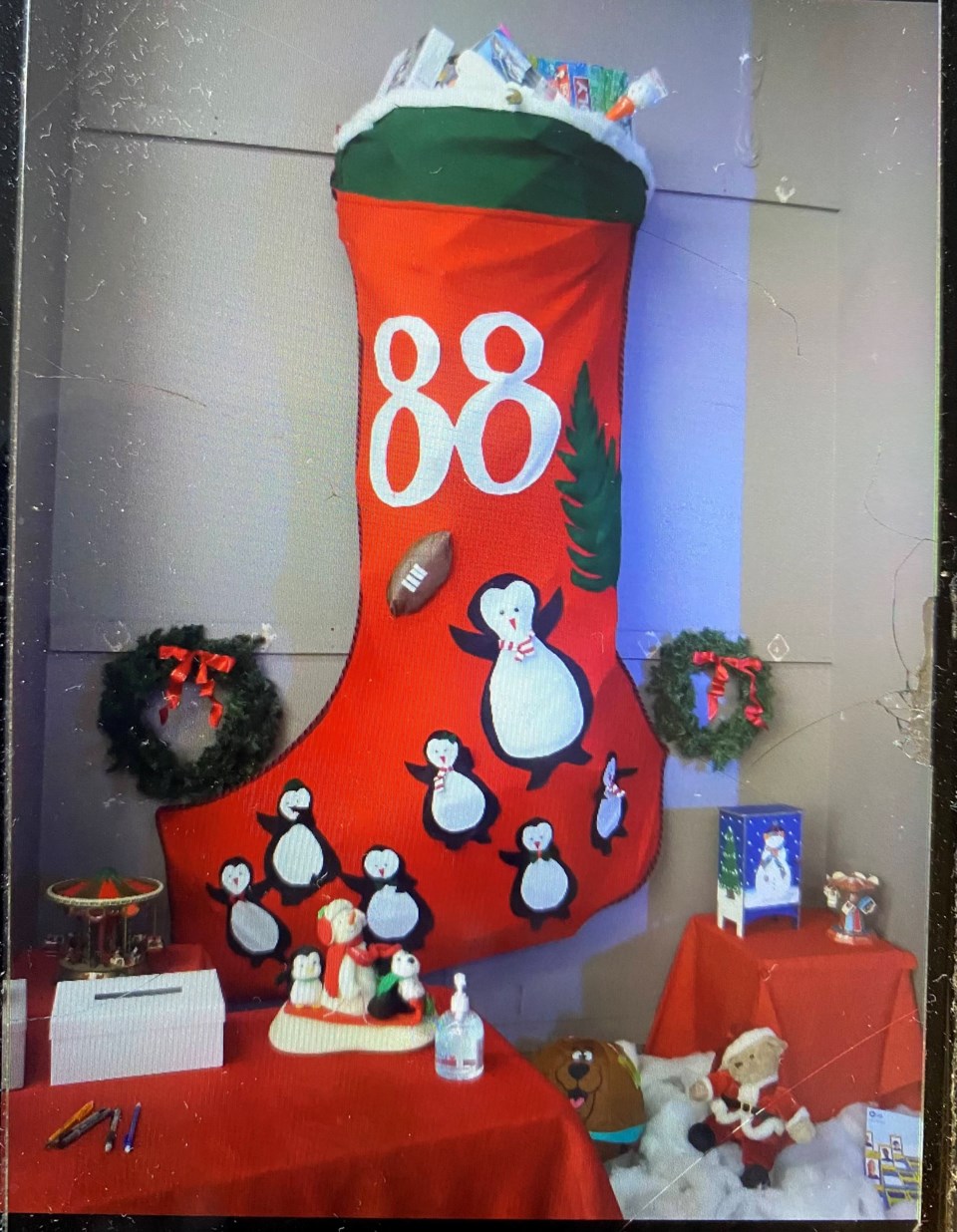 ​[The organizations] would prefer not to have the toys wrapped. So, the only thing we ask is that you bring a new, unwrapped toy.
If you forget and you don't have a toy, you can always make a $5 or $10 donation. At the end of the toy drive, what we do with funds that we have collected, we go out and we purchase more gifts. You may have on a list a child that really would like to have a bicycle or a skateboard. And so if we don't get that donated, then we'll go out and we'll purchase that by bicycle for that child.
After doing this 29 years, people still look forward to being able to come and donate a toy.
Redwood City Pulse: Can new organizations sign up to be part of this drive?​
Hoskins: On our website, if there is an organization that we maybe don't know about that is in need of help, we just have this little form that you fill out—the name of the organization, a contact person and how many toys or how many kids you want to serve and ages.
And then, I think it's December 12, for three days, we separate the toys, and we fill their requests. And on December 17 The organizations come and pick up their toys.
Redwood City Pulse: So where are you now in your preparation for the grand opening?
Hoskins: We're really trying to get the word out because that's the key part—getting the word out and getting people to go on the website to volunteer. We do need manpower when we're open, and if people want to donate a couple hours, helping to set up trees, we can always use volunteers for that.
We will start decorating on Saturday and Sunday.
Redwood City Pulse: So you must have tons of decorations in storage somewhere?
Hoskins: I do. Over in Redwood City at JJ's Storage. We were over there yesterday bringing things out, and so we will go back over there within the next couple of days and get all of the decorations and everything else. And we will start creating.
Redwood City Pulse: What do you enjoy most about the annual toy drive?
Hoskins: Every year, I say that this is gonna be my last year. But then I get messages from organizations or from people that say, if it wasn't for what we did, they wouldn't have toys, and they would not have had a great Christmas. So that has inspired me to continue.
We have a section that is huge, and we have over 100 different Santa Clauses—all sizes, all nationalities, which is great.
I look back and I think about R. C. Owens who was with the 49ers. There would always be a white santa. So, he came up with the idea that he was going to be Santa, and they still keep that tradition going. They have two santas: They have a Black santa, and they have a white Santa. So, I started collecting Black santas because you never really saw them. You do see more now, if you notice, you do see more phrases of different races, which you never saw before.
The santas—they move, they dance. People love that area.