As a child, Chris MacIntosh wasn't exactly the outdoorsy type. Uninterested in what the natural world had to offer, she was more inclined to curl up with a good book.
Now, at 74 years old, she has become a pillar in the Bay Area's naturalist community. With 43 years under her belt, she's the longest-serving docent for the Midpeninsula Regional Open Space District.
Born and raised in Britain, MacIntosh immigrated to the East Coast for grad school before moving to California and wondering, in her words, 'What on earth was I doing back east?' An administrative associate by trade, she went on to volunteer for Yellowstone National Park, the Loma Prieta Chapter of the Sierra Club and the local Sequoia Audubon Society.
In 1979, MacIntosh graduated with one of Midpen's first classes of docent naturalists, who conduct year-round public activities, including hikes, mountain bike and horseback rides. A long-term resident of North Fair Oaks, she continues to lead walks and other activities throughout the year and jokingly calls herself the "oldest living docent."
A year into her retirement, and as Midpen celebrates its 50th anniversary, MacIntosh spoke with the Pulse about her time as a docent, her hopes for the future of the region's preserves and her particular love of fungi.
This conversation has been edited for length and clarity.
Redwood City Pulse: What inspired you to become a docent with Midpen in the first place?
MacIntosh: One of my friends that I would go hiking and horseback riding with in Palo Alto was in the first class of docents, and I saw what she did. I'd learned to really enjoy hiking and exploring the outdoors, so I signed up for the class. And it was one of those things where I say either: I found my niche, and I stayed with it, and it's been an almost perfect match. Or, I'm stuck in a rut.
There's a lot of docents who join the program and stick with it for decades—30 years, 20 years, etcetera. One of the reasons that I have stuck with the district is that they understand that people have lives. They seem to value people over the long haul, rather than, 'If you haven't put in your four hours this month, then you're out of the program.'
Volunteering for the district has just been one of those things where I always feel I get far more out of volunteering than I ever put back into it. And I think that when people can say that about their volunteer activities, then you've got a good fit.
Redwood City Pulse: What do you feel you get out of volunteering with Midpen?
MacIntosh: I've really discovered that what I get a kick out of is showing people and trying to turn them onto the things that I love in the outdoors. Nature and the outdoors is absolutely essential to me and just trying to communicate what we have there and how fascinating it is to other people. If I can have somebody say 'wow' about something, then that's fabulous.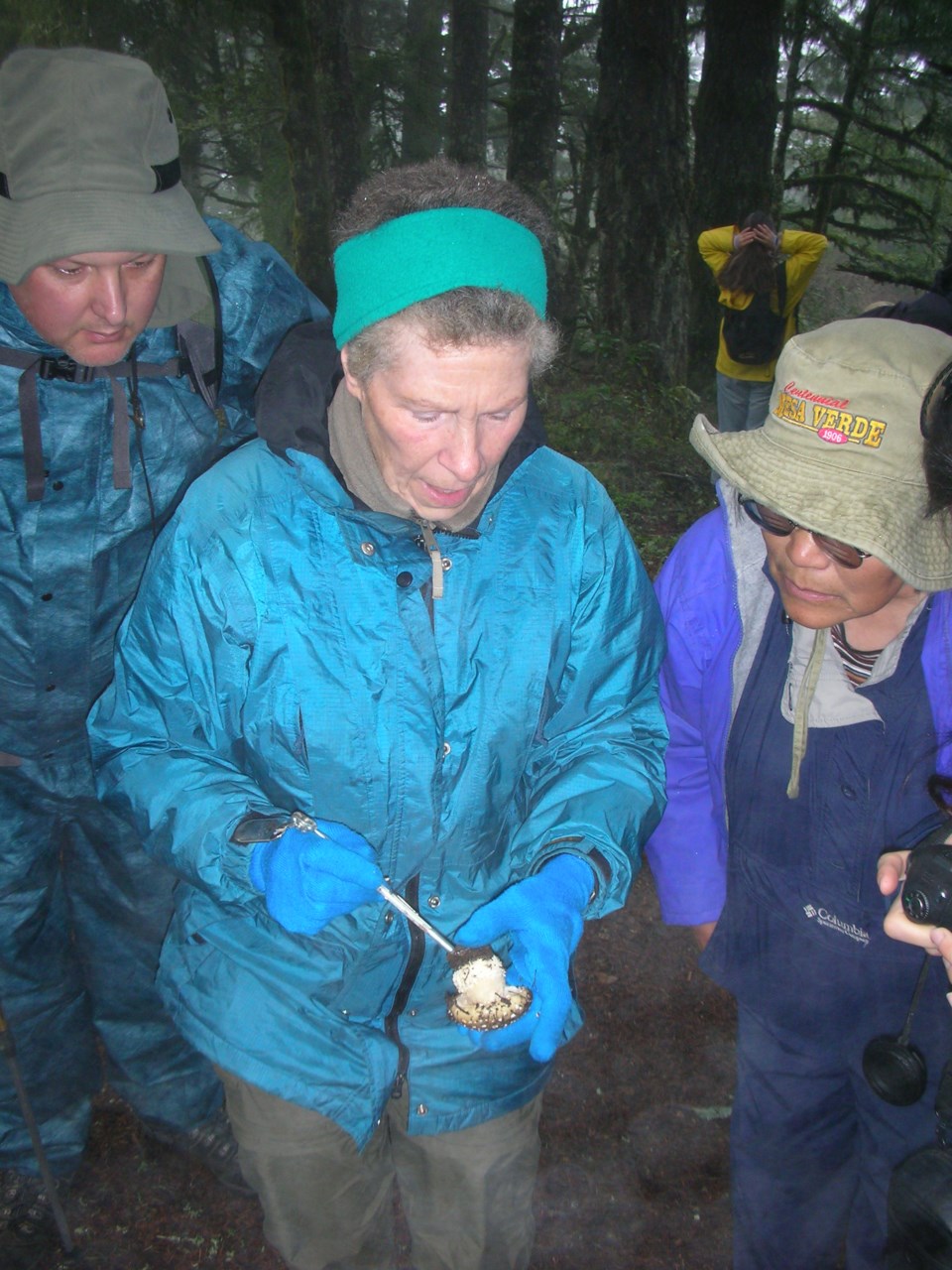 Redwood City Pulse: How is nature essential to you?
MacIntosh: It's been a gradation. I was the kid who wanted to stay indoors reading a book and then the young adult didn't want to go for walks and was really happy living in Manhattan. Until I wasn't.
I actually then went and worked in Yellowstone for a couple of summers, and that was really where I picked up hiking and discovered, 'Oh, I know a lot of the wildflowers because they're related to things, or the same as, what my mother had in her garden.' And it's been all downhill from there. [Laughs]
I just know that I have to be able to see out of the window. My bosses got used to—if I was sitting in their office and they had their back to the window and there would be a bird in whatever shrub—me walking over: 'I just saw a bird!'
Redwood City Pulse: I relate to that. I wasn't always the kid running outside to play in the dirt either, but I have come to find outdoor spaces necessary for my mental health. Do you think that's something about you that has changed or that you've discovered through exposure?
MacIntosh: I grew up with parents that liked the outdoors. My poor mother always would have loved to take us along walks, and both my brother and I were like, 'eh.' But we did see a lot of countryside, have a garden and things. In Britain, at that time, you were always pretty close to it. I didn't realize until later how much I had learned as a kid.
This is kind of off topic, but in one of my jobs, I would take the Caltrain up to San Francisco every day. One of the places you go past is where 101 goes right next to the Bay on one side, and then there's kind of a small lake/big pond on your left—and that's the Brisbane Lagoon. I'd look at people in the car, and they'd have their heads in the newspaper or whatever, and when we went past that stretch, they would raise their heads and look. And I would bet if you talked to any of them, they would say, 'Oh I don't notice anything. I'm not interested in it.' They probably were completely unaware that they were doing it, that they were responding to this body of water outside.
Some people are kind of scared of nature or leery of it. But I just think there's something about lowering blood pressure, letting you breathe. And during COVID, look how much everybody just moved outside!
Redwood City Pulse: Can you tell me about a day in the life of a docent?
MacIntosh: I'm pretty loose about stuff. We gather, introduce ourselves, do all the housekeeping type stuff. Then we head off on this adventure. One of the fun things about doing a group walk with the public is that what you see with your own eyes is only a portion of what their eyes are going to notice.
I think enthusiasm is perhaps one of my best features. Even if I'm tired, and I haven't had enough coffee, you get out there and it's like, 'Wow!' If it's a new walk, I'm going to prep and find a couple of friends to go pre-hike the preserve. And then, when I leave that hike, I figure out what I need to bring. For example, if I'm doing a fungus hike, which I like to do in winter, assuming we have rain, I have a handout for people on how to do spore prints at home if they find a fungus in their yard. You'll find out there's a lot of interesting stuff out there you would not have noticed before.
Volunteer trail patrol is another program that I've participated in for a few years, which is where you just wander around the preserve—you just go where you want to hike and introduce yourself to people and say, 'Remember to pick up your dog poop,' or, 'Hey, slow down.'
My partner says you can take me out of the docent program, but you can't take the docent out of me.
Redwood City Pulse: What are your favorite activities to lead?
MacIntosh: I am a generalist. Half the time I can't think of a theme for a hike, so I'll just say, 'Oh, let's put this hike on the schedule and go out and see what we can see in nature.' Some hikes have been like, 'Ok, let's talk about all the berries we see.' Or, 'Oh, it's just rain. Look at all the fungi we're finding!'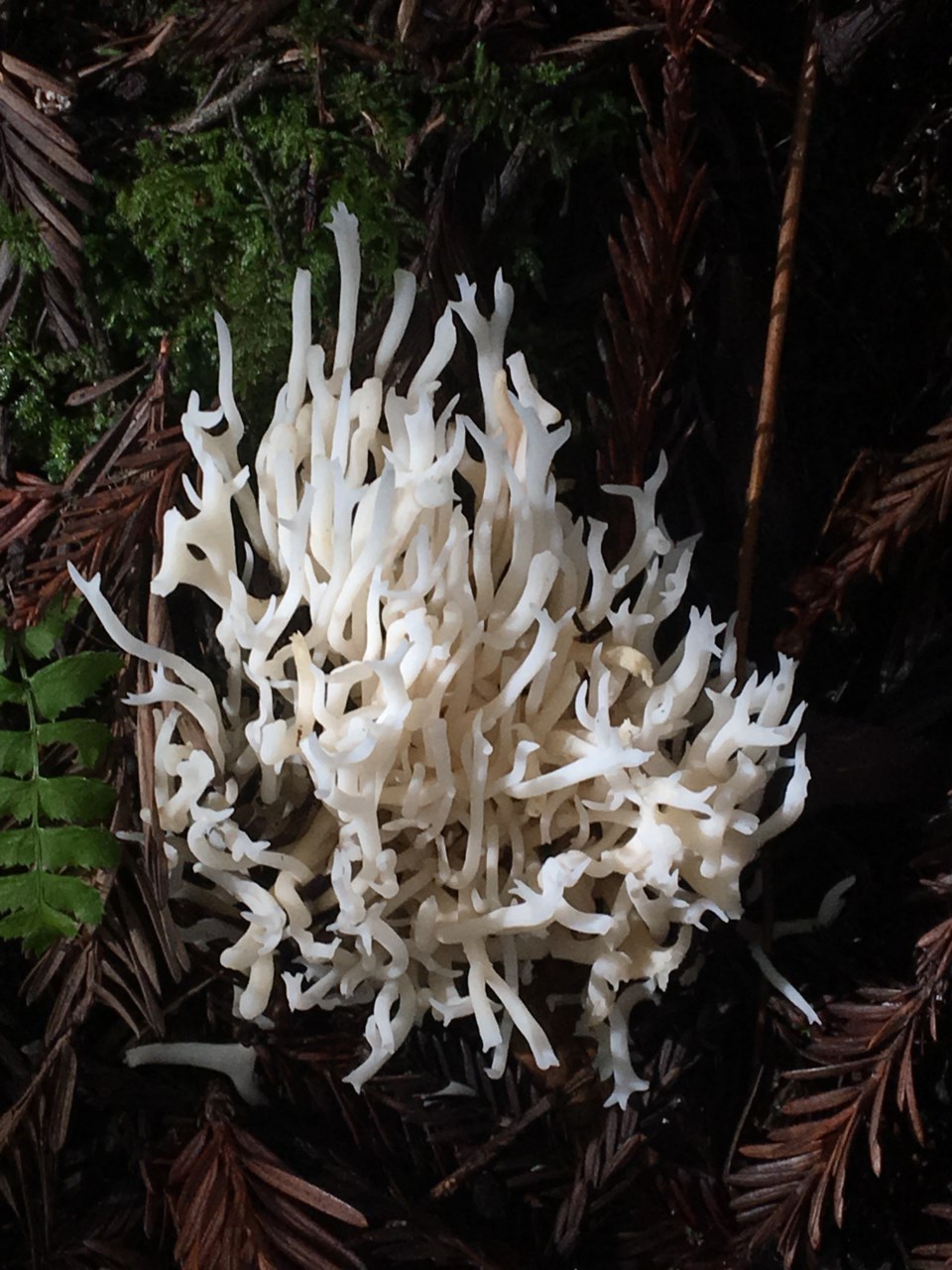 I really enjoy the fungi walks. People think that's sort of one of my specialties, probably because I was the first person to think, 'Well I know a little bit about fungi, and nobody's leading walks, so let's go out and just show people there are fungi out there, even if I can't name and talk scientifically about all of them.' Which I don't. It's much more of a wow factor or some really interesting facts about fungi. Because if you're really into fungi, you can get absolutely cross-eyed with science, and that's not fun for most people.
I also have to now try and work, not just on leading the outdoor stuff, but on the conservation aspects. There's so much development being planned along the edge of Bay in San Mateo County. They've done a lot of infill along the train tracks on El Camino, and now there's that 4 Corners Ravenswood thing in East Palo Alto and Redwood LIFE in Redwood Shores. And so I find myself now trying to work on things like bird-safe lighting and bird-safe glass on all those developments. You don't want the edge of the Bay to look like Las Vegas at night because that will just be fatal for a lot of birds.
Redwood City Pulse: Are you concerned about all these developments?
MacIntosh: Yes. I think the role of the environmental [organizations] is simply to try to educate some of the developers in the cities and say, 'Yes, if you're going to build, let's do it in a way that is safe and not harmful to both humans and wildlife.'
Humans respond to the green and the outdoor environment. I don't think living in a neon world is that good for humans either.
Redwood City Pulse: What did it take to become a docent?
MacIntosh: They only do training every two years because it's pretty laborious for the staff. I think it's a quarter-long class. It's one evening a week and a Saturday in the field. I believe they also get certified as a California naturalist now, which we did not. They have a wonderful naturalist trainer plus some other people who train them. Before and during, they're supposed to come on some of our walks so they can see how existing docents do it.
So much of this is learning on the job. I mean, when people say, 'Oh my gosh, how do I do it?' It's like, 'Well, I don't know, you just jump in and do it.'
We just had our first class in four years because the 2020 class got canceled. It's amazing—those people stuck it out.
Redwood City Pulse: What do you feel are the most meaningful things that you've learned through this experience?
MacIntosh: I learn from other people. You get an interest, you go back, you study it, you poke around, you ask other docents. It's almost more fun to go out on a pre-hike with some other docents when you're scouting for the hike you're leading.
I love going out with other docents because you learn interpretation skills or how you can present something. Or they'll know some fact that I don't and it's like, 'Whoa, that's a good little factoid to toss out!' One of the things I learned up here is there's a fungus that likes to eat nematodes. And it's just like, 'Ooh, a carnivorous fungus, yes!' That one's kind of a fun one to pack away, and if we find it on the fungus walk, yes, that'll blow somebody's mind.
We have almost more fun doing that than we do with the public because, you know, we're a bunch of nature nerds geeking out together. And, to me, that's a lot of the learning.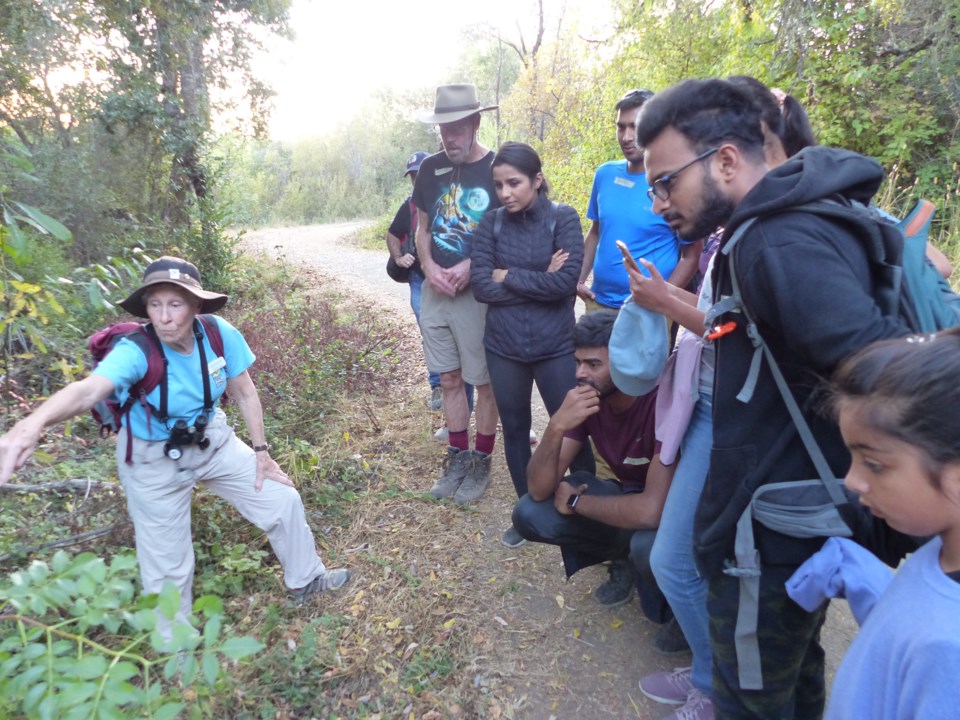 Redwood City Pulse: Parks have seen huge increases in visitors, especially since the pandemic. Are you seeing signs of overcrowding, overuse, disrespect in our local parks?
MacIntosh: It's not as much, but there are cases, there is increased use. COVID really did that. If I go out for a hike somewhere, it's like, 'Okay, plan A is to go to this preserve, but if we can't find the parking, we'll go to plan B.' Especially on weekends. We used not to have to do that.
They've got a new sort of system for monitoring parking at Rancho San Antonio, which for a long time has been a very busy preserve. And then there's a whole discussion going on about how to make more parking for people at the coastside entrance to Purisima. It seems clear that people are getting out more, and that's a good thing. But it is hard.
We need to keep these things, we need to give people an outlet. And you need the funding for that.
Redwood City Pulse: Speaking of change, have you seen the natural landscape shifting over the decades that you've been working in it?
MacIntosh: On the large scale, not so much. We haven't had a big earthquake, so mostly not too much big landslides. Obviously we've had fire.
But it is interesting to watch a patch of land change over the years and decades. One instance: When I started doing earthquake walks at Los Trancos, we have photographs that were taken after the 1906 quake showing the furrows in the land that the earthquake had caused. And I could stand at a certain station with that photograph and say, 'Look, there's that oak tree.' And now, as the land use on that particular area has changed—because when the district got it, it was no longer agricultural (I forget whether it was grapevines or grazing)—you cannot use that photo [for comparison] anymore.
Redwood City Pulse: Do you think it's fair to say that working as a docent has changed the way that you see your environment?
MacIntosh: Of course. Yes, because it's not just something you pass by; you're trying to learn about it so that you can accurately convey information to people. I think I learn a lot by seeing people's reaction to things. There's an excellent feedback loop—you give out information, you see how people take it, or you take their questions and think, 'Oh, that's a good question. I need to go and learn that.' It's just constant.
I don't know how long I've led this fungus walk for. It's been several years, and I usually do two a year, but every time it's a different set of fungi. You watch things like logs being decayed. Or the birds change.
Nature rarely does the same thing exactly twice.
Redwood City Pulse: So, are you planning to be a docent forever?
MacIntosh: Sure hope so! I'm sure as I get older and creakier, the hikes won't be as long. But, boy, I'd really like to because this is what keeps me going.
The district is one of the most valuable, and I'm always so grateful that, way back, the citizens voted it into being because I cannot imagine what our landscape would look like without places like the Open Space Preserve, without all the work the stations did to help protect it. I'm not sure if everybody remembers—they sort of take it for granted now. But we need these places.