When 69-year-old Harvey Bondar first saw the flier, he pocketed it more out of curiosity than anything else.
Now, three months later, he's just weeks away from the biggest ride of his life: 525 miles over eight days, from San Francisco to Los Angeles.
Bondar, a longtime resident of Emerald Hills and father of two, is one of 250 cyclists participating in the 2022 California Coast Classic Bike Tour, an annual fundraiser for the Arthritis Foundation. On September 10, he'll begin his eight-day journey southward across the state.
From Brooklyn, New York to the California coast, he has run dozens of marathons and ridden thousands of miles throughout his life. With his seventies in sight, he's gearing up for the next challenge and staying true to his yearly commitment to contribute to a cause he believes in.
Bondar spoke with the Pulse about why he chose this particular ride, where his training has taken him and what he's learned in the process.
Redwood City Pulse: How did you start riding?
Bondar: I actually originally started biking when I was in college. (I mean, this is aside from getting on your Schwinn Stingray in Brooklyn and sneaking off with your friends and biking to Coney Island, which I did.) But in college, I had a roommate who had a—we called them ten-speeds because they only had 10 speeds, unlike today's bikes—and he decided he bought the wrong bicycle. He kind of "fire-saled" it to me.
The first tour I did when I was in college, this is back in the 70s, was my college girlfriend and I took a drive-away car—these were cars people want to move from place to place. It was an AMC Gremlin, and I just recently saw a picture of it. I don't know how we stuffed two bikes, camping gear and three people in this car, drove it to California, biked from Oregon to San Francisco.
Over the years, I've done multiple bike tours with different friends. I've biked through Nova Scotia. I biked across Prince Edward Island. I biked from New York City to Buffalo. I biked the Icefields [Parkway] in Canada when there were still glaciers. But I stopped biking when I had kids; it just took too much time.
Redwood City Pulse: But now you're about to embark on a 525-mile ride. How did that happen?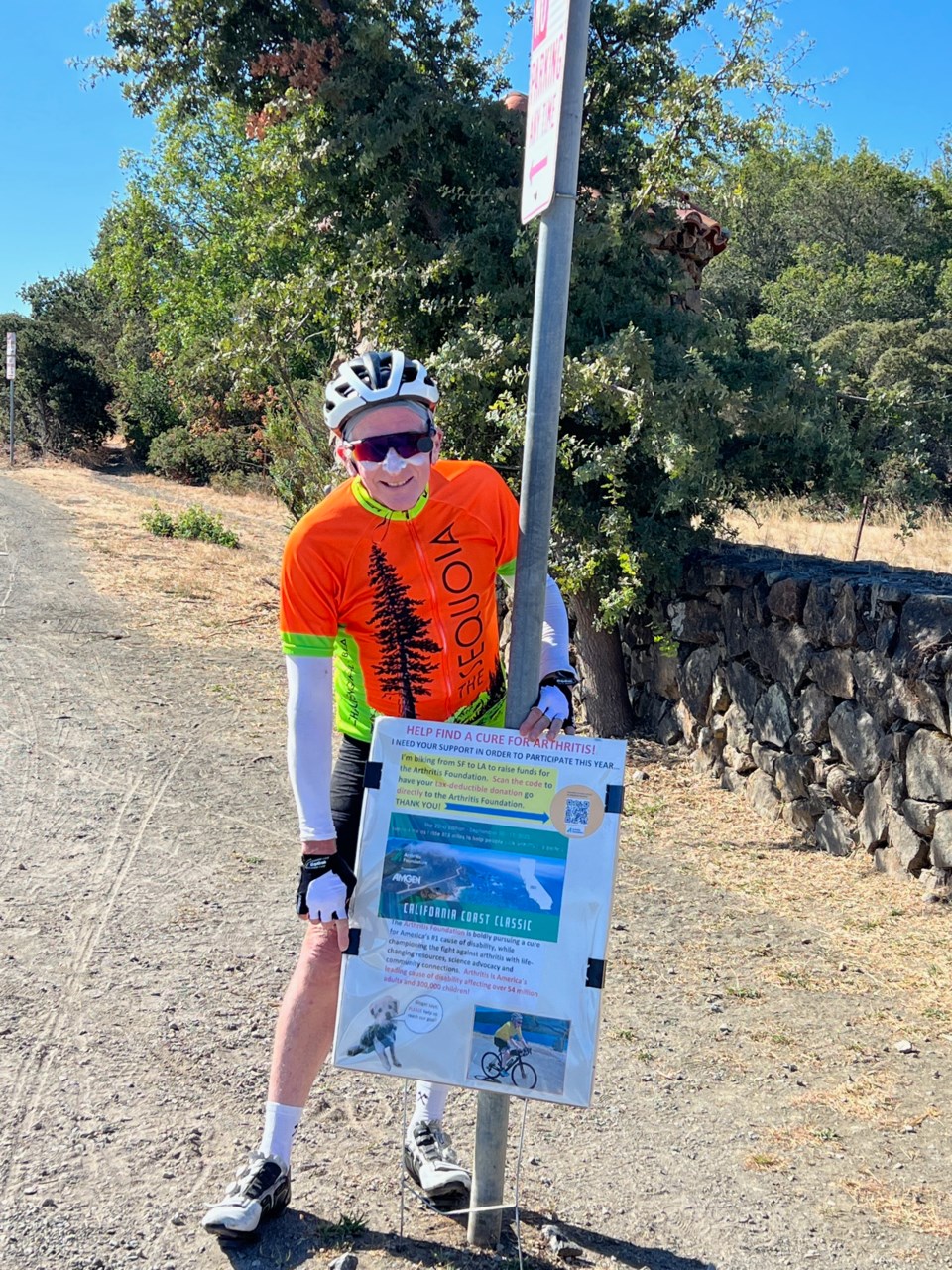 Bondar: Seven years ago, I started biking again. And just like many people do on the Peninsula—you know, on Cañada Road, around the loop it's called, Potrero Hill, Alpine—did all that and built a little community of bikers. You go out there, you always see somebody you know, you bike along with them, or I have some neighbors who I bike with. And just got into it.
In May, I was at Sports Basement, and I stumbled on this brochure, which I had picked up on the way out. And it was for, it's called the California Coast Classic. It's just an attractive brochure, and I really had no thought in mind that this was something I would do. I grabbed it, tossed it on the seat of my car, and a week or so later, I looked at it and looked at myself and said, "Why not?" It was this brochure for this eight-day, 525-mile ride from San Francisco to Los Angeles. And they require that you raise at least a minimum of $3,500 for the Arthritis Foundation. So I said, "Okay, well, do I want to make that commitment? Can I actually raise $3,500?" And I said, "Well, you know, worse comes to worst, I'm going to be a generous donor to the Arthritis Foundation."
I started reaching out mostly through Facebook and SMS messaging to all the people in my extended network over the years. And I raised initially, like, $5,000, in about two weeks. Then they sent this brochure, and they said, "If you raise $7,500, you get the top-donor riding jersey. So being my competitive self, I said, "Wow. If I raise another $2,000, I get this $50 jersey." So I just kept fundraising. I hit my initial goal of $7,500, and I actually raised my goal.
Redwood City Pulse: So, what are you getting into with this specific ride?
Bondar: It's a challenge. The first day is 82 miles and almost 5,500 feet of climbing. That's a fairly significant amount of climbing. It's not the death ride, but it's not immaterial. And then the fourth day, it's 70 miles and something like 7,000 feet of climbing—it's when you go from Big Sur to Cambria. And based on what I've been riding, none of those days is something that I haven't done.
I did what's called "The Sequoia," which is 100 miles and 10,000 feet of climbing, in the beginning of June as part of my training package. It was not trivial for me. It was an accomplishment. But it's different doing that—a one-day event—versus riding from San Francisco to Santa Cruz, which is the first 82 miles, and the next day you have to get up and ride another 50 miles. And the day after you have to ride another 50 miles, and then the day after that you're riding 70 miles and 7,000 feet of climbing. So as much as I feel like I'm reasonably fit for my age and for the challenge, there's the unknown of doing it eight days in a row at this age. So I'm looking forward to it. It seems to be a great community of people.
It's camping based events, so they carry your stuff, but you have to set up your tent and take it down every day. Although, I have to admit that I did book a hotel room for the fourth night after the big Cambria ride so that, just in case the camping wasn't going as well as I hoped, I'd have a nice warm bed and warm shower to sleep in.
Redwood City Pulse: Have you done any big fundraising rides like this before?
Bondar: I decided three years ago that I was going to do something every year. So last year, I did a month-long, 300 miles in a month, self-managed challenge for the American Cancer Society. And I raised $1,000 for them. So this was a huge jump in terms of fundraising.
Redwood City Pulse: Is this going to be your longest one-stretch ride ever?
Bondar: In the Wayback Machine, I've done multi-day rides. But I don't think I've ever done anything 500 miles. New York to Buffalo is about 400 miles. So this is yes, the longest.
Redwood City Pulse: Tell me about your interest in supporting the Arthritis Foundation.
Bondar: It's just a great cause. It doesn't have the cachet of cancer and terminal-ness, but you start talking to people about arthritis, and it's just all over the place. So my partner—she's got forms of arthritis, my sister—she's got arthritis. And then most of the people that I know who donated are probably in the 50 to 70 age range. It's just story upon story of people who, "Oh, yeah, I've had it," or "I'm getting it." From people who've had their knees replaced or hips replaced to just minor arthritic pain. It's just a part of the process.
But what I also found out in the process is that there's a form of arthritis called juvenile arthritis that affects [300,000] Americans under the age of 21 that's a lifetime pain management issue. And it just doesn't get the press coverage that some other more "formidable diseases" seem to. But it's life-altering for people.
Redwood City Pulse: When did you start training, and how did you kind of map it all out?
Bondar: That's maybe a funny story more to me than anyone else. They send they send you all this literature at the beginning. It's like 15 files of hotel rooms, how to raise money, a training calendar. And I kind of missed the fact that there was a training calendar.
So, about two weeks ago, I was printing out materials, and I said, "Oh, a training calendar!" I printed it out, and luckily my self-training was very similar, probably a little bit more aggressive than their training calendar. But I looked at the last four weeks, and I went, "Oh, they want me to ride 200 miles a week." I was riding maybe 140, 150 miles a week; I ramped up to that over the course of May. And I looked at this, and I went, "Oh, crap. I've got a ride 190 to 200 miles a week for the next four weeks."
Today's ride is my long ride. It's going to be 70 miles, 7,000 feet of climbing. From my house, I meet up with a friend at Edgewood and Cañada, we go up Old La Honda, we go down 84, I cross over to Pescadero Road, I go through Pescadero, north on stage to Highway 1 and then up the dreaded Tunitas Creek Road. And then I'll add a few miles on at the end just to round it off to be 70. But I'll say that I did a similar ride last Friday, and the pre-ride anxiety never goes away. It's like, "Oh my god, I've got to go up Tunitas Creek again." Because there's a patch up to Tunitas Creek that's 14% grade. I'm sure when I was 25 or 30, it wasn't as much of a challenge. But for most people, regardless of age, you get to these 14% grades, and if you weren't religious beforehand, you get religious really quick.
Redwood City Pulse: I really relate to this. I'm not a big writer, but I'm a runner, and I ran the New York Marathon last year. And no matter how many months I was training, every time I had a big run the night before, I'd be a little panicky. You just never quite know what's in store for you any day.
Bondar: I'm a veteran of 25 marathons, including four New Yorks, and I will say, I had exactly the same experience. In fact, I stopped doing marathons, not because of the marathons but because of the training. Because of exactly what you described: I was so edgy before these long runs that I wasn't fun. I'd have a hard time going to sleep because I was so worried about doing the 20 miles.
Redwood City Pulse: But then you feel great after.
Bondar: Absolutely. Top of the world.
The main difference I find between biking and running, and there are many, is you can't coast when you run. It's like, if you're doing 20 miles, you're running for 20 miles. You either stop or you're running. At least on a bike, every once in a while you get to go, "Whew!"
Redwood City Pulse: When I was training for the marathon, I really had to plan my week around it because it just takes so much time and so much energy. I'm curious if you're having a similar experience in training for this ride.
Bondar: Absolutely. I will say that the anxiety of a long ride is not quite as palpable as the anxiety that I remember from before the long runs. I don't know why.
But in terms of managing your food intake and balance becomes important, not just for the long rides, but overall, in terms of fitness and conditioning. I'm still working. Luckily I work from home; I work for a multinational startup, small company, but it gives me a lot of flexibility, so I can get up at 6:30 and do some work. I can front-load my work Monday to Thursday, so that Fridays become my long ride training day.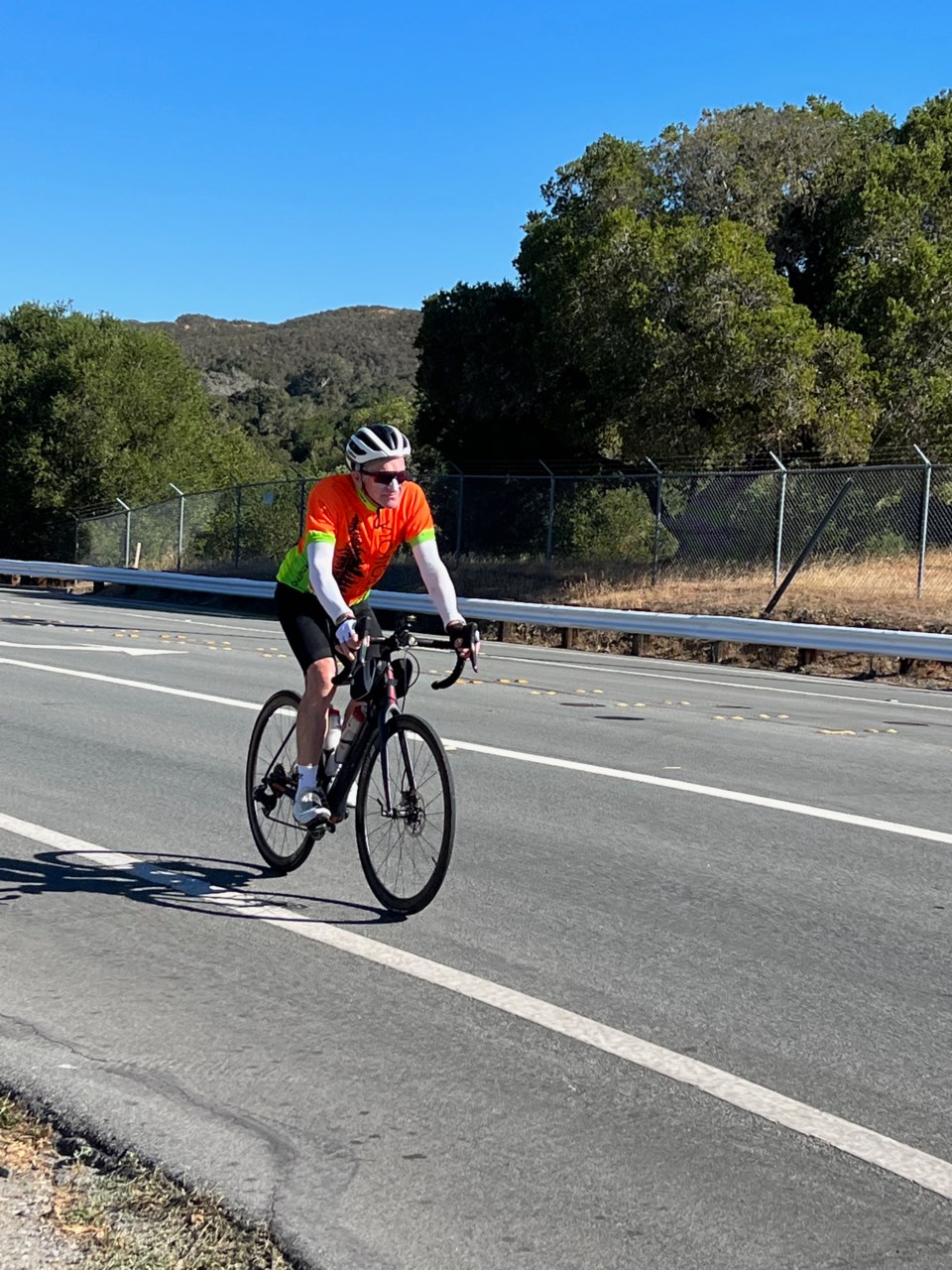 And the reason I do it on Friday, because I'd be just as happy to do it on Saturday, is safety. You don't have this with running, but you have it with biking: Safety is a huge issue. So there are roads I just won't go on, and there are roads I won't go on a weekend. I won't go down 84 to the coast on a weekend—there are too many hot shots on motorcycles and fast cars. Whereas you go down 84 on a Thursday or Friday, maybe you see ten cars go past you. But if there's an anxiety around riding, other than, "Gee, I got a big ride today, and I'm feeling a little anxious about it," it's the safety issue.
Redwood City Pulse: How do you plan out your routes? And what are some of your favorite places to ride?
Bondar: Occasionally, I'll do an organized ride. This Saturday, I'm going to go over to Fremont. There's a group that's semi-affiliated with this California Coastal Challenge. This guy sets up these rides, and it's only something like five or six people. I'll go do that because it kind of forces me to get up, get out there and do it.
Otherwise, I just roll out my door. I'll go down the hill to Cañada Road, and I'll say, "Today I'm going to do 25" or "today I'm gonna do 35 miles," and in my head, I've got very familiar routes. Cañada to 92 and back—really easy ride, a little bit of rolling hills, not a lot of elevation. If I just want to spin out miles, I'll do that. Then I'll go up to the top of Portola Valley, and then there's that climb up Alpine, which most people don't even know is there. That's like 1,200 feet of climbing from the bottom to the top, not terribly steep, but it adds a little bit of elevation gain. I probably have, like, 15 or 16 components of rides, and depending on how many miles I go, I'll say, "Well, this will give me 10 miles, this will give me 12 miles," I'll do a little algorithm in my head to say, "Okay, this is what I'm going do today."
The big rides usually mean going up and over the hill. That's where more intimidation comes in. Going up Tunitas or going up Page Mill, it's just a bearish climb.
Redwood City Pulse: So, do you have any rituals or practices before a big ride? Do you always stretch or eat the same kind of banana?
Bondar: Much like the marathon anxiety we talked about, I try and get as much ready the night before as I can. So I put my bottles in the freezer, so I can just fill them up quickly in the morning and they're as cold as can be. Today, I actually made a couple half peanut butter and jelly sandwiches, which I've never done before.
Part of the ritual is getting everything charged. I have to charge the batteries for my shifters because I have electronic shifting. My lights, my computer, both for safety and for basic operational flow. And then I lay all my clothes out. I try and make the morning as easy as possible—that's my ritual. And then I try to get up in the morning early enough so that I can have breakfast and, you know, take care of my biological needs.
I ride at about a 12 or 13-mile [per hour] average pace, particularly when it's this kind of climbing involved. So, 70 miles—it'll be five, six hours in the saddle.
Redwood City Pulse: In your training, have there been any standout moments or memories?
Bondar: What really stands out is, I've met great people. There was a gentleman who lives in Palo Alto—his name is Jim. And Jim, he's a few years younger than me, but he's got calves the size of my thighs and this long, dark and graying hair out of the back of his helmet. And as I've come to know, he pretty much rides like 40 miles every day. He works in Palo Alto, and he'll go by, and he's really friendly, he'll always wave.
One day, about six months ago, we happened to be riding next to one another, and we chatted for a while. You know, "What's your name?" And I gave him my name, and he said, "My name's Jim." But in my mind, he had the visage of an Italian racer from the Tour de France days, and I couldn't remember his name. I started asking all my friends who ride a lot, and everybody knew him, but nobody knew his name. So I named him Fabio. So I then ran into a friend of hers, and I told her this story, and she goes, "Oh, you mean Jim?" I said, "I call him Fabio." So next time I rode, I saw Jim. We chatted again, he told me his life story, I told him the Fabio story. He thought it was hysterical. So now I see him all the time, and we'll ride with one another for a while, but I still can't even really remember that his name is Jim. And it turns out, this other woman who also rides with him said, "Oh, did he tell you that his nickname used to be Fabio?"
It's a really nice community of people. And that, for me, makes a difference.
There's so many stories. You just start peeling the onion because somebody's on a bicycle, and you find that there's a whole life behind them.
Redwood City Pulse: I was going to ask you what your favorite part of training has been, but it sounds like maybe that's it?
Bondar: I think it is. We're in a very fortunate situation here that we live in natural beauty. If you asked me what my most "aha moment" was from a visual perspective, it's coming up west Alpine. There's a point where you get, not to the top, but you get to a plateau. You're looking over this incredibly beautiful valley, and you know that just on the other side of the mountain range, which is maybe two miles away as the crow flies, is Silicon Valley. But you're standing there, in the middle of this beautiful patch of redwoods, you've just come up this beautiful road. And you're thinking, "It's amazing that we could be so close to this epicenter of commerce. And yet, so far away."
Redwood City Pulse: I'm curious whether you feel like you've learned about yourself during this process.
Bondar: I think I've learned about perseverance. I've also learned not to be constrained by aging, right? I look around me and I see people that I've known for decades, and they're struggling with all kinds of things. I've got my own roster of afflictions, but I guess what I've really learned is to be appreciative of what I have, more than more than anything.
If I was my kids' age, in my mid 20s or even in my 30s, looking at 69, I'd be thinking about wheelchairs. And the fact that I can still do this at this age…I'm not a religious person, but I'm going to use this term: I feel blessed. Whatever that means. I'm fortunate that I can still do this. And not worry about the future but just enjoy the moment. That's really what it's about for me.
You said that you do a charity ride of some kind every year. Is there a desire to contribute to people who are struggling with physical or other disabilities, disease, etc. while having some gratitude for your own health?
Bondar: I couldn't have said it better myself.
My oldest friend in the world is six years into stage four cancer. I literally had my checkbook out five, six years ago thinking I'd have to fly back to New York for his funeral. And miraculously, he's one of the early recipients of [a new therapy] and he's still kicking around. It's been a struggle for him, but 20 years ago, he would absolutely not be alive. So to be able to contribute back to that has a very personal meaning for me.
Redwood City Pulse: Is your family going to be there at the end?
Bondar: My partner Patricia, she's actually volunteering the last three days. So she's going to drive down, volunteer and then we'll drive back together. And she'll be there at the start, too, dropping me off.
Redwood City Pulse: And what are you going to do to celebrate?
Bondar: I'm gonna have this great article that you're going to print framed and put up on my wall. [Laughs] I mean, we'll be in LA, we'll go out to dinner. Honestly, for me, I think the celebration is in the doing. I know that sounds corny, but it really is. And there's a party at the end, a celebration party in the afternoon of the final ride. I think my celebration would be I'm going to take a few days off the bike.
Redwood City Pulse: What advice would you give to aspiring riders of any age, who want to take on a big challenge?
Bondar: It's really simple: Start slow, start easy and build up your mileage incrementally. Take it as far as you're comfortable, and don't do anything you're uncomfortable with. I think most people will find that they're capable of much more than they think they are.
For more information and to donate to Harvey Bondar's fundraiser for the Arthritis Foundation, click here.