A firefighter dressed as Santa Claus holding a sack of presents. A young girl with braids throwing a football. Two children reading a book. A folklórico dancer in a white dress swaying in front of multi-colored papel picado.
The scenes are from a freshly-painted mural depicting a kaleidoscope of images featuring black and brown children and illustrating historic events and inspirational quotes. The mural in comic book pop art style now adorns the main wall inside the Redwood City Police Activities League Community Center, more commonly known as PAL, which sits outside Taft Elementary School.
Ivan Martinez, the organization's executive director, stood tall beside the wall of illustrations as he pointed to a colorful scene where children are dressed up as fruit.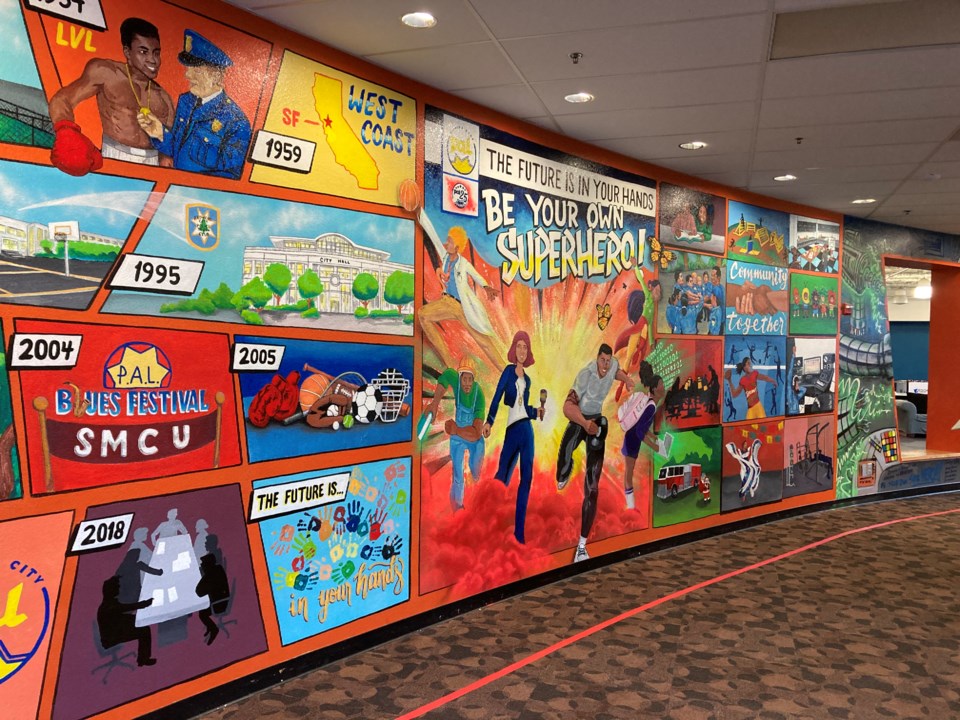 "Not a lot of people have seen this mural because of the pandemic," Martinez said. "The whole theme is empowering kids to be their own superheroes."
Martinez will first unveil the mural on Jan. 29 at a private event celebrating the 25th anniversary of the Redwood City PAL's founding. The event's theme: A "Hero's Journey," will highlight the 25 years that PAL has served the Redwood City community. A public event, with another unveiling, will follow later in the year, Martinez said.
A different approach
In the four years that Martinez has led PAL, the organization has transformed, taking one step back from its more traditional purpose of building and cultivating strong, positive relationships between youth and law enforcement through mentorship, athletics and recreational activities. The physical space has become less of a place centered on policing, where cops and children can interact; it's now a community space where Martinez said multigenerational families can come together to "explore common passions," play games, dance Zumba and host gatherings.
It's not so much that Martinez wants PAL to detach itself from the police department and stop encouraging community policing efforts through the activities league—those are crucial, he said. It's more about adding some space between the two agencies to be sensitive to the needs of the community he serves, a community that may not have always had a positive nor a beneficial relationship with law enforcement.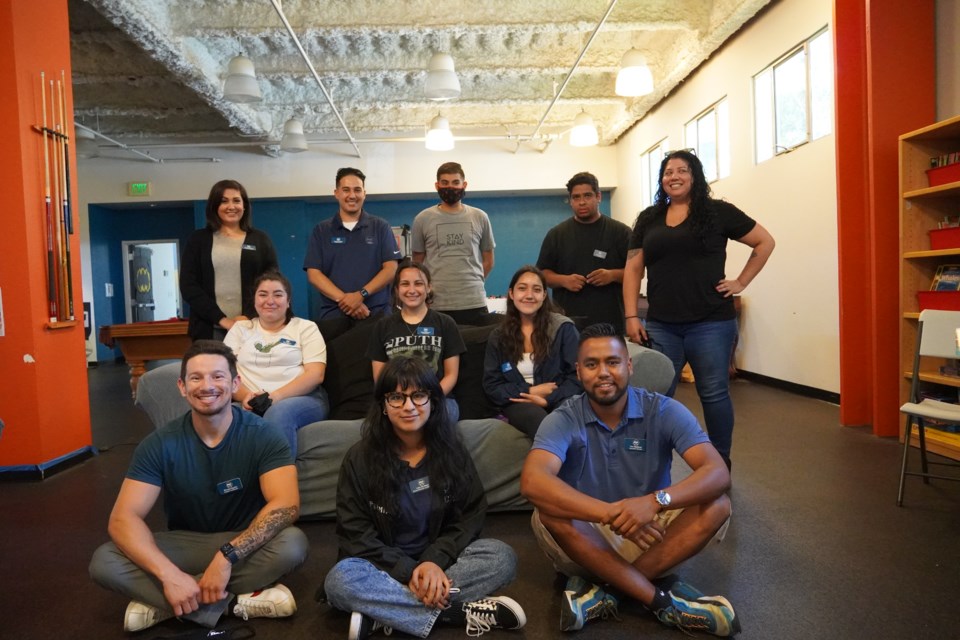 Of course, the last year and a half have been somewhat unusual for PAL. With the onset of the pandemic, Martinez and his team suddenly found themselves without the ability to gather in person, a fundamental component of their operations.
Rather than suspend all activities, however, they used the opportunity to get creative and try a different—online—model.
To continue playing a vital role within the community, Redwood City PAL brought in staff members to help facilitate classroom management and act as support staff in the classroom. Instructors could lead through Zoom calls and allow one instructor to reach more kids at one time, Martinez said.
"We were one of the organizations that absolutely thrived from sustainability standpoints because our supporters believed in our new program," said Martinez, who added that this was by far their easiest fundraising year. This past year, for the first time, PAL's annual budget exceeded $1 million.
Another visible change Martinez has made since taking the lead role has been to rebrand PAL completely. A glance at the organization's logo and a keen observer may see that while a police badge remains, it is no longer the main focus.
That was intentional, Martinez said, adding that even now, having the seven-pointed star on his business card has "made some conversations tense."
Tensions in Redwood City flared in 2020 between police and young community activists after the murder of George Floyd in Minneapolis. City leaders initiated town halls and racial equity conversations to address policing tactics following the incidents. A police advisory committee was established in March 2021, less than one year after the mass nationwide protests.
While Redwood City itself did not have a situation equivalent to the George Floyd protests, the relationship between the community and the police department at the time was seen as a "mixed bag," according to one Redwood City council member.
Redwood City Police Officer Erik Ottersen and member of the Community Coordinating Activities Team, recognizes that law enforcement can create anxiety among children and youth.
"We address anxiety in the kids around police officers by joining in the activities out of uniform and, at times, off duty," he said in an email. "By showing the kids that police officers are human just like them, we can begin to break down the barriers that initially cause fear when first meeting police. We also believe in building connections with the families of these kids, so that the trust reaches on a deeper level."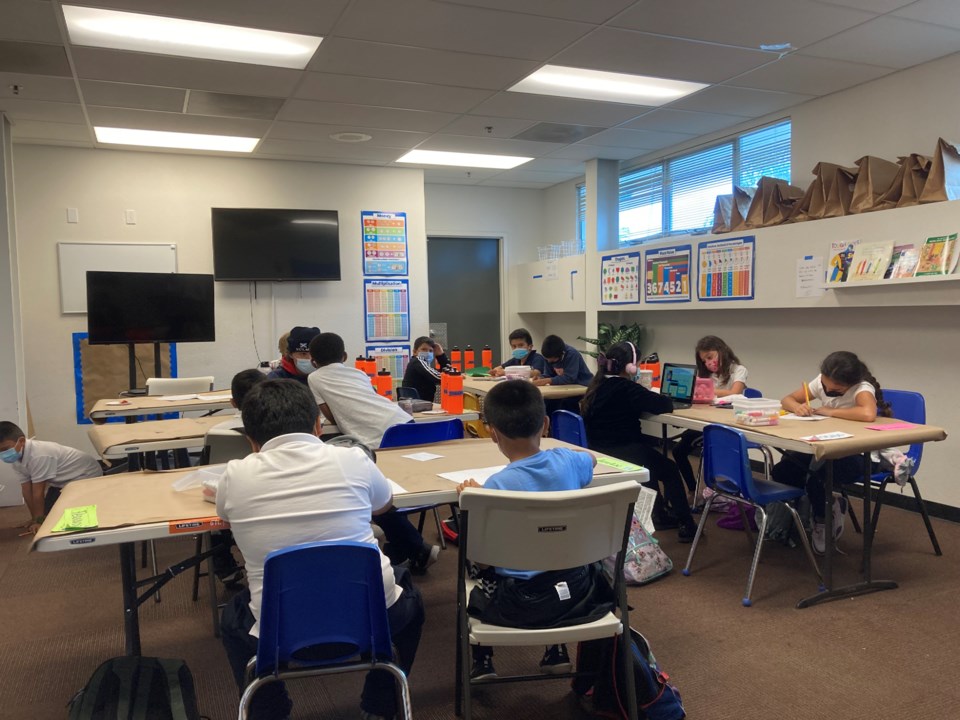 The police department has been "able to build lasting connections, promote trust and we have been able to reach many families within the community to let them know we are here to serve them," Ottersen said.
Martinez understands what it's like to be afraid of the police. As a high-schooler, he was arrested and wrongly accused of robbery—an experience that shook his faith in the system. But even though he "could have easily hated every police officer," he decided he wanted "to be at the table, have a voice," which is part of his commitment to PAL.
"It's no secret—the changing relationship between police and community," he said. "And we hope to be a bridge."
A century-old organization
According to Redwood City PAL Board Vice President John Pimentel, the police department currently supplies only 7-8% of PAL's budget, significantly less than in previous years.
"We are more like strategic partners," Martinez said of PAL's relationship with the police. "We have 11 other board members from different backgrounds."
The Police Athletic/Activities League, a century-old organization, was initially formed in New York City in 1914 out of a need for better relations between the community, specifically youth, and the police.
Now a national nonprofit, PAL has over 75 chapters in California alone. Redwood City's location was an initiative of then-Police Chief Carlos Bolanos who wanted to keep kids out of trouble by engaging them in sports instead. What started as a small operation in a downtown storefront soon grew to include summer camps, field trips and cultural events. And under Martinez's guidance, Redwood City PAL, which celebrated its 25th birthday in 2019, has continued to grow and diversify its offerings.
As Martinez said, "There's always more work to do."
"In addition to providing after school athletic activities and educational enhancement programs for kids, and useful functions like exercise classes and tattoo removal services for adults, part of PAL's mission is to be a platform to build trust in our community," Pimentel said. "PAL programs help our families see police as a community resource and beneficial partner in creating safe and stable neighborhoods. Conversely, PAL helps the police department better understand how their approach to law enforcement and community service can impact individuals in the community."
Redwood City PAL helps roughly 400 children annually and has served a total of 15,000 children and youth so far, mainly in the Latinx community, according to the organization's website.
"Holding onto a lot of pain"
In addition to expanding extracurricular activities, a significant part of Martinez's work has been increasing access to mental health services, an effort that has been especially critical in recent months.
Since 2019, Redwood City PAL has partnered with One Life Counseling Services, a nonprofit based in San Carlos, to offer direct counseling services to their kids.
"There was such a fear, walking into this year, what it was going to be, and it's not good," said Suzanne Hughes, Executive Director of One Life, pointing to record rates of depression, suicidality and child protective services. "Everything's turned the volume up on mental health issues.
"A lot of times, people were in their homes for a year and holding onto a lot of pain. And now that they have the opportunity to see therapists, there's a lot of feelings and emotions that are coming up," she added. "I mean, it's nothing that I've ever seen."
Currently, One Life therapist Jackie Gonzalez is on-site at PAL three times a week, offering one-on-one and non-formal group support for all kids. Gonzalez, who's worked at PAL since the beginning of the school year, said that much of her time is spent helping kids work through emotions and trauma that have surfaced since returning to school. Among her kids, who range from ages 5 to 12, the main issues include bullying, academic stress and communication—both among peers and with their families.
Gonzalez also said that because many of the kids at PAL are Latinx, they harbor fears of deportation.
"Immigration issues and immigration stress are a really big thing," she said. "I hear a lot of students that I've worked with say things like, 'Well, I'm scared that mom or dad could get caught by ICE.'"
Gonzalez uses art and play therapy to help often timid kids open up to her. She encourages them to dance, act things out and play with sensory toys like Play-Doh or a giant teddy bear to tap into and express their emotions.
Both Gonzalez and Martinez are hoping to continue growing PAL's therapy services with One Life. A recent grant from the SAGA Foundation enabled them to add five more hours of mental health time for a total of 13 hours per week.
In Gonzalez's experience, "spending even just 30 to 45 minutes with [the kids] once a week," makes a big difference. "Because at the end of the day, what they do is they start to build trust, they start to build this connection. And what we need as a society—regardless of if we're five years old, if we're 16 years old, or 75, or 25—we need connection and we need rapport and openness."
In addition to more funding, Hughes is heartened to see that the shadow of "doom and gloom" caused by the pandemic "is coupled with this beautiful part that people don't feel as fearful to seek counseling. People are able to go out and say, 'I need some help. The stigma is still there. But it's absolutely reduced."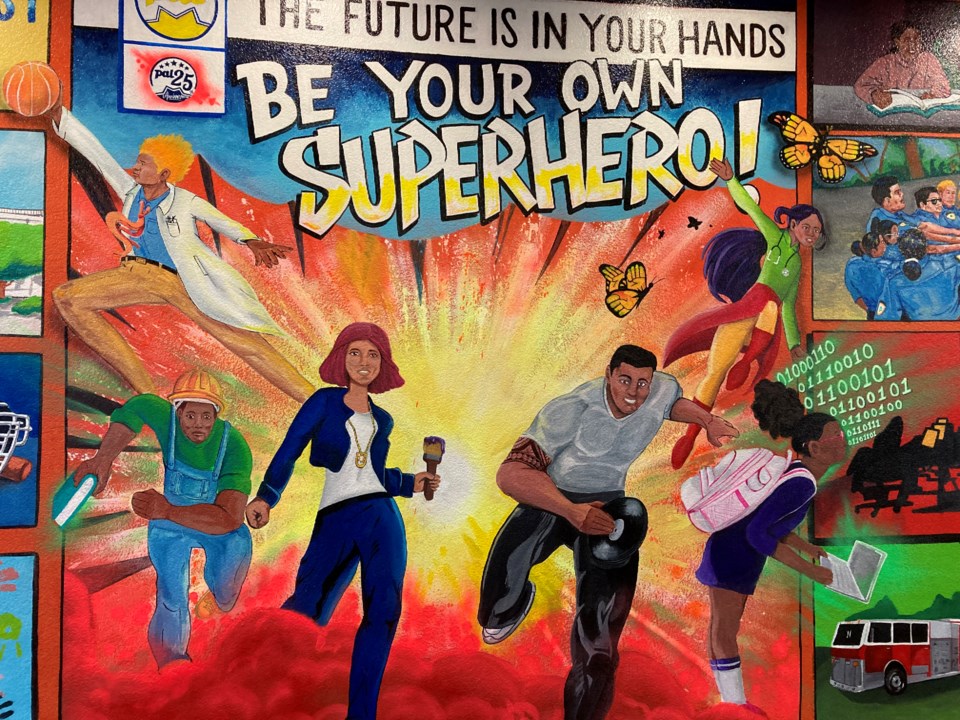 For Hughes, partnering with PAL is a way to continue to remove barriers, like finances or language, preventing kids from seeking mental health care.
"Our moral compass"
Aside from being the executive director at PAL, Martinez is also the co-founder of San Mateo County's first professional sports team, Bay Cities FC.
His take on how Bay Cities can be an impact organization outside of a sports organization is what Anders Perez, Bay Cities FC club president, said makes Martinez stand out among the crowd.
"I like to describe Ivan as our moral compass, our community impact advisor," said Perez. "He's the real story behind (Bay Cities FC) because he's Redwood City born-and-bred and a Latino who has had to move up the ranks just like all of us in a sense. But he makes an impact on so many lives in so many different ways. He really is providing a lot of direction and strategy for our organization."
For Martinez, making an impact in the lives of those around him is the whole point of what he's been trying to accomplish as the lead of now two youth organizations.
"I'm very fortunate to say that I get to serve my home community, and so it goes beyond the 9-to-5," Martinez said."I just got the passion to serve and to create opportunities right where I've seen gaps in our society for youth who are just individuals that have special talents."
Sometimes, he said, it's just a matter of connecting with people.
Martinez smiled as he stood in front of the mural in between illustrations of everyday superheroes—doctors, construction workers, artists. Above him were the words "The Future Is In Your Hands" and "Be Your Own Superhero."
"I kind of just fell in love with that," he said, referring to his commitment to the community. "And being able to do it for my own hometown, it's been a joy and a blessing for me."
~
Michelle Iracheta is the editor at the Redwood City Pulse. Michelle can be reached at miracheta@rwcpulse.com, on Twitter, on Facebook, and by phone at 832-729-2105. To read more stories about Redwood City, subscribe to our daily Express newsletter on rwcpulse.com.
Leah Worthington is the lead reporter at the Redwood City Pulse. Leah can be reached at lworthington@rwcpulse.com, on Twitter, and by phone at 650-888-3794. To read more stories about Redwood City, subscribe to our daily Express newsletter on rwcpulse.com.