A traumatic childhood and surviving sexual assault are what Carlie Jones said led her on a path to advocate for social justice and women's rights.
She turned her experiences into activism, shifting how she saw her story, sharing her trauma and how she'd grown with others who'd faced similar ordeals.
Jones visited hospitals, high schools and colleges to talk about rape culture. In a way, it helped her shift her trauma narrative, she said. Cathartic, she said.
"So much positivity has come from these negative situations in my life that I would never have thought would turn out in the moment and when I was in the high peak of processing the traumas and getting through them, surviving," she said. "But I think it's really true."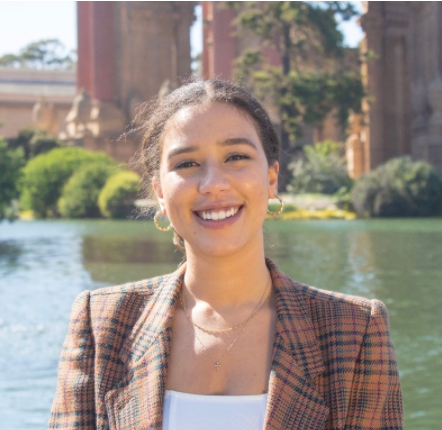 Jones is one of three women who won 2021's Women of Courage Award, an initiative created by Artist and Philanthropist Cynthia Schuman, said Sheryl Young, San Mateo County program director for Philanthropic Ventures Foundation (PVF).
The nomination process for the upcoming Women of Courage is now open. Young said those who know exceptional female-identifying individuals living or working in San Mateo County between 18-30 years old are encouraged to send in nominations. Winners will each receive $25,000. The nomination period ends on April 1.
Savannah Lira, PVF program officer, said that a selection committee would review applications and interview nominees. An award ceremony will take place in early June. Friends and family of the award winners are welcome to attend.
The Women of Courage initiative was inspired by Rep. Jackie Speier, (D-San Francisco/San Mateo) to "honor outstanding young women in San Mateo County," Young said.
Jones, now an instructional web designer at StreetCode Academy, a nonprofit focused on providing tech classes to communities of color, was nominated for the award by her supervisors at StreetCode, who saw her as a "role model" for the youth she taught.
Jones began her career at StreetCode in September 2018, using her law background to tutor high school students.
"And I fell in love with (Street Code)'s mission," she said. "It's full of black and brown people, and it's multi-generational, and it's very alternative, and I just love the environment."
Jones said she even received offers to attend law school and turned them down to continue her efforts to work with underprivileged youth, ensuring that they had access to the technology they otherwise wouldn't be exposed to.
"When we first went into the pandemic, so many students in the Bay Area —thousands of students—didn't have access to technology, or even the Chromebooks they had… Those Chromebooks don't allow you to research on Google or join a Zoom," Jones said. So very limited access."
Now, Jones is a full-time employee at Street Code and a part-time law student at Golden Gate University.
Many of the women selected for the Women of Courage award are just as impressive, Jones said.
Lira said about 30 women had been nominated each year. The initiative began as a pilot in 2020 and is officially in its second year. Three women were chosen in 2020, as well.
To nominate an outstanding woman for the award, visit the PVF website here.
Founded in 1991, Philanthropic Ventures Foundation is a charity based in the Bay Area that provides grantmaking consulting.
Schuman died in December.