Teresa Barker became interested in children's literacy about eight years ago when she got involved with reading programs at her workplace. Wanting to effect change, she and her grandson, who was visiting from Michigan, built a Little Free Library outside Barker's front yard.
Barker was surprised to see how much traffic and attention the library received despite her home being on a cul de sac. The kids in the neighborhood kept coming back, day after day.
"It was just so much fun to think that I could impact something that was more than what I just do at work, but also the neighborhood in Redwood City," said Barker, who is the director of real estate management for EAH Housing, a 50-year-old nonprofit. (Barker and a team oversee affordable housing projects in the south bay to Fresno.)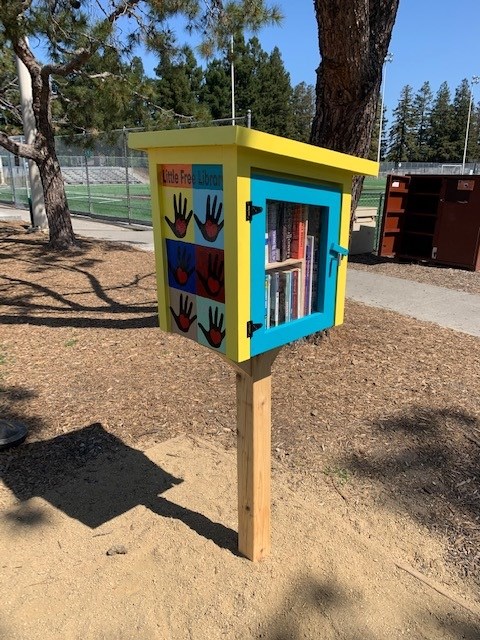 It didn't take long for Barker's impact to blossom from one neighborhood to many, and soon enough Barker was filling up the back of her SUV with children's books of all kinds and placing them in Little Free Libraries all over neighborhoods across the Bay Area.
Little Free Library is a worldwide book-sharing program designed to expand book accessibility to readers across neighborhoods and provide opportunities for communities to collaborate, according to the organization's website.
The Little Free Library website provides a map and search function to give volunteers—like Barker—ways to find Little Free Libraries that need filling. It also allows volunteers ways to purchase prefabricated libraries for easy building whether that be in front of a home or at a park.
"I would be my own little bookmobile," Barker said regarding her transporting books from library to library. "I would have people donate books to me, and I would fill the little libraries."
Eventually, she met Chris Beth, Redwood City's director of Parks, Recreation & Community Services, who immediately partnered with her.
"Chris is a rock star; Chris was incredibly helpful," Barker said, adding that the parks director was already in the Little Free Libraries game himself and looking to expand.
Eventually, Little Free Libraries began popping up all over parks and neighborhoods, much to the delight of little children everywhere. Beth would buy the little libraries from the nonprofit's website using his budget and Barker would assemble and decorate them. Beth and his team would then install them in the parks. The two made quite the pair.
Barker and her friends held book drives, advertised on Nextdoor, created Craigslist ads, and worked with nonprofits to collect the books. But they received most of their books from two donors.
"We can say nothing but wonderful things about Friends of Palo Alto Library and the Friends of San Carlos Library," Barker said.
Recently, when a local book donor could not provide free books, Barker panicked. Believing she wouldn't be able to fill the little libraries, she started making calls to friends and family, seeing what help was available. Less than a week later, she had about 1,000 children's books sitting in her garage because "everyone and their brother in this community of Redwood City just rallied," she said.
"I have so many books now that I've got to sort through them by age so I can get everything back to organized, so it's really pretty cool," Barker said.
Barker's team last year restocked about 6,000 books in Little Free Libraries in Redwood City and across the Bay Area.
"If I happen to be working in San Jose, I'll pull up what's there, and if I happen to be working down in Fresno, I'll pull up what's there," she said, referring to the map feature on the nonprofit's website. "I've always got the back end of my SUV full."
The team is always looking for lightly used children's books to restock the libraries. Currently, the team refills eight libraries and has three additional boxes it's currently working on for Beth it hopes will be installed at Redwood City parks by the end of the month, Barker said
Beth told the Pulse that in addition to Barker's team, Eagle Scouts and another resident often take on the task of filling the Little Free Libraries in the city.
And there are other ways to get involved. The libraries are available to purchase directly from the nonprofit's website.
But that person should be prepared to make a commitment, said Barker.
"They should be ready to be their own little librarian steward," she said. "They should be ready to take on the responsibility. The first thing they need to do is to get PG&E to mark any area before they stick a post in the ground. They're going to want to install it, and then they're going to want to make a commitment to their little library for keeping it filled, keeping it restocked."
For Barker, it's always been about getting books into the hands of children no matter the cost.
"Because I've seen the difference it can make…," she said."It is something important. It is something special and nobody's going to take it away from them."
******************************************************************
Redwood City park locations with Little Free Libraries:
Marlin Park
Neptune Dr. and Cringle Dr.
Redwood City, CA 94065

Mariner Park
Tiller Lane and Bridge Parkway
Redwood City, CA 94065

Magical Bridge Playground
939 Valota Rd.
Redwood City, CA 94061

Maddux
Maddux Dr. and Kensington Rd.
Redwood City, CA 94061

Linden
Linden St. and Park St.
Redwood City, CA 94061

Mezes
Warren St. and Standish St.
Redwood City, CA 94063

Fleishman
Locust Street and McEvoy Street
Redwood City, CA 94061

Andrew Spinas Park
2nd Avenue and Bay Road
Redwood City, CA 94063

Stafford
King St. and Hopkins Ave.
Redwood City, CA 94062