More than three decades ago, a friend approached Kathy Endaya with a proposal.
A new adult literacy program had just opened in Redwood City, and the leaders were looking to grow their team. With her kids off to grade school, Endaya had more time on her hands and thought a part-time gig with a local nonprofit might be the perfect fit.
"I applied and was officially hired as a regular employee in January of 1989," she said. "And I've been here ever since."
Project Read, which launched in 1987 to help adults who couldn't read or write about a seventh-grade level, has since grown to include hundreds of volunteers and serve students of all ages every year. Now in its 35th year, the volunteer-run program offers one-on-one tutoring, group activities, educational resources and even free meals to its students. Project Read works in close collaboration with the Redwood City Public Library, where the organization is located. It also offers remote options.
A native of Pittsburgh, Pennsylvania, and long-time resident of San Mateo, Endaya has helmed Project Read for nearly its entire existence. She quickly climbed the ranks from volunteer coordinator to director, a position she's held since the early '90s when she took over for founding director David Miller.
The Pulse spoke to Endaya about the history of Project Read, how the organization fared during the pandemic and the enduring value of literacy in our modern, digital world.
Redwood City Pulse: How did Project Read originally come into existence?
Endaya: There was money at the congressional federal level that was made available to the state of California for adult literacy [through the California Library Literacy Services Act]. And the state of California Library said yes, of course, they wanted it and offered it as a matching fund to libraries throughout California.
Redwood City was one of the first libraries to write through that grant. It was supposed to be originally a five-year grant, but it's been so successful and helped so many people that it went into the sixth year and further as a matching grant.
The original library director was Jane Light, and she was the one that agreed to write the grant and welcomed it with open arms. [She] found a place for the program in the library and was so supportive during those first years to really help us get started.
Redwood City Pulse: Can you talk about the service that Project Read provides the community?
This program is such an amazing program because it's this major partnership with the state library, which gives us matching funds for local city funds and [what] we can raise through donations and fundraisers.
This program grew from an adult literacy program to now serving — we always like to say — pediatrics to geriatrics, saturating the whole family so that there isn't a literacy problem when someone becomes an adult. We want to start right from birth, helping families read to their children and get books into the home.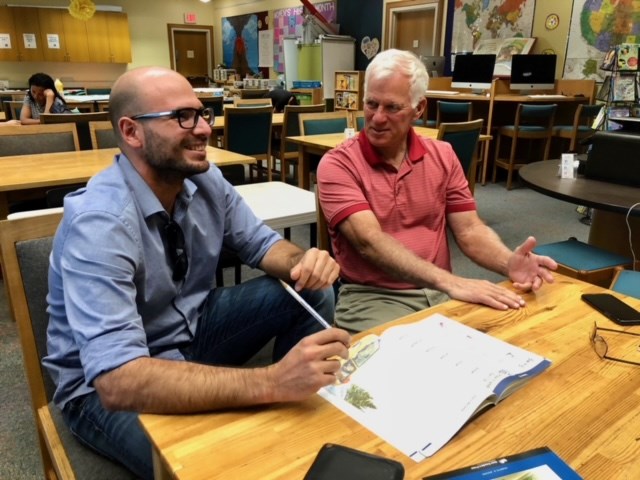 Everything to the families is free in this program. We use hundreds of volunteers every year to tutor in our programs, to bring those literacy interventions to children and to adults, their parents, their grandparents. We also build an individual learning plan for each person that's in this program, and we try to find out what their learning style is. And we also raise funds and write grants so that we can try to address and eliminate learning challenges.
Our lifeblood is volunteers. And so we really need everyone helping to recruit volunteers and get that message out. You know, there's a long waiting list of children and people that would love to meet one-on-one with a tutor to improve their lives and become literate and gain school success — succeed in high school, get into college. And it's just a great way for someone to share some of their time, maybe 1 or 2 hours a week.
I think this program is one of the more successful programs. Our city council has embraced this program, and the library director, Derek Wolfgram, is so supportive of this program — as are all of our community members. It's been through that support and that vision that we've been able to help thousands of people through the years.
Redwood City Pulse: What are the obstacles to learning and how do you address them?
Endaya: Parental illiteracy is right at the top, so that's how this program developed, engulfing the whole family. The next thing is hearing and vision problems. And so we do fundraisers to get that person an eye exam and eyeglasses, hearing aid and hearing exams. Another one was starvation, hunger. And so we've been able to partner for decades with Second Harvest Food Bank, and we supply thousands of pounds of food to the families in our program — snacks for children and lunches at school. We distribute that every Tuesday, and so we work closely with Second Harvest.
If you think of the pathway into the front door of the library, that library door is not accessible to nonliterate adults. It's meaningless, because they can't use the library, they can't use all the programs, their children seldom will come to the library. If a child is having trouble in school or can't afford a private tutor, it's very difficult for them.
It can be very intimidating and can have a person just filled with a feeling of failure … when they're not succeeding in school. They have all this information and help waiting on the other side of that door, but they just don't have the skills, the reading skills, the literacy skills to take advantage of it.
We think of that California Library Literacy Services Grant as the way to open that door, to guide that kind of invisible population into the library to enjoy all of the services that the library has. When you think of what Project Read does, we help adults become literate, we help children to be successful in school. And we also help all those that want to use the library and all of these wonderful services the libraries have, to feel like they belong and to understand how to use them.
Redwood City Pulse: Tell me a little about a day in the life at Project Read.
Endaya: We have student tutor coordinators, and then we have some program assistants, and each one of those employees has a program of learners and tutors. And then, we offer extra interventions. There are family story hours. We have crafts for the whole family to join in, so parents who maybe are new to this country and really haven't had much of an education … can enjoy that kind of basic learning with their child. We also write grants and raise funds so that we can give books away. Everything here is given freely to the learners, and everything is given to the tutors so that they can have the materials and the methods to help that learner. Our coordinators, on a daily basis, do reading assessments and interviews with our learners, so that we can build an individual learning plan for each one and then mentor the tutor and help them as a pair so that they meet the needs of that learner. We're constantly right here with the tutors and the learners and really approachable and hands-on.
Redwood City Pulse: So the basic model of Project Read is very individualized tutoring?
Endaya: It's individual, one-on-one tutoring, and it's also small group tutoring because some people actually learn better when they're in a group. Or they're all focusing on a certain goal, and they're learning to read and write and do math through achieving that goal—be it something that has to do with school or employment.
We've also found that a great way to really reach youth that are struggling is through the peer tutoring — the kids in partnership program — where we have teens that are tutoring the little ones. And the interesting thing, when we started this program, it was with teens that were — by the schools' testing and assessment — about 98% likely not to graduate high school because their reading levels were at a first, second or third grade level, and they were in high school. So, we started bringing them to Project Read, and we would teach them some basics. Then a first, second or third grader, who was also very behind in those areas would come, and we would match the teen and the little one, and that teen actually learned through teaching. The little ones just love the teens, and they learn so quickly.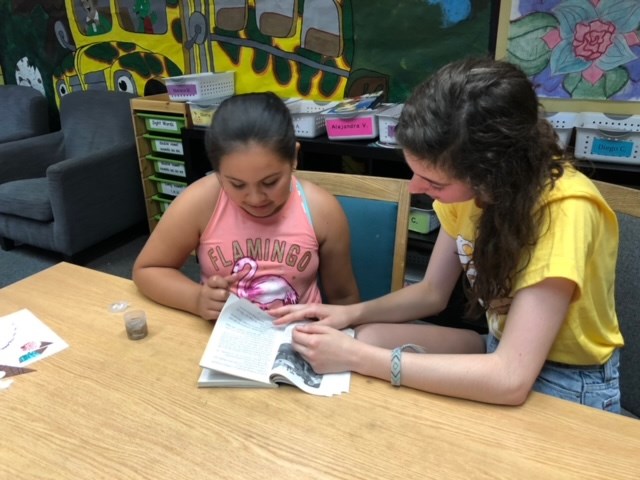 There's something about youth-to-youth that's just magical. And it was those teens that we started hearing from them, their families and the high schools — they were graduating, they found a kind of confidence. They learned how to use their own learning style to then adapt in school, and they also valued education. I think it was just that self-esteem that they built, because they were helping someone. That really gave them the strength to struggle through some learning challenges that they had in the classroom, so that program has just flourished. There's hundreds of teens helping little ones every year in our program now.
[We also have] the Junior League of Mid Peninsula, what they have what they love to call a STEAM program, focusing on girls in science and engineering and math and the arts. Of course, because of that program, the little brothers and big brothers want to do it too, so now we offer it to the whole family.
Redwood City Pulse: How does the process work when someone new comes to you for help?
Endaya: If you live, work, or go to school in Redwood City or unincorporated Redwood City, then this is the Project Read program that you can sign up for. You come to our program, and we sit down and do what we call an intake to find out what help you think you need. From that point, a student tutor coordinator [does] a reading assessment with you and [talks] to you a little more in-depth about what it is that you need. This is the children, too. It's not uncommon for a little grammar school child to come in and say, 'I don't want to do any reading because I'm not doing well in math.' And we know by doing an assessment, that they're not doing well in reading either. We just say, 'OK,' and we use word problems. We can meet their goals and teach them to read.
Or an adult will come and say, 'I don't want to learn from the beginning, I just want to join a union.' We just get all the materials that they need, and they'll learn to read and write while they're also working towards that goal because they have an immediate need for that, and they don't have time to start at a basic, beginning GED and work through it.
There are even pre-GED materials that we can get for people that are at a very low skill level. We can [start] with the lower level material, leading up to what they're going to need to then be able to read and take the exams.
Redwood City Pulse: How long do you typically work with your students?
Endaya: They tell us when they're done. You know, they come in for a certain thing: I just want to be able to read to my child. And once they start, it's just like anyone else —y ou just start enjoying it, you're feeling better about yourself and the world opens up, so your goals increase. Many times, the combination of a student-tutor pair working together for a few years is there in book clubs together, and they're writing a biography of the learner's dad or something because he had an interesting path.
Then they'll come and say, 'You know what, I think I now am a confident, literate person. And so I'm considering myself graduated.' And we say, 'Hurray' and put 'met goal' and find out if the tutor wants another learner.
Redwood City Pulse: Wow, that must be a great feeling to write 'met goal.'
Endaya: It's really nice. I'm not in favor of telling a person when they've met their goal. They know when they are not only functionally literate but successfully literate, when they feel confident enough in their skills that they can go on and pursue new adventures and new goals.
It's really amazing that someone can come with very little background and education in their primary language or maybe just not really have been able to learn in a classroom, even if they are educated here in the United States. And in about two to two-and-a-half years … they can function just as the rest of us and meet their goals.
Redwood City Pulse: Have any of your students' stories really stuck with you?
Endaya: There was an African American woman who started in our programs. I believe she was in her early 70s when she started, and nonliterate. She was really the product of a segregated system, and she was denied schooling.
Redwood City Pulse: Where was she from?
Endaya: I believe it was Mississippi. She came here, and she heard about our program. She actually brought her adult grandson here because he had suffered a head injury and was never able to learn to read. He started working with a tutor — he's still in the program — and very, very slowly has been able to gain literacy skills and read basic books and things like that. During our conversation with her, we asked if she wanted to tutor and she said, 'Okay,' and [she] and her tutor worked together for about four years.
We knew, because we do assessments annually, that she was gaining skills. They joined bookclubs together, and they became very good friends. At the end of that time, she came in and told us, 'You know, we're not learner and tutor anymore. I now can read, and I can write. I am now literate.' And she was so touched. And she said, 'We're now friends enjoying the written word.' And they just had a grand time together after that.
Her name was Mimi, and I'll never forget Mimi. It left us all just dumbfounded.
How wonderful it would be the first time you read a street sign or at the grocery store said, 'Oh, this says apples.' I mean it was nothing to us. But every day was some form of encouragement to her that she was finally learning to read.
Redwood City Pulse: Do you have a typical demographic that you serve?
Endaya: The demographics of our program very, very closely match the demographics in Redwood City. There's a large Latino population, there are some people of Russian background, Asian, white. And it's proportionately reflective of the demographics in the Redwood City and unincorporated Redwood City areas.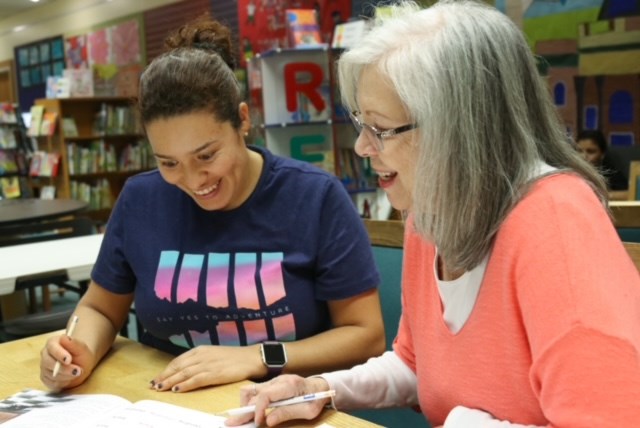 Redwood City Pulse: I imagine your programming was affected by the pandemic. How did you adapt?
Endaya: Just as everyone else, we could not come to the library or any of the city departments. So we literally came and picked up our computers, our laptops, our files, one by one, and brought them to our homes to telework.
The city of Redwood City was amazing how quickly they could adapt for the personnel to telework during that time. So we could still provide services — a lot of phoning, a lot of texting and emailing the learners and the tutors, just to try to see, 'OK, do you have equipment? Do you want to do this?'
We very quickly started calling funders and rearranging grant guidelines. And [our supporters] were wonderful with helping us through that time. Through fundraising and our nonprofit board — the Redwood City Friends of Literacy — we were able to provide our families with hotspots, Chromebooks and iPads, which really helped us serve everybody through the COVID pandemic, because we had to switch to doing online tutoring and online literacy and hold the story hours virtually.
There was just such upheaval at that time, and I never would have dreamed that it came together as quickly. Within three months, we were up and running, and people were meeting again.
Redwood City Pulse: I know a lot of teachers have talked about how hard it was on students being remote. Have you seen a greater need among students since the pandemic?
Endaya: Yeah, I think there's been a concern with parents across the board, even tutors speaking concerns about their own children, just because they seem to have lost so much ground during that year and a half that they were Zooming and schools were opening and closing. It's just been really hard on them. But the good thing is, the kids were so excited to come back on-site or to join one of these tutoring sessions to see their tutor again. I didn't know how they were going to feel about that, but they were excited. They were so happy that we had the on-site story hours where they get a treat and they get to do crafts and they get to pick books to take home to read. [It] was really a relief, and, I think, brought a lot of happiness to our staff, too, because we missed them.
We saw it, also, but we could pull them back by singing a song, by doing a craft that also taught them something. We had a variety of very creative and engaging things that we could do, and they could go at their own pace.
I mean, we make learning fun. There's such a distinction: A teacher has a set amount of information she has to teach that day. Can you imagine 20 to 30 kids on Zoom and trying to break them out into small rooms, and they are distracted at home, they've got little siblings running around, TVs? No wonder these poor teachers are so burnt out and frustrated. I don't know how they did it.
It's not like coming to work every day when you work here. It's like seeing a lot of really good friends or family that you enjoy being with. It's not like your typical job.
Redwood City Pulse: What's your grand vision for the future of Project Read?
Endaya: I think we're on track. I want to make sure that we keep the flexibility, and we keep the voice of those that we're serving involved in the direction we go. Otherwise, I think, what happens is you start blaming the people: They're not coming. They don't know what we have here. When you should be saying: What are we missing here? What aren't we doing that they need now?
From 1988 until now, the demand and even the definition of literacy has changed so much. The whole thing with computers in the digital age and even navigating through social media and how you use it. I mean, who puts up a flier now? They go to social media usually. So it's changed so quickly for us and for everyone.
I think as we continue on, we don't want to build any obstacles to learning or say no; we want to say yes. We don't want to say, 'No, you're not old enough. No, you're not this. No, you're not that.' We want to be there and say, 'How can we help? How can we achieve this?'
Redwood City Pulse: What unique challenges are you facing now?
Endaya: I think it continues to be getting enough volunteers to meet the need. We serve about 380 adults and over 400 children every year.
People think fundraising is the hardest thing to do. And trust me, it is hard. But the number one lifeblood of this program is volunteers. To reach people and let them know how easy it is to change a life a couple hours a week, it sounds like it's simple. But there's a lot of good causes out there that people think to go and to volunteer with. So we want to make sure that they understand the need here and how rewarding it is. And we want to be able to have as many tutor trainings every year as we need to match people because we have an endless amount of children and adults coming to the program for him. And as you said, coming off the pandemic, you know, we're seeing people finding out more and more.
Redwood City Pulse: What does success look like to you?
Endaya: I still have the same goals and mission. And that is: I never wanted to lose track of the needs the community has. Our tutors and our learners are our advisory board. The children and their teachers are also our advisers. We work very closely with Cañada College. We detect, when someone gets to Cañada College and is struggling, what could have been done — not only to help them right now but also along the way — and make sure that our programs are matching that need.
The other thing that I think I've been really focused on is having that complete circle of service, so we don't ever have to exclude anybody because of their age. I never wanted to say, 'Oh, we just serve adults,' or 'We just serve children.' We wanted to make sure anyone in that family or the whole family at the same time, could come here and enjoy those literacy services to improve and meet their goals.
I could give you a lot of statistics, and they're all wonderful. But if some of those adults and children that came to our program and received that literacy intervention came back as tutors, then I would really know that this program has efficacy in this community, and it's really helping people. And for about the last 10 years, that's been happening. We've been here so long, we've had people [whose] parents were in the program, and then they got help through school, meeting a tutor, and then they came back as teen tutors and then went through high school and off to college. And if they're back in this area, I can't tell you how many call us and come back as tutors in this program. I think that's the most gratifying thing to see that happen.