For Redwood City Public Library Director, Derek Wolfgram, it all started with an inflatable Snoopy and a string of lights.
Wolfgram lives on the 1200 block of Dewey Street, which every year transforms into Redwood City's very own Candy Cane Lane. Though participation isn't mandatory for the residents, he said the tradition was part of his reason for wanting to move there in 2016.
"I've always liked holiday lights and decorating, not only doing it myself but going and seeing what other people did," he said. "And so, to me, that was kind of a selling point for the house."
Candy Cane Lane originally dates back to the mid 20th century, though it was shut down for a few years in the wake of a rash of thefts and vandalism.
According to a December 1988 article in the now-defunct Peninsula Times Tribune, the holiday tradition began in the early 1950s, "when Joe Silva and his wife, Lillian, wanted to do something for the children on the block."
The article continues: "Each year until the late 1960s, residents brought the candy canes out of storage and decorated their yards with extravagant and animated displays."
Since restarting the tradition in 1988, the neighbors of Dewey Street have come together every year to transform their street into a glowing, holiday wonderland. For the better part of December, everything from twinkling icicles to 10-foot-tall blow-up snowmen to oversized ornaments adorn the roughly 19 lawns and roofs of Dewey Street.
Wolfgram, who assumes the role of lead decorator for his household, said he spends about 30 hours during the weekend after Thanksgiving unpacking, inflating and arranging.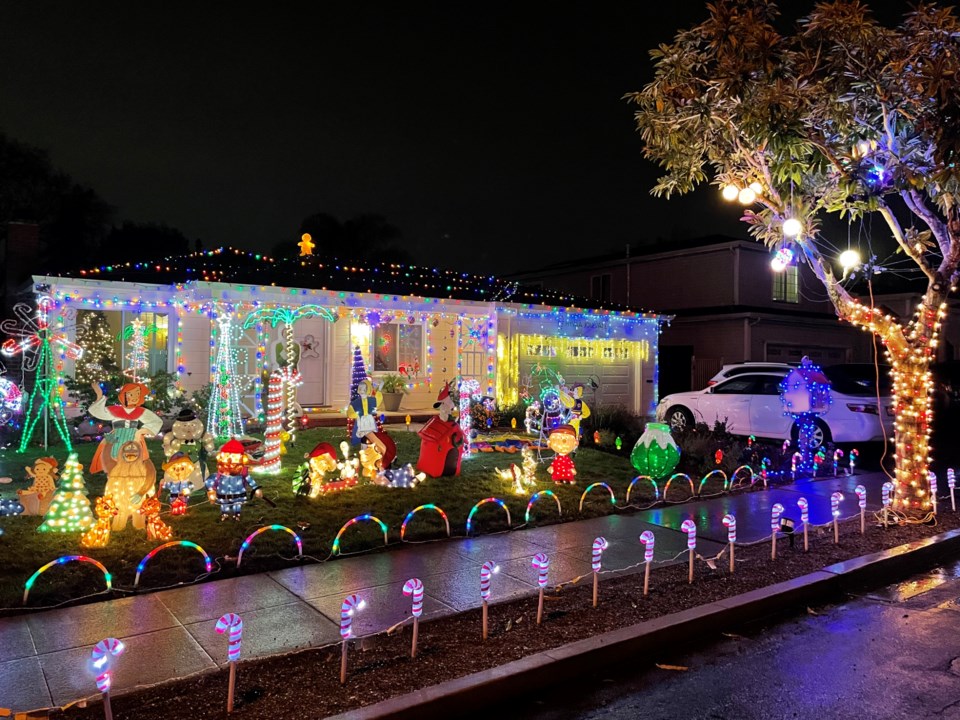 The original Snoopy is still there holding down the front lawn brigade, which has grown to include more characters from Peanuts, a favorite of his wife, Robin's, as well as Rudolph and the Island of Misfit Toys. Over the years, he admits laughing, "I started getting carried away with it."
What started as annual trips to Home Depot and Outdoor Supply for post-Christmas sales has grown into an increasingly elaborate operation. Wolfram scouts both online and brick-and-mortar stores, looking for inflatables and other "things that could relatively inexpensively fill up a lot of space," he said. He even sketches out designs for his annual displays and has joined some Christmas light Facebook groups for inspiration.
"I've started drawing myself little maps of how things go so that I can remember from year to year what order I put the lights on, all the strands on the roof to make the pattern that I want to make," he said. "It's something I love doing. It's kind of a fun puzzle to put together."
Though he insists he's hardly the most dedicated decorator.
"In the scheme of like crazy Christmas light people, I feel like I'm kind of middle of the road," he said. "There are people that spend months decorating."
While most of his decorations have been hand-sourced, a few of them came to him by happenstance. Among his glowing cartoon characters stand four antique-looking, wooden cutouts of dancers dressed in traditional clothing from around the world. According to Wolfgram, these were the contribution of an anonymous woman.
"She was coming by on a walk, and she saw me out decorating," he said. "And she said, 'I have these wooden cutouts that have just been in my garage for years. Would you like them?'"
She dropped them off on his porch later that day. Upon further investigation, Wolfgram discovered in marker the words "made at a San Francisco Fire Station" written on the back and, being a librarian, decided to investigate further.
He remembered having read a recent article in the S.F. Chronicle about a decorating contest held among San Francisco's Fire Department stations and managed to dig up an old DVD about the competitions. Not only did he identify the particular station that his wooden dancers had come from, but he discovered that they dated back to a time between 1948 and 1950.
"I actually have photographs that I got off of this DVD that some historical group in San Francisco had produced of my decorations on the front of a neighborhood fire station in San Francisco in the late 40s," he said. "I was going to try to touch up the paint last winter because they're a little patinaed. But I decided they're just beautiful exactly as they are."
Though every house on Candy Cane Lane shows its own creative flair—from elaborate light displays to towering gardens of inflatables—they do have a few shared traditions that they've cultivated over the years.
For one, they line the street with glowing, oversized candy canes, which Wolfgram said are handmade out of stovepipe. In fact, when he first moved onto Dewey Street, a neighbor invited him over, supplies in tow, to show him how to make his own.
Another trademark of Candy Cane Lane is the banners that hang over the garage of nearly every house, each with "Merry Christmas" written in a different language, including Hawaiian, Hebrew and Greenlandic, among others—Mele Kalikimaka, Chag Molad Sameach and Juullimi Pilluarit, respectively.
"I think there's at least a dozen different languages," he said. "We had a banner printed in Finnish as a tribute to my wife's grandmother who was Finnish."
The neighbors even host live entertainment, including a dance performance from the Studio S Broadway Academy on the second Friday of December to kick off the season. Wolfgram also encouraged people to stop by on the evening of Dec. 23, when a group of saxophonists from the Peninsula Wind Symphony will return to play Christmas music for passersby.
Of course, with increased traffic, noise and an "impressive" PG&E bill for December, participating in the Candy Cane Lane festivities can be a big investment. But for Wolfgram, it's worth the effort—and he's looking forward to many more years with ever more impressive decorations. In the future, he said he wants to continue growing his display, with an emphasis on LEDs and energy-efficient lights. But he also said his "big dream" is to one day invest in a controller that will sync all his lights to music.
"Maybe it's a paying it back to the people whose lights I've gotten to enjoy," he said. "It's fun for the month of December to hear happy kids going down the street shouting out when they're excited because they noticed the Buddy the Elf blow-up on my front porch."
Check out the Redwood City Pulse on TikTok for more footage from this year's Candy Cane Lane.
~~
Leah Worthington is the lead reporter at the Redwood City Pulse. She can be reached at lworthington@rwcpulse.com, on Twitter, and by phone at 650-888-3794. To read more stories about Redwood City, subscribe to our daily Express newsletter on rwcpulse.com.