Residents and passersby near the intersection of Clarke Avenue and East Bayshore Road in East Palo Alto have a colorful new view to enjoy. A recently unveiled mural now marks the area — one of the entrances to East Palo Alto — with vibrant, stylized drawings celebrating local culture and history. And it was a community project in both design and creation.
Muralist and art instructor Richard Muro-Salazar led 20 students ages 16 and up in creating the piece through a mural apprenticeship program offered by EPACenter, an arts center for youth in East Palo Alto.
The mural was installed on Jan. 26 on an elevated water tower adjacent to a pedestrian overpass and U.S. Highway 101. Not only can pedestrians and drivers enjoy the new art, but so can the residents of the nearby Light Tree affordable housing complex, whose input was also part of the design process.
"The mural came about with the city of East Palo Alto and also the residents of Light Tree apartments. They wanted a mural to represent the community on the water tower, since it was going to be facing the freeway. So we wanted to be able to create something beautiful for everybody to be able to see," Muro-Salazar said.
Students shared ideas for the design, which incorporates everything from a representation of the Baylands to a bountiful harvest, representing local agriculture and the many cultures that live in East Palo Alto, according to Muro Salazar. The tech industry is represented by a circuit board and old-school monitor morphing into a laptop. Tying together the scenes of nature, agriculture and tech is a bicycle rider, popping a wheelie.
"A lot of the students said that the bike culture is embedded in East Palo Alto and a lot of kids really enjoy bike riding. So we wanted to have a female representation of a bike rider going through the mural, like really powering through," Muro-Salazar said.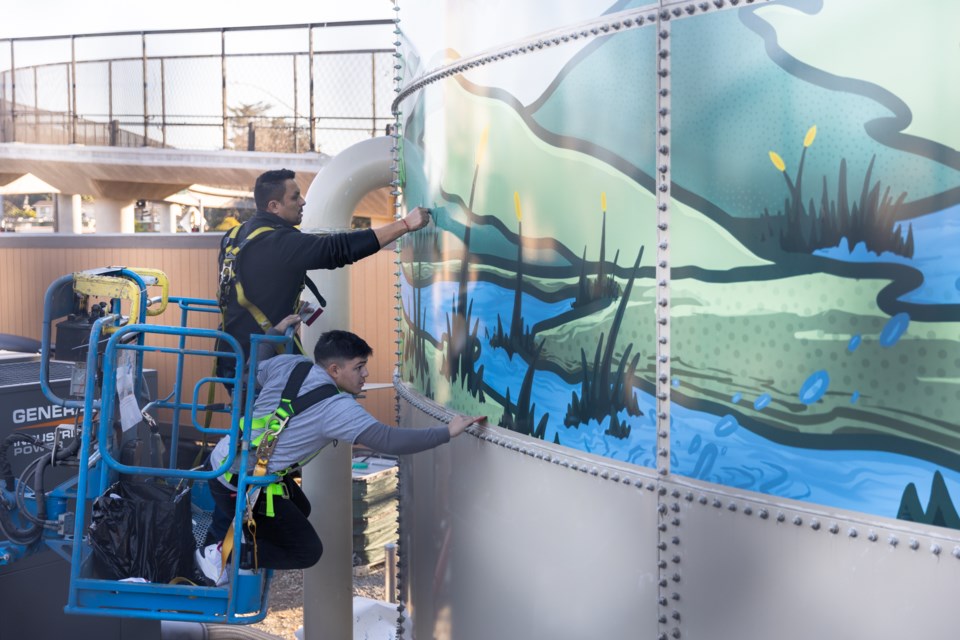 The mural is called "EPA Past, Present and Future." Since the artwork is installed on a circular water tower, what would be a linear progression from nature to tech becomes more of a cycle, with branches and leaves from the "nature" section reaching out to touch tech, and representing the possibilities of addressing climate change through tech, Muro-Salazar said.
Fittingly for some of its subject matter, the mural itself was created digitally, with students using drawing apps. Muro-Salazar helped students combine their drawings into a unified piece, giving them some learning experience in digitally designing large-scale murals.
The mural's final design was printed on vinyl wrap and affixed to the water tower. Government safety rules don't allow the use of paint on water towers, Muro-Salazar said, but printing the design on vinyl wrap may extend the art's longevity.
Cristopher Mendoza, a 17-year-old student who worked on the mural, is planning to pursue a career in the visual arts. Although his focus is in animation, the mural apprenticeship gave him experience working digitally, and also working on a team with other creative individuals.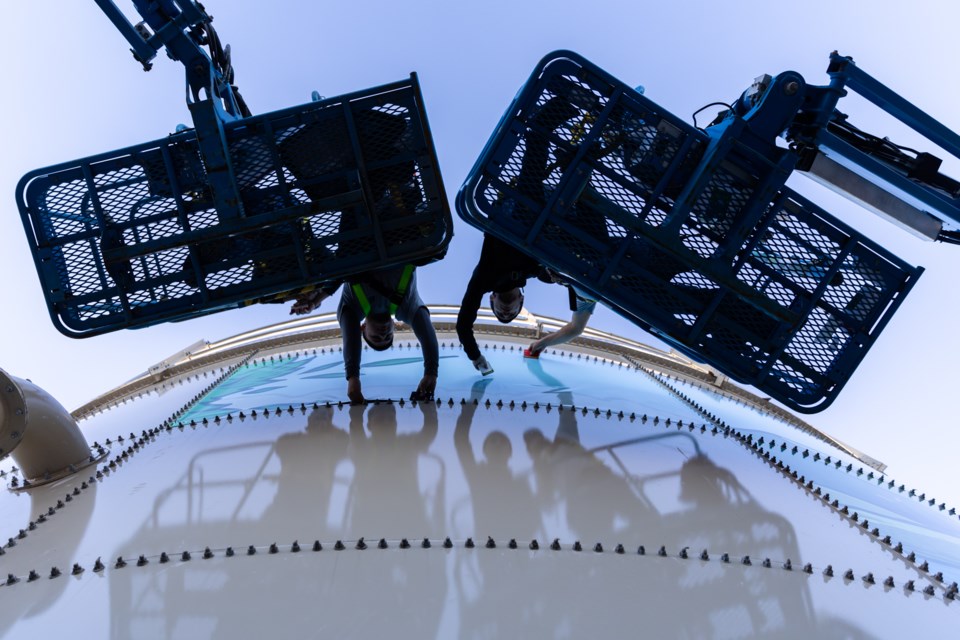 "I learned how to use different apps, different techniques. The app I was using before to draw was not really good. So I learned to use this new app. It was pretty cool. I learned new techniques, like how to draw on the device," he said.
"(I learned) how creative people can be — just like some of the ideas that the other students had were really creative that I never would have thought of," he added.
"EPA Past, Present and Future" is located near the intersection of Clarke Avenue and E. Bayshore Road in East Palo Alto. For more information about EPACenter and its current programs, visit epacenter.org.