In front of the drab backdrop of gray clouds, Chinese lion dancers fluttered their vibrant red, yellow and purple furs around Courthouse Square. Children balancing on glowy, red balls rolled in, circling the lions, in the last hurrah of the Lunar New Year festival's opening ceremony.
Saturday marked Redwood City's 12th iteration of its Lunar New Year festival, coming full circle through all 12 Chinese zodiac signs. But for Tonia Yen, co-owner of Redwood City-based Crouching Tiger Restaurant, the city's celebrations began years before.
In 2008, Crouching Tiger set up a small kiosk on Courthouse Square with 12 Chinese New Year themed arts and crafts stations, each signifying a different zodiac. The next year, the city noticed Yen's display and asked Yen to help it expand the celebrations onto the street. Eventually, the San Mateo County History Museum invited Crouching Tiger inside, and after 15 years, the Szechuan restaurant's stations are now a staple of the city's celebrations.
"The first station, of course, we let the kids find out their own Zodiac," Yen said. "Then the next 11 stations, we have Chinese arts and crafts. We help kids understand how to write simple words, how to read, and we tell them how to say 'gong xi fa cai.' That means Happy New Year."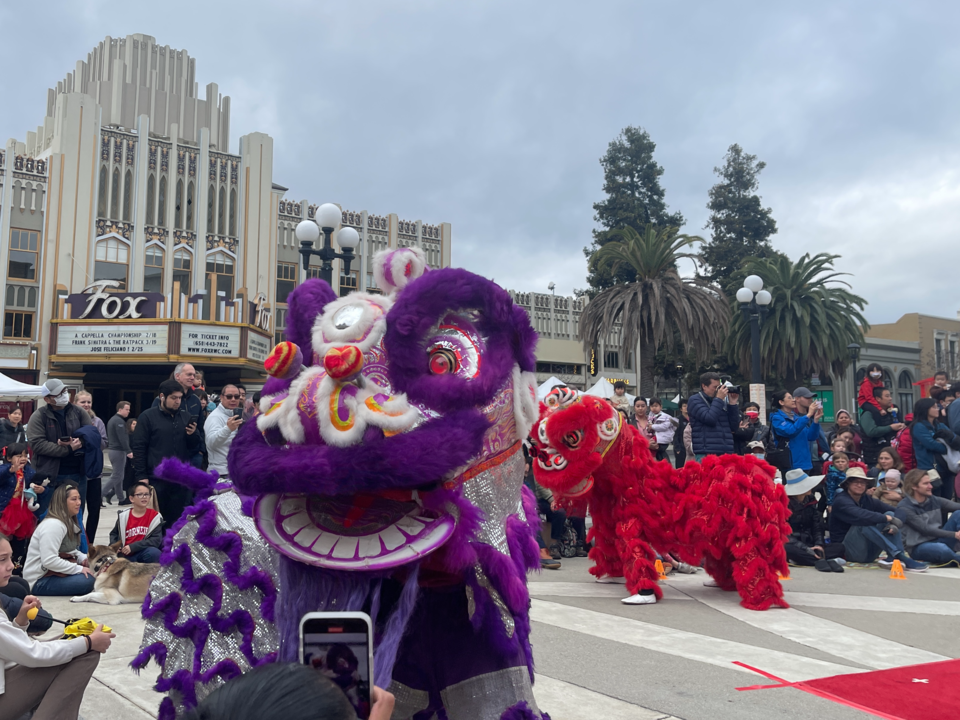 Excited children streamed through the museum, which granted free admission for the day. The arts and crafts adventure's finale was a dumpling-making station outside with chefs from Crouching Tiger.
On Courthouse Square, intermittent rain could not dampen both performers' and attendees' spirits. The crowd was a throng of upright umbrellas and snapshot-ready smartphones, keenly watching martial arts, lion dancing, taiko, and singing performances by several Bay Area cultural groups.
Yiming Ma, an attendee who also organized a community Chinese New Year celebration in San Jose, celebrated how openly and proudly these groups showcased their culture.
"It used to be that Chinese people liked to celebrate internally with our own group, but now more people want to join us, and we're also more open to a broader audience," Ma, who grew up in China and now lives in South Bay, said. "I really like the Bay Area because of this cultural diversity, and [the Chinese community] wants to integrate more with everyone."
Mayor Jeff Gee, who spoke at the festival's opening ceremony, echoed the importance of visibility.
"[Chinese people] are the largest cultural demographic [in San Mateo County] at over 30%. We're just not always seen and always heard from, but we are here and having Lunar New Year celebrations in many cities on the peninsula helps improve the visibility of our community," Gee said, donning a traditional red and gold Tang suit.
To Gee and many other attendees, fostering visibility and diversity was especially important in the wake of recent tragedies within California's Asian community, particularly the mass shooting by a Chinese farmworker in Half Moon Bay.
"There's a mixture of emotions, sadness, and anger that it just keeps happening, and now Half Moon Bay brings it even closer to home," Gee said. "[Having Lunar New Year celebrations] hopefully helps recognize that things like Half Moon Bay are tragedies in our community. But by becoming more visible, we can see what resources are needed and where help is needed."
Ma said her heart broke when she heard of the recent violence, but, like Gee, she believes that public celebrations like Lunar New Year festivals are vital in strengthening community ties.
"It's all about human interaction and enhancing mutual understanding, and hopefully, by events like this, people can learn to love each other better," she said. "We are all human. I go to other cultural events, and whenever I'm there, I just love it so much, so I know that things happen the other way around. People will like the cultural events that we hold as well."
Redwood City's festivities were a multi-pronged product of community support, hosted by the Parks Recreation and Community Services Department and nonprofit Redwood City International while using no city funds. They relied on sponsors like Stanford Health Care and Kaiser Permanente and local institutions like Sakura Teppanyaki & Sushi, a sponsor since the first festival. Carlmont High School student volunteers ran the arts and crafts stations in the museum while members of the Shaolin Culture Center, a martial arts school in San Mateo, helped organize props backstage.
Despite the hectic logistics of the day, Yen sees no end in sight for Crouching Tiger's involvement in the New Year festivities.
"We're gonna do it forever!" she said.