When Saif Makableh, the owner of the Mediterranean restaurant Mazra in San Bruno, was looking for a city to open up a second location, he searched for a spot with ample outdoor dining. His first choice was Palo Alto's University Avenue.
But by chance, Makableh viewed a location on Broadway Street in Redwood City. He saw the back patio, the open space in the front, and the street closed off to cars. He immediately knew: This was the one. In May, Mazra will open in Redwood City, and Makableh has already submitted an application to take part in the city's permanent outdoor dining program.
Mazra is one of around 45 businesses that have applied for the city's Outdoor Business Activity Program for parklets or sidewalk cafes so far, according to Simon Vuong, the city's economic development manager.
Last summer, the city council voted to transition its temporary outdoor dining policies into a permanent program. The deadline to apply to qualify for a one-time use-of-space fee waiver was Jan. 20, though applications will continue to be accepted on a rolling basis. Businesses that do not apply for a permit under the new program will have to remove their temporary parklets by Feb. 24, according to the city's timeline. Only parklets approved under the new program will be allowed to stay up.
Makableh said that the application process was seamless and that Vuong and other city officials have been helpful and hands-on.
"If I know I'm spending all this money on the parklet, I kind of want some attention towards the parklet in assisting me and figuring out which direction to go," Makableh said.
Under the program, the 2000 block of Broadway between Jefferson Avenue and Main Street would remain closed to vehicles. Businesses would have to pay a $2,226 fee for a permit, an annual use of space fee of $10.16 per square foot and a $583 annual renewal fee. Applicants must adhere to certain options for design components that include platform materials, barriers, seating and shading.
Vuong said in a statement that interest in the program has been "very high," thanks to outreach efforts by the Downtown Business Group, assistance from the Redwood City Improvement Association and the use of an online portal to expedite the application process. Representatives from the Redwood City Improvement Association and the San Mateo Chamber of Commerce directed questions to Vuong.
Staff will review the applications in the coming months in an attempt to prioritize businesses that have noted the importance of outdoor dining to their success, according to Vuong. City officials expect that a majority of the applications will require a building permit prior to construction, and the city's building division is working on reviewing those permits in parallel with the applications.
Manuel Martinez, owner and chef of two restaurants in downtown Redwood City — LV Mar Tapas & Cocktails and La Viga Seafood & Cocina Mexicana — said the investment in outdoor dining is worth it. Martinez took part in the city's outdoor dining pilot program in 2016, and already has a parklet setup outside LV Mar. He expects to spend over $7,000 building a new parklet for La Viga.
Martinez said that in the midst of the pandemic in 2020, Redwood City implementing temporary street closures for outdoor dining was a lifesaver. It allowed him to have 18 tables outdoors at LV Mar.
"It helped us a lot," Martinez said. "And it keeps helping us."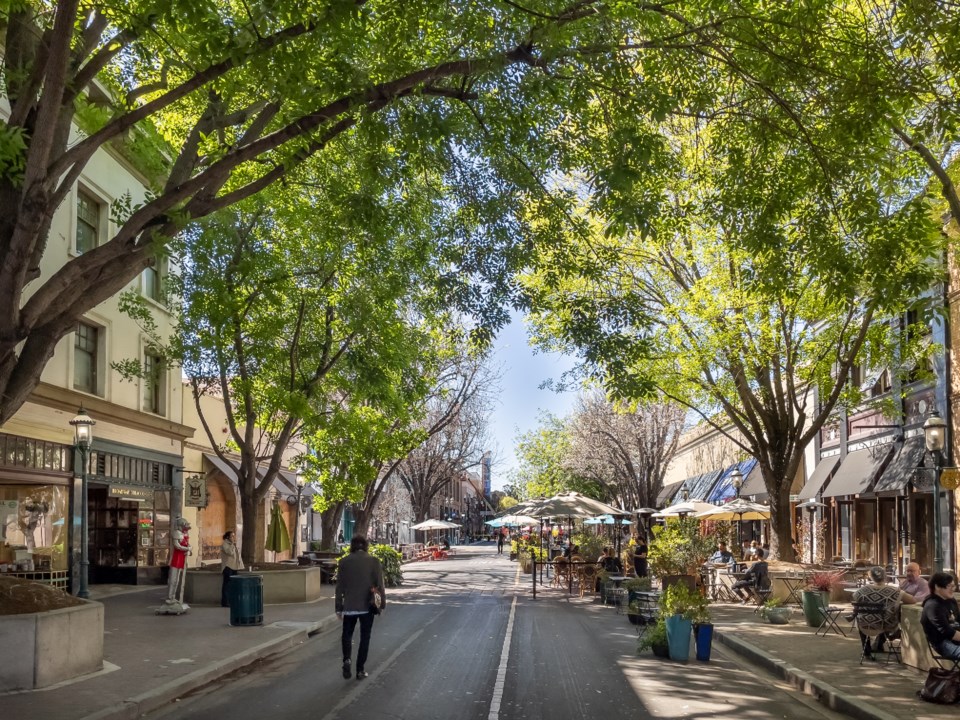 The challenge now, according to Martinez, is that restaurants are currently deciding whether to apply for the permanent program during the winter months. He worries that if enough restaurants don't go through with it, the result will be Broadway Street looking "random or inconsistent."
"No one wants to sit outside right now," said Martinez, who has heard that around half of his neighboring businesses on Broadway have applied so far.
The city is expected to lose between $292,000 and $474,500 in annual parking meter revenue if the outdoor dining program proceeds, and is projected to lose around $1.6 million in parking revenue between June 2020 and September 2023 in areas where temporary parklets are installed.
But the hope for the city is that despite taking a loss on parking revenue, the draw of outdoor dining will result in a net economic gain.
Makableh described his proposed parklet design at Mazra as "very Mediterranean, French bistro style." He plans to focus on natural colors and use recycled metals, with the design complementing the large trees hovering over the street. If all goes accordingly, he said he hopes customers will feel like they are dining at an outdoor oasis.
Makableh has had to work with mechanical and structural engineers to design his parklet. It is costly, but necessary, he said. At his San Bruno location, Makableh said that once the temperature is over 60 degrees, customers seek outdoor tables first. He expects the same in Redwood City.
"To gain about an extra 200, 300 square feet of outdoor dining space, I think it's really critical for restaurants to make that investment — especially in today's climate," Makableh said.