Before Shruti Boddu started a custom-order, vegan cake business from the kitchen of her San Mateo home, she had to overcome one major hurdle: learning how to cook.
"I refused to enter the kitchen until I was 25 years old," said Boddu, owner of Shru's Kitchen, attributing it to her desire to "break gender bias" by pursuing other things outside of the kitchen.
Once Boddu started living on her own, she began to see the value in learning how to cook for herself. As a vegetarian for a decade who became a vegan in recent years, Boddu's motivation to learn how to cook also stemmed from a lack of plant-based options. Vegan baked goods, particularly high-quality ones, were, and still are, rare.
Boddu started experimenting with vegan baking, using friends and co-workers as guinea pigs for her latest creations. They provided helpful feedback and an outpouring of support, encouraging her to start a baked good business. Boddu's passion for vegan baking began "out of necessity and a love for sweet things," evolving into Shru's Kitchen in February 2020.
The pandemic gave Boddu time to develop her baking skills, experiment with new flavors and allow her new business to gain traction. It was also a time to give back through bake sales — Boddu donated a portion of proceeds to social causes and organizations such as The Okra Project, ACLU and California Fire Foundation, and she participated in the Bakers Against Racism movement. Not long after launching, customers started to place online orders for her cakes with unique South Asian flavors.
With an emphasis on simplicity, the cakes merge nostalgic Indian desserts with modern vegan baking techniques. The results are flavor combinations including Carrot Halwa, Masala Chai and Boddu's favorite, Flavors of India: a cardamom pistachio cake with rose coconut cream that she created in 2020. Sometimes it's a particular memory from Boddu's childhood in India that inspires a flavor. Other times, it's the desire to create an unexpectedly delicious combination with the addition of aromatics, such as teas and florals, even if the flavors aren't specifically South Asian.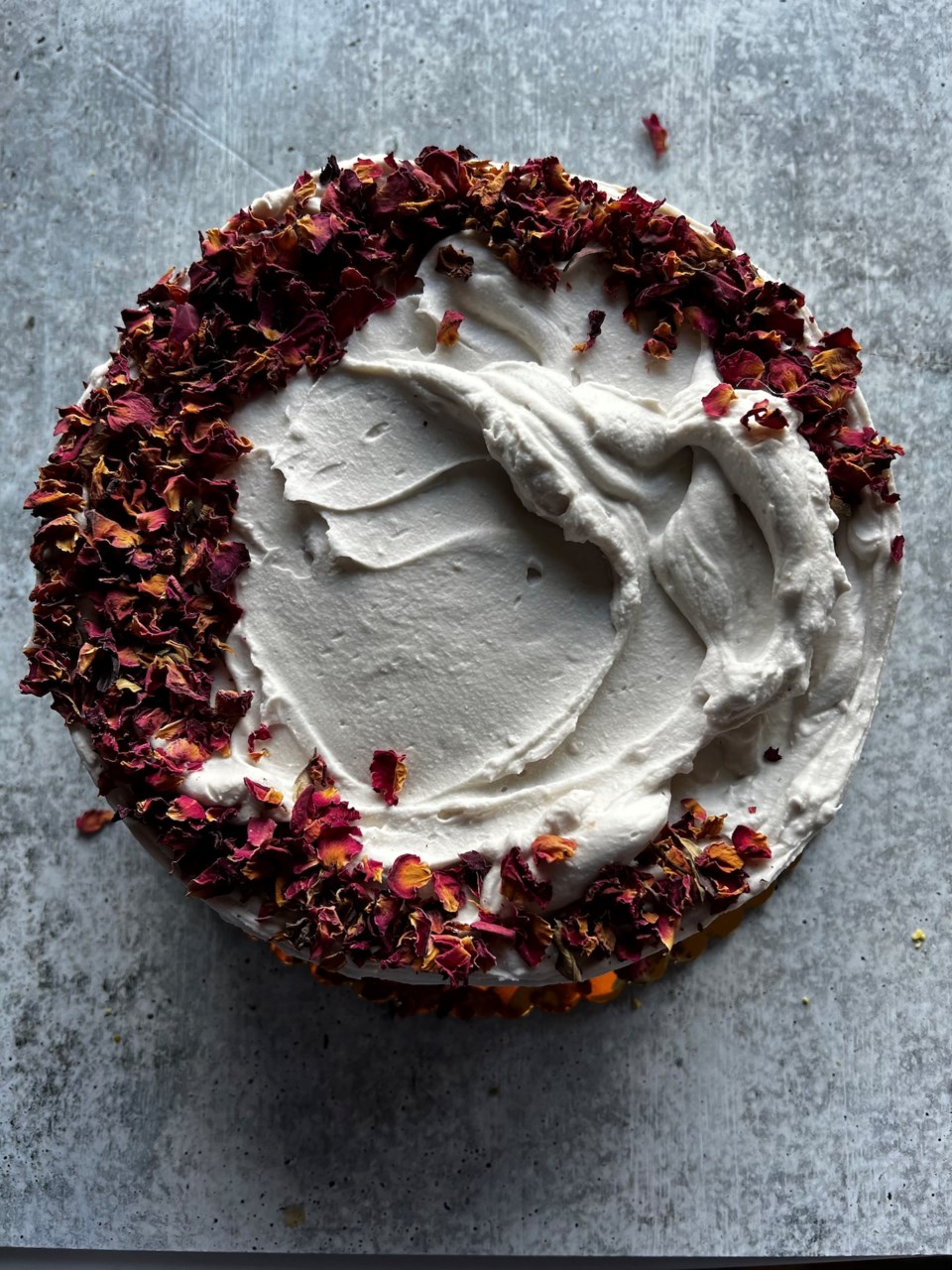 Boddu grew up primarily in India and enjoyed Indian treats that relied heavily on milk and butter. Vegan varieties of these foods did not exist.
"When you're celebrating a birthday you still want a cake. You're not necessarily going to buy a traditional Indian sweet to celebrate a birthday…at least you're not going to put a birthday candle in one," Boddu said.
Boddu's elegant, coconut cream-frosted cakes appeal to members of the South Asian community on the Peninsula searching for flavors that feel like home in the relatable and accessible form of a celebration cake. Boddu develops all of her flavors herself, sometimes making 10 different iterations of a recipe until she creates one that adequately captures a particular moment of food nostalgia.
Shru's Kitchen is a cottage bakery, a small-scale operation based out of one's home; a 2019 law known as the Microenterprise Home Kitchen Operations Act authorizes San Mateo County to permit home kitchens, like Boddu's, for retail use. Operating from home seemed like the most straightforward option for Boddu, who had considered other possibilities like using a commercial kitchen or working out of a restaurant's kitchen. But Boddu says she wanted to stay true to herself and her business's principles.
"It's always the trade-off between sticking with what you believe in and trying really hard to scale," Boddu said.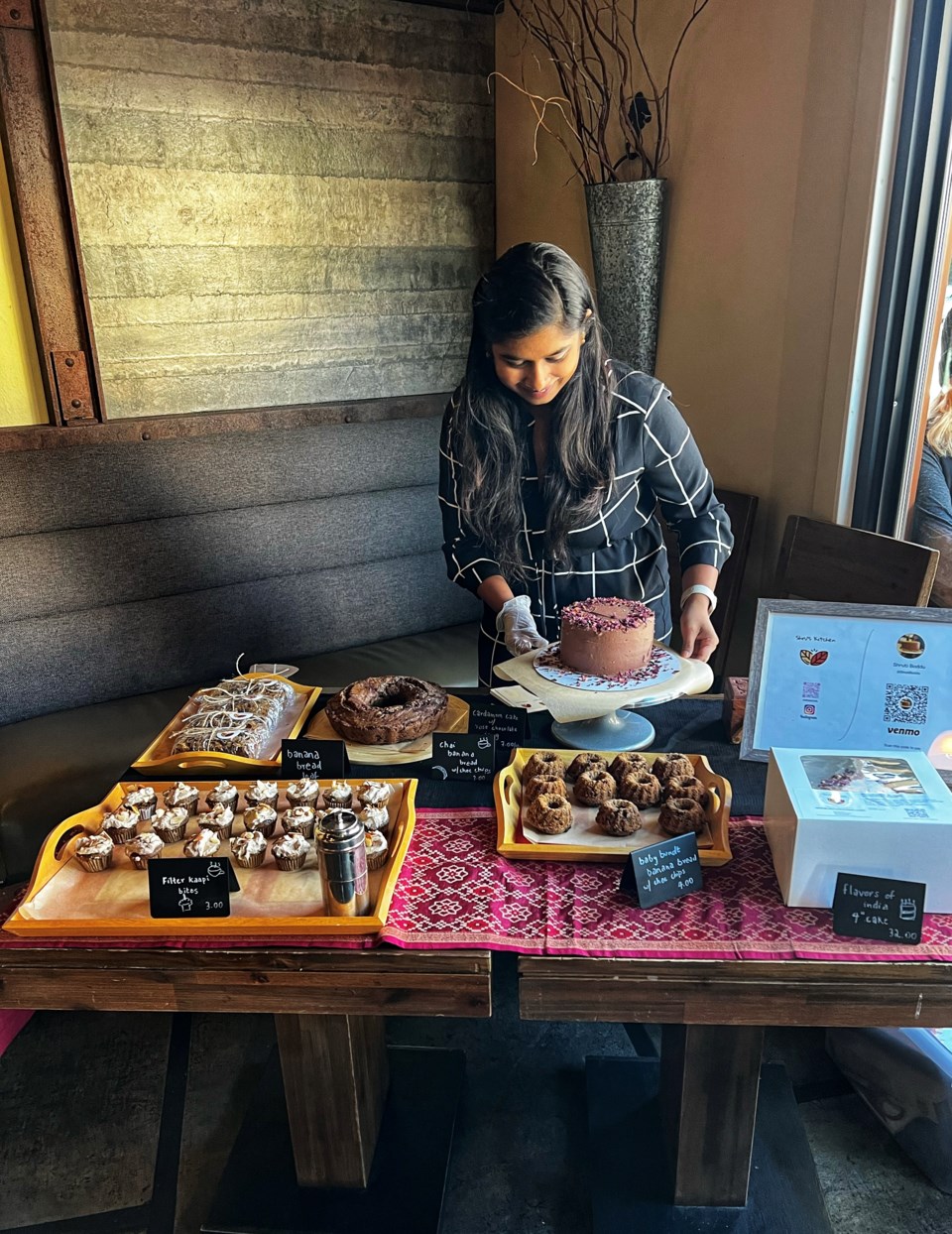 Scaling up one's business is a large undertaking that adds several other operating costs, in addition to the "physical and emotional toll" of the food industry, Boddu said. Burning out when operating your own business is extremely common, so Boddu emphasizes the importance of taking things day by day instead of rushing to expand. Operating the business by herself is the greatest challenge for Boddu who, in addition to doing all of the baking and cake decorating, also manages the business side of things by operating her social media and advertising.
Boddu's idea of 'scaling up' for Shru's Kitchen involves increasing the cottage bakery's output and physical presence on the Peninsula. Shru's Kitchen regularly participates in pop-ups at vegan restaurant Millenium in Oakland alongside other vegan bakers. Boddu sees these pop-ups as an important way to connect with her Peninsula customers and hopes to host more in the future. Often her customers help facilitate these opportunities; the owners of Lebanese restaurant Jood in San Carlos offered their restaurant to Boddu after she posted on Instagram inquiring about Peninsula pop-up spaces. The menu for Shru's Kitchen's last pop-up at Jood in March included sweet potato samosa galettes, cardamom rolls, chai banana bundt bread and slices of two of the bakery's most popular cake flavors: Flavors of India and saffron.
Pop-ups allow Boddu to further experiment with her bakery's menu and branch out into smaller baked goods and handheld pastries for more casual occasions. These smaller items are reimagined traditional bakery staples with a South Asian twist: cardamom rolls that take the shape of a classic cinnamon roll, samosa galettes and chai spiced banana bread loaves, among others. Offering smaller, less expensive baked goods that still feature South Asian flavors is another way Boddu aims to increase her bakery's accessibility.
Boddu hopes to start producing more cakes weekly, find more Peninsula restaurants where she can sell her baked goods and explore other cake ordering and delivery platforms, including DoorDash. The success of Shru's Kitchen and its loyal customers inspire Boddu to keep her one-woman business going, even on the days when there are 20 cake orders that need to be fulfilled.
"A lot of my South Asian customers love that the flavors remind them of their childhood experience and flavors from their past," Boddu said. "I'm really lucky that Shru's Kitchen has gotten to the place it has."
Customers can place orders for vegan cakes on the Shru's Kitchen website and pick up orders in San Mateo. Follow Shru's Kitchen on Instagram for updates on their next Peninsula pop-up.
Shru's Kitchen, San Mateo; 408-466-4870, Instagram: @shruskitchen.
The post San Mateo cottage bakery Shru's Kitchen combines South Asian flavors, modern vegan baking and minimalist designs in made-to-order cakes appeared first on The Six Fifty.