When the news came out that three people had been poisoned at a senior care facility in San Mateo in August after ingesting a cleaning solution, the question remained -- how could an employee mistake an industrial-grade cleaner with juice?
In a lawsuit filed Thursday on behalf of the family of Trudy Maxwell, a 93-year-old woman who died two days after drinking Ultra Klene, a strong-smelling sodium hydroxide solution that lawyers in the suit say is stronger than Drano, the plaintiffs outline allegations of "stunning and inexcusable neglect and abuse" over a period of time that culminated in her death on Aug. 29.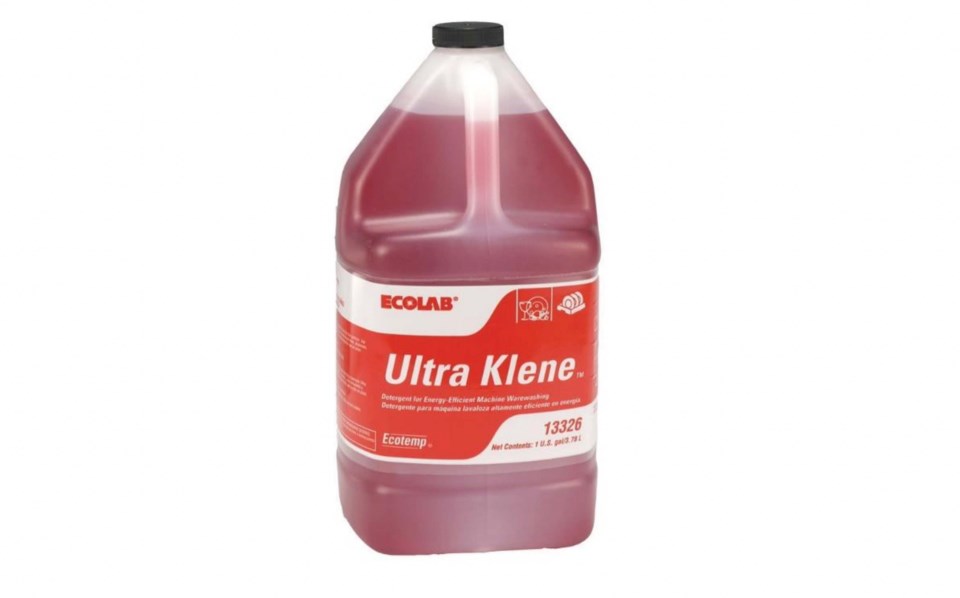 For plaintiffs in lawsuits to prevail, it helps to show a pattern of ongoing wrongdoing. In the case against Atria Senior Living, the corporation that oversaw Maxwell's care, the attorneys for her family point to another poisoning death in the company's Walnut Creek facility.
Atria care home resident Constantine Canoun died nine days after drinking a caustic solution on Aug. 23, the claim alleges. How could two separate locations have the same issue? The plaintiffs allege that Atria should have used Canoun's death as a red flag warning.
"Atria defendants were aware of the situation at Atria Park Walnut Creek," reads the complaint. "Atria defendants did nothing to make its other [facilities] aware of what happened at Atria Park Walnut Creek and did nothing to ensure proper training or staffing would be implemented to ensure such an event would not happen again in the future."
Ultra Klene is the color of fruit punch or cranberry juice -- a deep pinkish red -- and both residents were suffering from dementia, according to court documents. In Maxwell's case, Atria claims that an employee mistakenly served residents the chemicals instead of juice, though the suit alleges that employees told first responders that Maxwell had located the cleaner on her own and drank it, something her lawyers say was "impossible" due to her declining health.
Atria later said that an employee had made a mistake by serving the cleaner to Maxwell.
In Walnut Creek, the suit alleges that Canoun, a man with dementia who was a resident in the memory care unit, drank an unknown liquid that had been left in the kitchen. The suit alleges in that instance, employees blamed his bad reaction to eating "spicy chips."
Atria responded to the poisonings in an email.
"Our ongoing internal investigation determined that on August 27 an Atria Park of San Mateo staff member filled a pitcher with liquid dishwashing detergent that has a nearly identical consistency and color to cranberry juice, with the intention of dispensing the liquid into a commercial dishwashing machine. This was a violation of our policies and procedures. Another staff member picked it up, mistaking it for juice, and served it to three residents. The incidents at our San Mateo and Walnut Creek communities are isolated and unrelated."
The suit pulls no punches in describing what happened to Maxwell "immediately" after drinking the Ultra Klene. Her family's lawyers allege that she instantly "distressed" but that employees waited 30 minutes to call 911. Photos of Maxwell in the hospital after ingesting the alkaline solution show dark blistering and burns in and around her mouth. The suit claims she had blistering in her mouth, throat and esophagus and that the cleaning agent had "melted the lining of her digestive tract."
Canoun's injuries were the same, with alleged burns and lesions to his throat, esophagus and larynx.
Before the poisoning, the plaintiffs allege that Maxwell had suffered an untreated broken hip. When family members asked that her teeth be brushed, they allege Atria raised Maxwell's monthly rate from $5,995 to $7,195 for the extra service.
Ultimately, Maxwell's attorney Niall McCarthy alleges that neglect at the facility came down to the nature of a for-profit care home: Atria wants to return shareholder value to investors. The Kentucky-based company had 21 outlets in the U.S. and Canada in 2021.
According to Zippia, an online job board and company tracker, Atria Senior Living made "peak" revenue in 2021, with $778 million. It was also ranked number one for family member/decision-maker overall satisfaction with assisted living and memory care providers by J.D. Power in a 2021 study undertaken by the independent consumer research firm.
McCarthy says that understaffing is a serious problem. An elder abuse attorney of 30 years in San Mateo County, McCarthy said he's seen repeated, egregious cases of elder abuse in San Mateo County specifically, mostly stemming from understaffing and facilities' inability to properly train staff.
Plaintiffs allege that Atria was cited 12 times over five years for health and safety violations, four of which they say were "type A," meaning they exhibited an immediate risk to health, safety, or personal rights.
"Their primary job is to keep seniors safe," reads the claim. "Atria defendants did just the opposite."
The suit names Atria Management Company LLC, Ventas AOC Operating Holdings LLC, Atria Senior Living Inc., WG Hillsdale SH LP, and Jennifer Duenas, who was the administrator for the facility.
All are being sued for violating the state's Elder and Dependent Adult Civil Protection Act, negligence and wrongful death.
"Our residents will always be our top priority," said Atria in an email. "We devote significant resources to ensure our staff are thoroughly trained and able to meet our residents' needs at all times. Wetake this incident very seriously. We're continuing to work with authorities and the Department of Social Services tofully review and assess the incident. Our hearts remain with the residents affected, their families, and loved ones."