Nearly three years after the COVID-19 pandemic began, just under a quarter of San Mateo County residents have tested positive for the virus, according to the latest data from county and state health departments.
As of Friday, San Mateo County has had 179,485 confirmed cases of COVID-19 and 871 deaths since the beginning of the pandemic. COVID-19 cases in San Mateo County have been steadily declining since a small spike in early December.
The rate of COVID cases by population in San Mateo County (24.3%) is slightly above the average among the 12 counties included in the greater Bay Area (23.6%). By comparison, nearly 26% of residents in San Joaquin County and only 18.0% of residents in Marin County have tested positive for the virus.
In California, the total number of COVID-19 cases is approaching 11 million, and close to 100,000 residents have died due to the virus.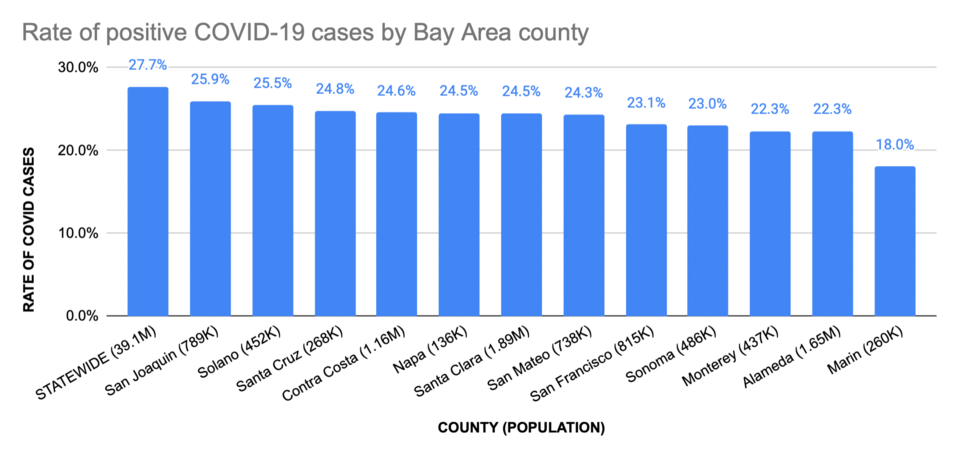 California's farmworkers suffer
Employees throughout California's agriculture industry continue to struggle with access to health care and reliable information, according to a group of healthcare and agriculture experts.
More than 500,000 residents statewide work in the agriculture industry, picking crops and at produce packing facilities. Those employees are often subject to densely packed shared housing, poor air quality and crowded work sites that have exacerbated the challenge of avoiding the virus.
While state and local public health officials have taken steps to distribute health care information in multiple languages and through local community groups, farmworkers have suffered from misinformation about the available COVID vaccines on messaging applications like WhatsApp.
"The problem is not that we do not have resources, the problem is, how are we going to use the things that we know right now," said Dr. Ilan Shapiro, the chief health correspondent and medical affairs officer with AltaMed Health Services. "We've had from 2020 until 2022 to learn a lot about COVID-19."
Statewide economic impact
Noted economist Eric Hanushek has determined a dollar value in lost lifelong earnings and states' economic growth due to the drop in learning during the pandemic. In California, it is huge, more than a trillion dollars, according to state-by-state data released on Tuesday.
Hanushek, a senior fellow at the Hoover Institution at Stanford University, calculated that, depending on which state they live in, students will face a lifetime loss in earnings of 2% to 9%. The state's GDP loss from a workforce with lower skills will be 0.6% to 2.9% each year for the remainder of the century compared with pre-pandemic learning expectations.
Since the economic growth of a state is greatly tied to the quality of its labor force, the pandemic's legacy will be a future workforce less prepared to contribute to economic growth, Hanushek wrote.
California did better than the national average on the latest results of the National Assessment of Educational Progress, which tests representative groups of students in 4th and 8th grade on English language arts and math. Based on pre-pandemic 2019, California students as a whole experienced no loss in 8th grade reading, compared with a significant 3-point drop nationwide and a decline of 6 points in math, compared with a record loss of 8 points nationally.
Therefore, California's projected loss of 1.4% in GDP will be smaller than three-quarters of other states. But because its economy is so large, the loss, as measured by current dollar value, will be $1.28 trillion through the end of the century, Hanushek estimated.
Bay City News contributed to this report.