Jose Rafael Solano Landaeta, 33, of Hayward, was found guilty on Monday of first-degree murder in the death of Karina Castro, a 27-year-old mother of two. Landaeta is the father of one of Castro's children.
A jury convicted Landaeta of first-degree murder by using a deadly weapon in the commission of the crime. On Sept. 8, 2022, Landaeta, after an argument with Castro, is said to have used a samurai sword to kill her in front of her San Carlos apartment. According to witnesses, Landaeta used the sword "slashing numerous times, causing the victim's head to be almost severed," according to authorities.
Castro's mother, Laura Engman, said the guilty verdict reading was relieving, but she is without her daughter.
"But now the world knows what he did and what he's like," Engman said.
During the hearing on Monday, Nov. 20, Castro's father, Martin Castro, said Landaeta turned around in his chair glaringly and spoke to him, "You still think I did it?"
"I am glad he won't see the streets," Martin Castro said. "It's bittersweet; I am hoping to get some closure and normalcy back to life or at least try. It feels like weight was lifted from my shoulders."
While Martin Castro added that he is relieved the trial is over, he is worn out still and still in shock.
"It has been a rollercoaster of events through this whole trial, but even getting the verdict we are looking for still doesn't give me back my daughter," Martin Castro said.
Eyewitnesses said they saw Solano Landaeta and Castro having an intense argument outside of Castro's San Carlos apartment before he went into his car and retrieved the sword used to kill Castro while the children were inside her home.
Martin Castro said his daughter is a hero because he and Castro's grandmother, Danielle Gannon, believe that if Castro allowed Landaeta in the home, he probably would have killed the children, too.
"She is a hero, my angel, and saved those kids," Martin Castro said.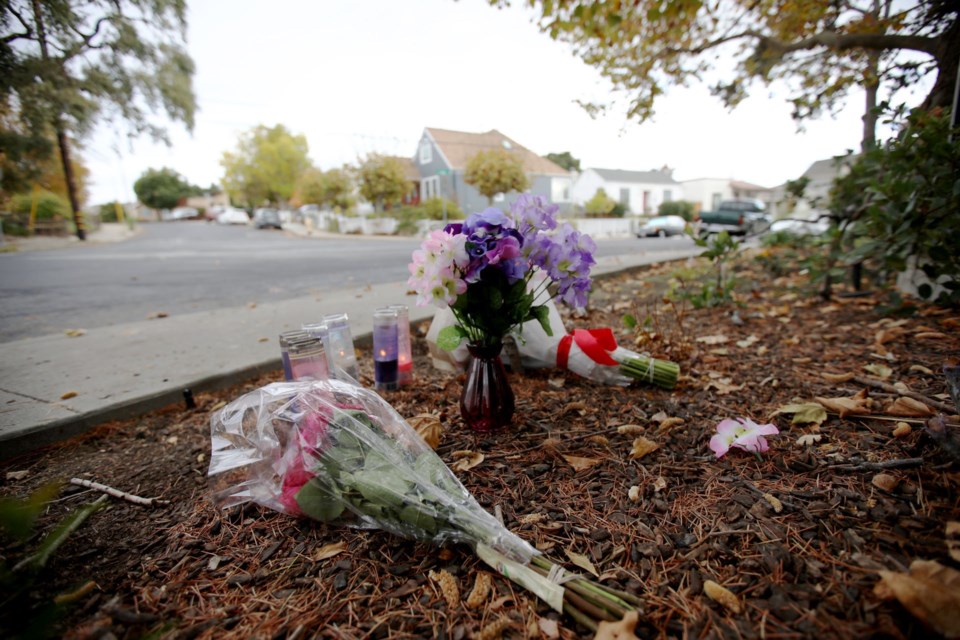 Landaeta then walked away from the scene and placed the bloody sword in his car, which was parked two blocks away, according to the district attorney's office. When San Mateo County Sheriff's Office deputies arrived, they found Castro dead on the street and arrested Landaeta, who surrendered himself to police.
Landaeta initially pleaded not guilty by reason of insanity, meaning he was insane during the commission of the crime, but court-appointed doctors found Landaeta to be fine. Landaeta eventually pleaded not guilty and claimed he acted in self-defense.
Defense Attorney Robert Cummings claimed Landaeta's mental illness triggered a psychotic episode fueled by over-the-phone arguments that led Landaeta to believe Castro was out to have him and his family killed. Landaeta claimed to have acted out of fear and alleged self-defense, saying that he thought Castro was trying to stab him in the heart.
Prosecutors said during the opening statements that the murder was about vengeance after Landaeta became infuriated that Castro posted on social media that Landaeta was a homosexual, rapist, and pedophile.
Landaeta repeatedly refused to appear in court, staying in his jail cell. He testified for nearly three hours last week, answering questions from his attorney about the conversations he had with Castro hours before the killing.
But the cross-examination only lasted roughly 15 minutes, during which Landaeta said he didn't recognize Castro in a photo and claimed he didn't kill her. He then asked to take a break, but upon returning to the witness stand, he appeared to be asleep and didn't respond to the prosecutors.
"I am grateful that they (the jury) saw through the lines and his ridiculous behavior, and that's what Karina had to deal with every day," Gannon said.
For Castro's mother, Engman, she won't rest until Landaeta is in prison, she said.
"Justice is still not served until he is gone and in prison; once he's in prison, I will feel a lot better," Engman said.
The jury will return to deliberate on aggravating factors, including Solano using a sword to behead Castro. He faces 26 years to life in prison.
Bay City contributed to this story.