When the U.S. Congress convenes for its first session in 2023, about 760,000 residents in San Francisco and San Mateo counties will find themselves in a new political landscape.
They will serve the freshly redrawn Congressional district — District 15 — which stretches from San Francisco to East Palo Alto; and encompasses Brisbane, San Mateo, Foster City, Millbrae, Belmont, Daly City, San Bruno, Burlingame, San Carlos, South San Francisco, Colma, Hillsborough, Redwood City; and portions of Menlo Park and Atherton. And for the first time since 2008, residents in these communities will have a new representative in the House of Representatives.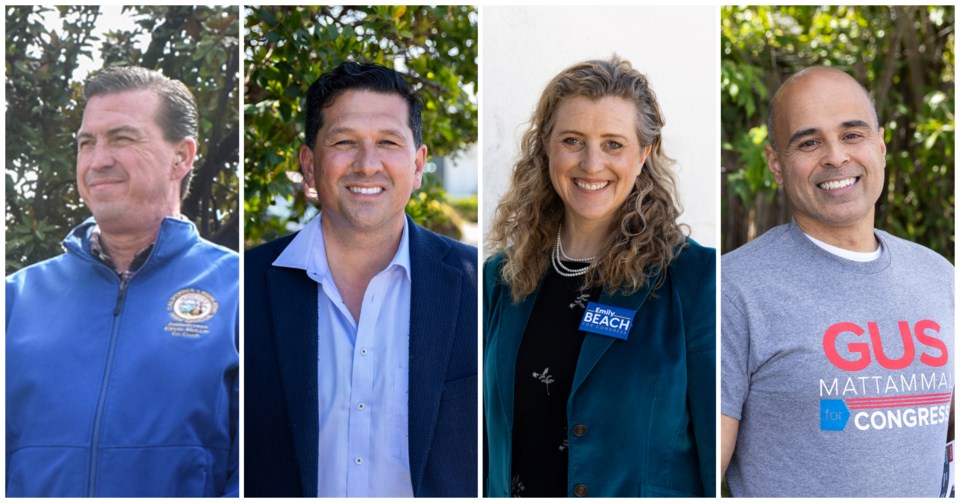 The race to fill the seat will be the Peninsula's most competitive in a generation. U.S. Rep. Jackie Speier, who joined Congress after winning the election in 2008 and whose district covers much of the District 15 turf, was the hand-picked successor of former Rep. Tom Lantos, a fellow Democrat who then represented the area since 1981. She easily won the special election to get to Congress and has cruised to re-election, picking up more than 75% of the vote every two years.
Will history repeat itself?
Assembly member Kevin Mullin hopes so. As Speier's chosen successor, he hopes to carry on her legacy in the U.S. Congress. A former South San Francisco mayor who has served in the Assembly since 2014 and received his political training as Speier's district director, Mullin has been viewed by many as a frontrunner ever since Speier announced her plan to retire in November. In campaigning for the seat, Mullin touts his experience as a legislator and focuses on preserving democracy and addressing climate change.
With the largest war chest ---having raised more than $600,000-- he's been endorsed by some of the biggest names in the Peninsula's Democratic establishment, including U.S. Rep. Anna Eshoo, who's been representing the neighboring district since 1992 and is seeking re-election in November.
But in his bid to succeed his mentor, Mullin faces stiff competition from two fellow Democrats — San Mateo County Supervisor David Canepa, a former Daly City mayor, and Burlingame City Council member Emily Beach. Each has racked up more than $450,000 in cash contributions, and each can point to a track record of winning elections and advancing key policies.
Canepa, who served as president of the San Mateo County Board of Supervisors in 2020, touts the county's success in managing the COVID-19 pandemic as well as his record of advocating for free community college, assisting small businesses and preserving Seton Medical Center, which was in danger of closing in 2020. Canepa aligns himself with the progressive wing of the Democratic Party, strongly supports policies like Medicare for All and the Green New Deal and counts U.S. Rep. Alexandria Ocasio-Cortez among the politicians he most admires.
Beach, who joined the Burlingame City Council in 2015 and who served as mayor in 2020, can point to her regional experience as a board member in the San Mateo County Transportation and on the League of California Cities, a statewide group that advocates on behalf of municipalities. An avid advocate for biking and public transportation and a former executive director of a nonprofit that raised money for local schools, Beach is also an Army veteran. She believes that women and veterans are underrepresented in Congress, which makes her an ideal fit for a seat being vacated by Speier, a legislator whom she admires and endorsed in the last council race.
Gus Mattammal is the lone Republican in the race, and he knows perfectly well that this puts him at a disadvantage in an area that Democrats have dominated for decades. But by making universal health care, climate change and education reform the central planks of his campaign, Mattammal hopes voters will consider his "constructive conservative" positions and cast their ballots based on his ideas rather than on party dogma.
These four candidates will join a fifth candidate, Ferenc Pataki, who is running on the single issue of monetary reform. They will square off in the June 7 primary, after which time the top two vote-getters will advance to the November 8 election.
Meet the candidates
David Canepa is fighting for progressive ideals
Emily Beach is fighting for representation
Kevin Mullin's campaign to save democracy
Gus Mattammal is looking to buck the odds
Campaign Finance
Mullin takes fundraising lead in race to succeed Rep. Jackie Speier