President Joe Biden announced that his administration is investing more than $2.6 billion to fight climate change and to help communities become resilient during a stop at the Lucy Evans Baylands Nature Interpretive Center and Preserve in Palo Alto on Monday, June 19.
Standing outside amid blustery winds, Biden announced the latest funding: nearly $600,000 million for climate resilience through the launch of the National Oceanic and Atmospheric Administration's "Climate Resilience Regional Challenge," and $2 billion for building the electrical grid, a move that would also create jobs, he said.
Biden arrived by motorcade at the Baylands at about 1 p.m. after landing on Air Force One at Moffett Federal Field. California Gov. Gavin Newsom, U.S. Rep. Anna Eshoo, Santa Clara County Supervisor Susan Ellenberg and Eugene Tu, center director of NASA Ames Research Center, greeted him at the airport, according to the publication The Hill.
At the interpretive center, he viewed the Safer Bay Project salt-marsh-preservation program. The San Francisquito Creek Joint Powers Authority spearheads the project, which aims to protect people, property and infrastructure from flooding from Bay tides and projected sea level rise.
"Starting tomorrow the Department of Commerce will launch the first, largest competitive climate resilience … challenge to provide $600 million to coastal and Great Lake communities that are building projects to protect against the impacts of climate change from sea level rise, flooding and storm surge, we're investing in the people in places that haven't been hit the hardest, but who are also on the frontlines," Biden said during a live-streamed press conference.
The Department of Defense is also going to announce that it's investing more than $2 billion to modernize the nation's electric grid to be more climate resilient, including more than $67 million in California.
"That funding can help ensure our electric grid is stronger, that the lights and air conditioning and internet stay on during heat waves and storms and other climate events. So the lights can stay on in hospital operating rooms, nursing homes, and so many other critical care facilities," he said.
Later this year, the White House is hosting the first ever White House Summit, which will convene local, state, tribal and territorial leaders focused on climate resilience.
"It's going to include a roadmap for how these historic climate actions are going to build more climate resilient communities all across America, saving lives at home, providing peace of mind," Biden said.
Newsom also spoke at the event, addressing the state's efforts to promote renewable energy and to combat the dangers of climate change, which has resulted in catastrophic wildfires, drought and, this year, flooding.
"We have in California (nearly) six times more clean energy jobs than we do fossil fuel jobs," Newsom said. "California has produced roughly one out of every four clean energy jobs in America – 27%. … And we're proving we can do it and grow our economy."
The state's commitment to reaching climate goals
California Sen. Josh Becker, who joined Biden on a tour of the nature preserve, lauded the announcement that the Biden administration would provide the $67 million to California almost immediately. He noted the importance of funding for local projects such as the Pacific Gas & Electric substation in the Baylands, which is vulnerable to sea-level rise.
Becker, chairman of the Senate Budget Subcommittee on Resources, Environmental Protection and Energy, said this year alone, California is dedicating significant funds to meet the state's climate goals: $125 million for regional climate resilience, $102 million of which is being restored by the Legislature's Joint Budget Agreement; $384 million for coastal resilience and local sea level rise adaptation, $12.5 million of which comes from cap-and-trade funds; $80 million and $38 million from last year's budget towards sea level rise; and $65 million from California Department of Fish and Wildlife habitat climate resilience.
Yet, the state is going to need much more funding over time to address climate change, he said.
"We built about eight gigawatts of renewables and storage last year. We need to do that every year for the next 21 years to meet our clean energy 2045 goals," Becker said.
He called the $2 billion commitment for electrical grid expansion, "an exciting development from the federal government."
"What we've seen in the Inflation Reduction Act and the Infrastructure Act are historic," he said. "What the Biden-Harris administration has done, they've unleashed just a tremendous amount of funding for our clean energy transition. And, again, that's around all renewables: that's around solar wind, offshore wind, onshore wind, geothermal – and transmission.
"Overall, at a national level, there's $400 billion in loans available. And even just if we just got our proportional share, that would be about $80 billion for California. And hopefully, we can get more than that," Becker said. "Our effort is to achieve 100% clean electricity here and in California and we are already further along (than other parts of the country), but we're also a huge state."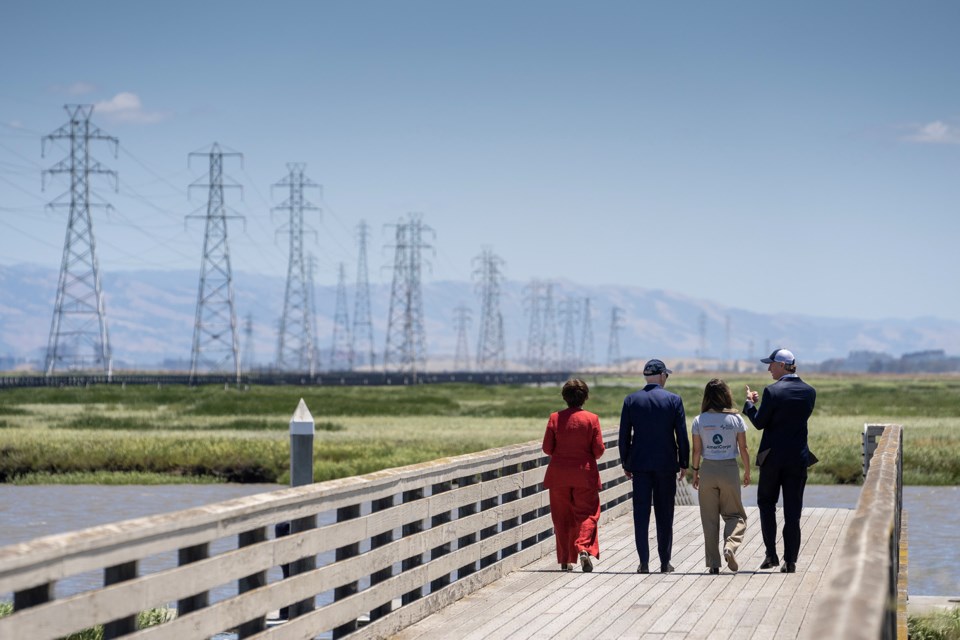 Seth Schalet, chief executive officer of the Santa Clara County FireSafe Council, said that the $600 million does not include direct funding for fire resiliency projects. However, the original Infrastructure Bill did provide significant funding for wildfire resiliency, improved wages and benefits for federal firefighters.
The $600 million will help reduce impacts of weather, including wildfire, he said. Improving the grid infrastructure and electrical equipment could also reduce electrical-equipment-caused wildfires.
"Many of the most destructive and deadly wildfires in the state have been tied to the electrical grid," Schalet said.
Biden's Palo Alto stop came on the first day of a three-day trip to California that includes two campaign-fundraising events planned for Monday: an event in Los Gatos and one in Atherton at the home of venture capitalist Steve Westly and philanthropist Anita Yu, which will take place this evening.
While in Silicon Valley, Biden may also make an announcement about artificial intelligence. Press Secretary Karine Jean-Pierre indicated as much to pool reporters during Biden's flight on Air Force One, according to the White House.