State and local elected leaders will host a community meeting on Friday, May 19, on the ongoing closure of Highway 84 between Portola Road and Fox Hill Road near Woodside and efforts to repair the "severely damaged" road. The road has been closed since early March because of a 250-foot-wide landslide caused by a winter storm.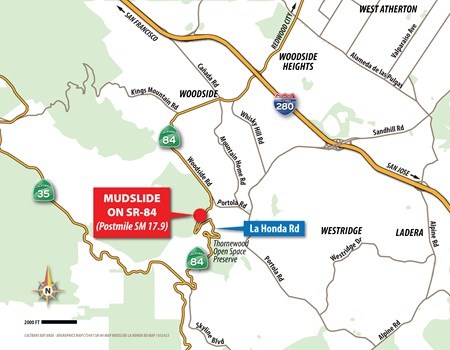 State Sen. Josh Becker, D-Menlo Park, Assembly member Marc Berman, D-Menlo Park, San Mateo County Supervisor Ray Mueller, and Woodside Mayor Chris Shaw are inviting community members impacted by the road closure to share their experiences firsthand.
"It has been 10 weeks since the complete closure of Highway 84 near the town of Woodside," Becker said in a statement. "We need better communication from Caltrans as to the status of repairs. I urge them to provide an estimated date on reopening — either temporary or permanent. While I understand the complexity of repairing this 250-foot landslide, this prolonged closure severely affects the residents, businesses and public safety responders."
Shaw noted that Highway 84 is one of the primary east-west routes connecting the coastal communities of San Mateo County to the Peninsula.
Woodside estimates that the average daily traffic count is in excess of 7,000 trips made up of commutes to jobs and schools, health care and vital services.
"The state highway also serves as a principal evacuation route for natural disasters including earthquakes and fires," Shaw said in a statement. "The importance of a fully-functioning Highway 84 cannot be underestimated."
Caltrans' design and construction team members will be in attendance.
The meeting is set for 2-4 p.m. at Woodside Independence Hall, 2955 Woodside Road in Woodside, and online via Zoom.
More information is at woodsidetown.org.