Suntanning and lazy beach days were not on the menu for Helena Landels this summer.
A rising senior at Sequoia High School, she was one of just five students selected as a 2022 Silicon Valley Bank of America Student Leader, a paid eight-week internship allowing young students to serve their communities through first-hand work with local nonprofits.
Each year, 300 juniors and seniors nationwide are selected to participate in the Student Leaders program. After a seven-week internship, the students participate in a virtual Leadership Summit with opportunities to engage with members of Congress and other civil and human rights leaders.
A lifelong resident of San Carlos, Landels, 17, has long had a passion for community service and has spent time working on food security efforts through her school and local organizations. Through Froot Troops, a school club she co-founded to harvest neighborhood fruit for local food banks, she facilitated the donation of 250 pounds of fresh produce in 14 months with club members.
At LifeMoves, where she spent the better part of June and July, Landels has gotten involved in everything from note-taking and sourcing new volunteer opportunities to assisting with employee onboarding and preparing for the annual Ride to End Homelessness. She also conducted independent research on San Mateo County housing laws and assisted with LifeMoves' Summer Adventure Camp program for children who live in the organization's First Step For Families home.
The Pulse spoke with Landels about her day-to-day work, what she learned through serving local homeless populations and how the experience fits into her aspirations.
Redwood City Pulse: What inspired you to apply for the Bank of America Student Leaders Program?
Landels: I really wanted to have an opportunity to do something meaningful this summer—my last summer back home before I start going out to college. So I was just reflecting on my time living in San Carlos, and I realized that this community has provided so much for me. We have great schools. We have great resources here. So I really wanted to do something to give back to the community.
Redwood City Pulse: Did you know about LifeMoves before this internship?
Landels: No, I hadn't heard of it. Which is kind of crazy that I hadn't heard of it, because it is a huge organization. We have something like 11 shelters and they have like thousands of people on a weekly basis.
Redwood City Pulse: What has your experience been like so far? Tell me about a day in the life.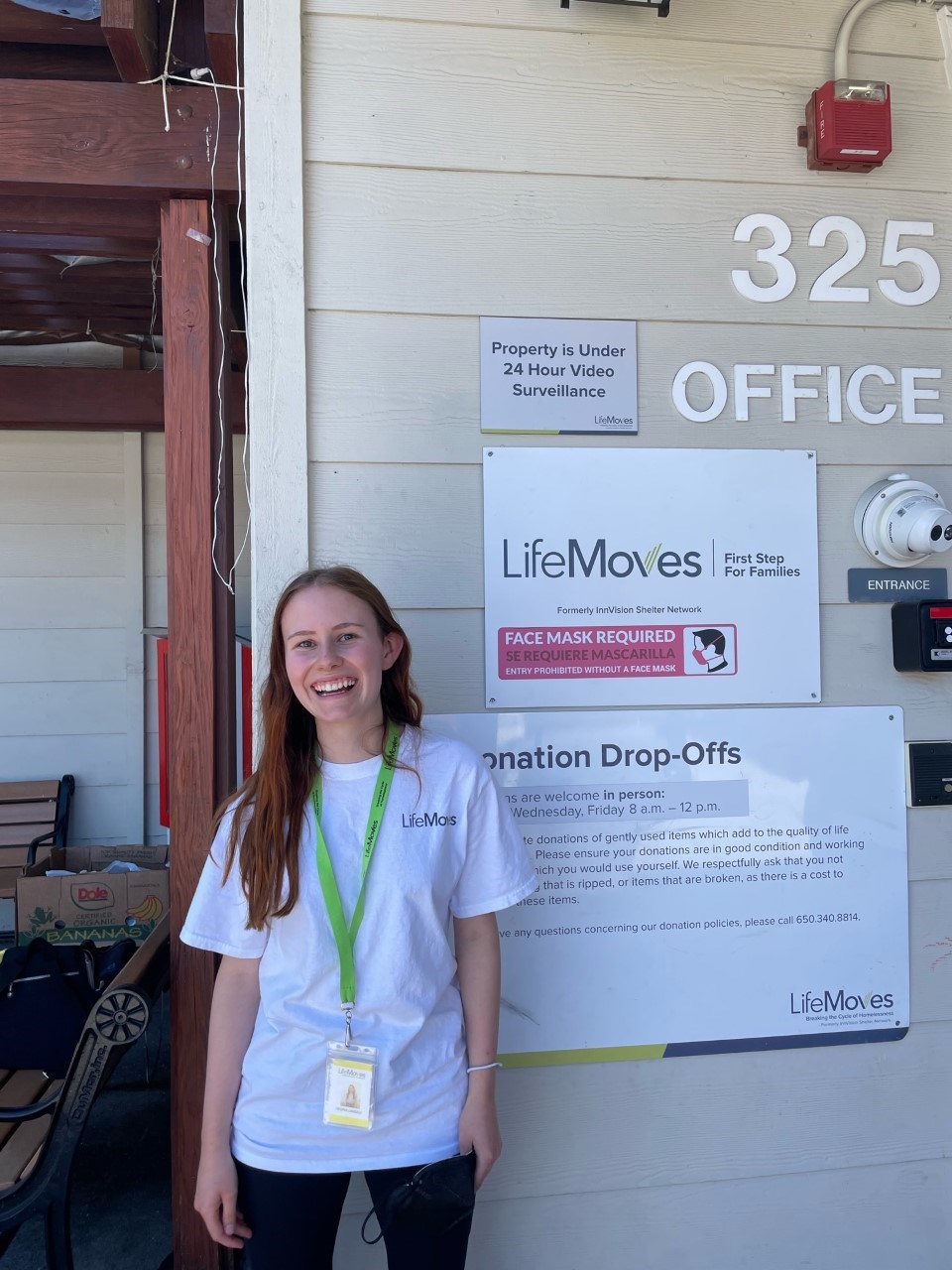 Landels: When I started out, we were working more in the inner workings of a nonprofit.
So we did a lot of work helping with the corporate outreach team and the fundraising. We got to see how they secured grants and donors—working in like Salesforce and updating donor lists and calling local businesses to ask for support.
Recently, I moved more into the field, and I [was] working in the summer camp at one of the three sites. And so that was really rewarding to get to move out into the field, because I had done all this work in participating in securing the funding and then I got to see actually how people are benefited.
We've also been given the opportunity to speak with some of the higher up members of the organization. We even had an interview with the CEO, and we got a lot of really great leadership advice from some of these people who are very dedicated to their field and leaders in their field. It's been a great opportunity to really understand how nonprofits work.
Redwood City Pulse: What does that field work entail? Do any particular moments or experiences stand out?
Landels: Going in [to the summer camp] I was told that some of the students may have behavioral issues. And obviously they've been through a lot in their young lives. But I was actually really surprised when I got there because these are some of the sweetest, the brightest and the most resilient kids I've met.
So basically, we've taken them on field trips. It's just a way so that the kids can have somewhere to go during the day for enrichment opportunities. And so their parents can have some time off to look for jobs and such.
It was really motivating, I think, to keep trying to work for causes like homelessness. And I think that was really inspiring.
Redwood City Pulse: Reflecting on these past eight weeks, what has been most challenging, and most rewarding, for you throughout this experience?
Landels: I think what was most challenging was just like going into the work not really knowing as much about the field and all the things that go into a nonprofit. So I think there was a huge learning curve in learning how to use Salesforce and a lot of professional skills. Because this was really my first office job as a young person. And so that was really challenging.
But I think it's also been really rewarding. All the people I've met—we've just had so much great leadership advice through some of the people who work at LifeMoves. LifeMoves has amazing staff that are really passionate about their fields. And I also think it's just been really rewarding to see how much LifeMoves does for people in our area. The more I learn about the rent crisis and some of the housing laws in this area, and I see how LifeMoves is doing really the most that they can to overcome that, it really gives me a lot of hope.
Redwood City Pulse: Speaking of housing laws, which I know you were researching on your own, what's something you learned that was surprising to you and other residents may not know?
Landels: We met with the housing specialists and talked about what the counties are doing going forward for low-income housing and making housing more accessible to people who can't afford rent in this area. And one thing that I learned that I never had thought about really is that low-income housing—like the buildings themselves—are usually pretty ineffective because a family will move in and once you secure the low-income housing, there's like no turnover rate. So people will stay in there for generations. That's something that cities used to do in the past a lot but is no longer effective.
Pushing for building low-income housing generally does not make as much of an impact as people think. And so programs that San Mateo County—and I think Santa Clara County too—is expanding, like voucher programs, are really the way to go into the future.
Also, we do have rent raise protections in the counties. There's the California tenant protection laws that went into place in, I think, 2020. But there's a lot of loopholes to get around them. For example, newer buildings are exempt from the cap on rent increases. And there's just a lot of exceptions. So I think that a lot of the policies that we have in the state of California, that we think are really protecting renters, are not always as effective as they may seem on paper.
Redwood City Pulse: There are often a lot of stereotypes and stigma associated with people experiencing homelessness. What's one thing you'd like to share with the community from your work with homeless and housing insecure folks?
Landels: One thing that I think a lot of people don't really consider is what homelessness looks [like]. Like, when you think of a homeless person, you probably think of someone walking around with their grocery cart, you know—maybe they're crazy. But that's definitely not what homelessness looks like in this area.
I think homelessness is a lot of people who, they had a home, they have jobs and then they just can't afford it continuing on because rent just is astronomical in this area. And so I think it's important for us all to remove some of our prejudices around what we think a homeless person is and understand that these are people who are working often and are trying to make the best of their situation.
I'd also say that, just to be able to live in the Bay Area, we should be really grateful. This internship has really made me grateful for my home and my ability to access the benefits of the Bay Area and to be able to afford to live here.
Redwood City Pulse: Are there any particular moments that stood out to you during your internship?
Landels: There's been a couple. Like for one, we got to have an interview with the VP of HR. And one of the things he talked about a lot and how he has continued to benefit LifeMoves through his policies is that he really thinks that there shouldn't be so many barriers to hiring people based on their credentials alone. And [that] lived experience and things like that are just as valuable.
Thinking about that made me realize how much the corporate world and the nonprofit world could change if that was implemented more. And I think that really opened up my perspective towards what things can be valued.
Another moment that really stood out is, we went on a field trip with the summer camp to an animal shelter, and we got to play with the kittens and the puppies. It was just really rewarding to get to see the kids being so happy and so cheerful and happy to be there—to see them enjoying the summer camp.
Redwood City Pulse: How does this experience fit into your hopes for your own future?
Landels: I've wanted to be a lawyer for quite a while. That's always something that's been really interesting to me; I'm really interested in the law and policies in this area. And I think this experience made me realize that there's a lot of opportunities in law to do good—beyond just corporate law, there's a lot of opportunities where you can really benefit people. I could definitely see myself working in eviction defense in the future, especially in this area or in San Francisco. It's a big need, and something that I'm very interested in. And so that's a career path that I never would have considered that I think I've opened up to due to my experience at LifeMoves.