More than 40 demonstrators on May 13 held colorful signs and chanted, "We don't need weapons of war no more," to protest gun violence and to call Congress to reinstate a ban on assault weapons, as people who drove by honked to show their support.
Joined by activist groups San Mateo Peace Action and Peninsula Moms Demand Action, members of the Raging Grannies Action League lined up along El Camino Real outside Town and Country Village in Palo Alto. The group of "grannies" said they're fed up with gun violence and want Congress to reinstate a ban on assault weapons.
Protesters pointed out the significance of the action just before Mother's Day when many parents fear sending their children to school.
"As a mother, I'm appalled that mothers nowadays have to fear, when they send their children to school, that there will be a school massacre," said 85-year-old Gail Sredanovic of Menlo Park. "When we raised our children, those of us who are granny age, these things were not happening, and it's just appalling to think that when you send your child to school, they're risking their life by going to school in today's atmosphere. It has to stop, and banning assault weapons will really help this aspect of gun violence."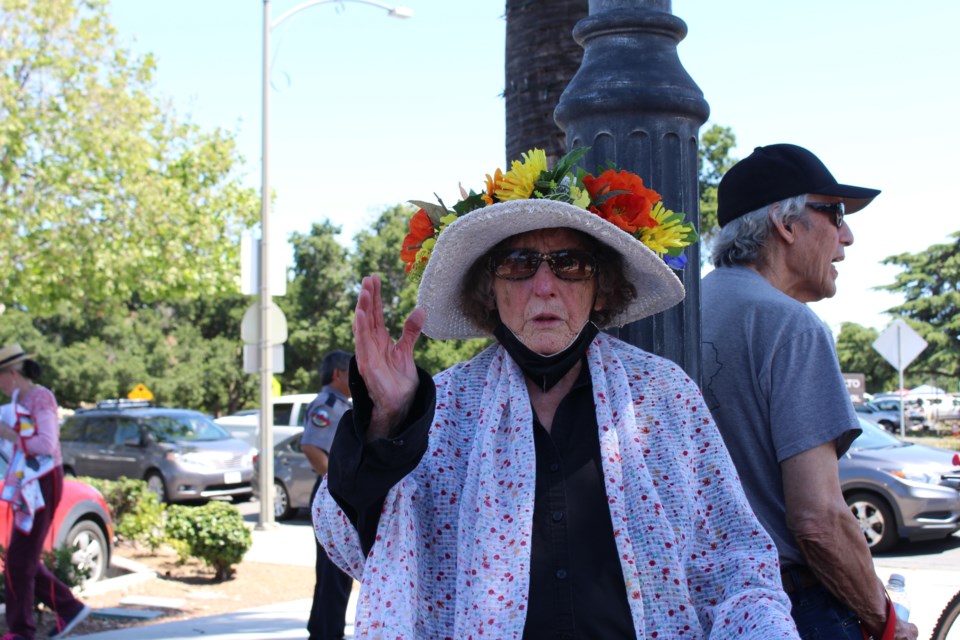 The action comes as Redwood City is deciding whether to adopt an ordinance prohibiting firearm and ammunition retailers from opening within 300 feet of "sensitive facilities," like schools, parks, childcare facilities, youth and community centers, libraries and places of worship. It would also prohibit firearm and ammunition retailers from opening within 600 feet of Courthouse Square. A policy proposal from the Redwood City Planning Commission is expected to come before City Council on May 22.
"It's crazy talk. This is not DeSantis territory. This is where people who care about their children, and if you care about your children, you don't want guns anywhere near your schools," said Suzanne Fouché, a Redwood City resident who attended the Mother's Day protest on Saturday.
Redwood City established a moratorium on gun and ammunition retailers last October after two prospective gun retailers applied for business licenses last year. One of the retailers, Dumpling Defense, applied for a permit to operate in Redwood City's Roosevelt Plaza, which is within walking distance of Roosevelt Elementary and Kennedy Middle schools.
Many activists said they find the logo, which is a cartoon photo of a dumpling holding a firearm, objectionable. Ruth Robertson is a Palo Alto resident but regularly stops by Roosevelt Plaza to go to the gym and go shopping.
"I see the kids when they come out of school and that's where they go to get their pizza and sodas... so they would be passing right by this gun store that has a symbol that is a cartoon character," Robertson said.
In response to concerns expressed by the public, Redwood City published an open questionnaire for people to give their input to city council members ahead of a community forum at City Hall on March 24, where the city presented its proposed ordinance on the regulation of firearms retailers. Many Redwood City residents called for a buffer zone of more than 300 feet between gun shops and schools.
Redwood City Police Lt. Ed Conover said at the March 24 community forum he would confirm that gun shops have adequate video surveillance and proper and accurate inventory control. Since October, Redwood City has yet to receive any new applications for gun or ammunition stores, according to a city spokesperson. Staff agreed to continue researching how the policy can be impartially implemented before its first reading at a city council meeting on Monday.
The Second Amendment Foundation, a Washington-based firearm advocacy group, said it is keeping a watchful eye on Redwood City's proposal to ensure any gun shop restrictions that may be implemented are constitutional. The group wrote a letter dated Oct. 28, 2022, in response to the moratorium, advising the city to remove the temporary ban or face litigation.
"It's not that we don't believe the city might have the authority to regulate where within city limits firearms can be sold...but a flat out ban would be unconstitutional," Second Amendment Foundation Executive Director Adam Kraut told the Redwood City Pulse. "We're moving to monitor what the council ultimately decides to do here and if they continue the moratorium or they implemented an outright ban, you know, we'll go back to the drawing board here and evaluate our legal options."
Last week in Redwood City's Palm Park neighborhood last week, a man injured five people in what some called a mass shooting using a 9mm handgun. A suspect has yet to be apprehended, according to police.
With more than 200 mass shootings so far, 2023 is on pace to be the deadliest year on record for mass shootings in America. Mother's Day marks one year since 10 people died and three were wounded in a grocery store in Buffalo, NY. May 24 will mark one year since 19 children and two teachers were killed in an elementary school in Uvalde, Texas. Both of these shooters used an assault weapon to commit the acts.
Earlier this month, a federal judge in Virginia ruled that a law banning licensed federal firearms dealers from selling handguns to young adults under 21 violates the Second Amendment and is unconstitutional. Currently, California has a 10-day waiting period for an individual to buy a firearm.
The ruling May 10 by U.S. District Court Judge Robert Payne, if not overturned, would allow dealers to sell handguns to 18-to 20-year-olds.
"We're 'grannies,' but we're not necessarily all grandmothers," said Ruth Robertson of Raging Grannies Action League. "We have the "granny" attitude, which is we care for future generations, we care for young folks. So with our granny attitude, we feel protective of children, and we'll voice our opinion [at the City Council meeting]."