At least one person was injured and multiple vehicles caught fire Wednesday afternoon when a first-alarm fire broke out at Sims Metal, a scrap metal recycling center on Seaport Boulevard in Redwood City.
"It was a big fire," said Redwood City Deputy Chief Greg DaCunha. "There were multiple explosions, propane cylinders. The first crew had explosions, the second had projectiles.
"There definitely were some metal projectiles as things exploded. The corrugated metal roof peeled up," he said.
Video below courtesy of Carson Predovich:
Redwood City fire crews were dispatched at 2:17 p.m. to the scene where a building and multiple vehicles had caught fire, according to DaCunha, who was on-site. The fire was put out within half an hour, DaCunha said.
A Sims worker sustained some burns to their hands while trying to extinguish the fire but wasn't transported to the hospital. No other injuries were reported and no other information regarding the worker was immediately reported.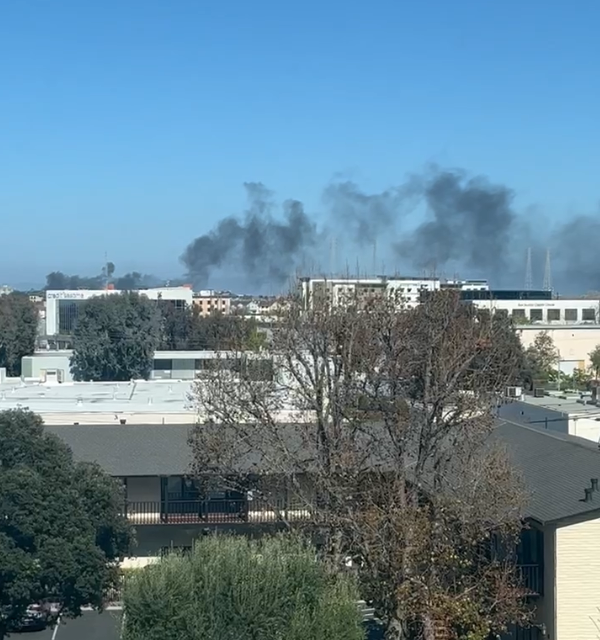 Though the origin and cause of the fire is unknown and currently under investigation, DaCunha said initial reports are that it may have started in one of Sims' vehicles.
"A fire doesn't just start," he said. "Was there a spark? Was there some residual fuel?"
Roughly two dozen fire personnel were initially dispatched by the incident commander, Battalion Chief Chuck Lax. The second alarm was called as a precautionary measure, according to DaCunha, resulting in a total of 40 responders and several engines and trucks, but were released shortly after their arrival. Crews were able to extinguish the fire quickly using a combination of water and foam.
Several crews could remain on-scene for another couple of hours to put out the remaining hotspots, according to DaCunha. The fire prevention department is currently conducting an investigation to determine the origin and cause of the fire. Investigators will be looking for burn patterns, analyzing the area where the fire started and interviewing workers at the site.
There's currently no information about when an investigation will be complete.
This wasn't the metal recycling plant's first blaze; a two-alarm fire, which broke out at the same Sims Metal in December 2013, was the second in two months. There were no injuries, but the fire burned for more than eight hours before being contained.
Sims Metal is a business branch of Sims Limited, which has offices in the United Kingdom, Continental Europe, North America, the Asia-Pacific region and Africa, according to the company's website. It is headquartered in Sydney, Australia.
The recycling facility in Redwood City accepts various kinds of scrap metal, including vehicles and appliances, however, the company asks that the vehicles and the appliances be emptied of any fluid or chemicals prior to being delivered to the recycling center.
A representative of Sims Metal could not immediately be reached for comment.