Hundreds of parents lined up with their kids outside of Hoover Community School on Thursday to get their first dose of the COVID-19 vaccine.
"They're really excited," said Sonia Cruz, in Spanish, who was there with her twin daughters for their first dose.
The girls agreed, nodding vigorously: "We don't wanna get (COVID-19)."
Organized by the San Mateo County Office of Education in partnership with Safeway, the vaccine clinic was one of four set up throughout the county this week, after the Food and Drug Administration gave emergency authorization of Pfizer-BioNTech's pediatric vaccine for children ages 5 to 11.
The clinic, which ran from 2 to 7 p.m., also offered booster shots and flu vaccines to adults. At 5 p.m., all but 35 of the 1,200 appointments had been claimed.
"It's absolutely fantastic," said school principal Ramiro Carranza, who was excited to be hosting the county-wide clinic at Hoover. "I love the idea. This is a great thing for the community."
Jorge Quintana, director of communications at the Redwood City School District, said Safeway initially gave the clinic 500 doses of Pfizer's pediatric vaccine, which is one-third of the adult dose. But within two hours of opening up registration, all slots had been filled.
"Last week, [Safeway] gave us 200 more doses, and that filled up quickly too. It filled up overnight," said Quintana, who's been updating parents via email and text messages. "And so yesterday, they gave us 500 more."
The on-site clinic, which took place on the blacktop outside Hoover's new gym on Stambaugh St., was a combined effort. A team of around 20 school volunteers helped parents sign in and fill out vaccine cards while Safeway Pharmacy's nurses administered the doses. Student nurses from the College of San Mateo joined nurses from the school district to monitor vaccinated kids in the observation area.
Overseeing the whole event was Shanna Laney, director of the COVID-19 response for the district.
"It's been going really great," she said, adding that they hadn't had any issues so far. "It's been a really wonderful event."
She said most children, particularly the older ones, seem excited to get the vaccine, though she did see a few tears among the younger ones afraid of shots. She hadn't heard from any parents with concerns about getting their kids vaccinated and said that, overall, her district is very pro-vaccine, with only 5% of staff members not fully vaccinated.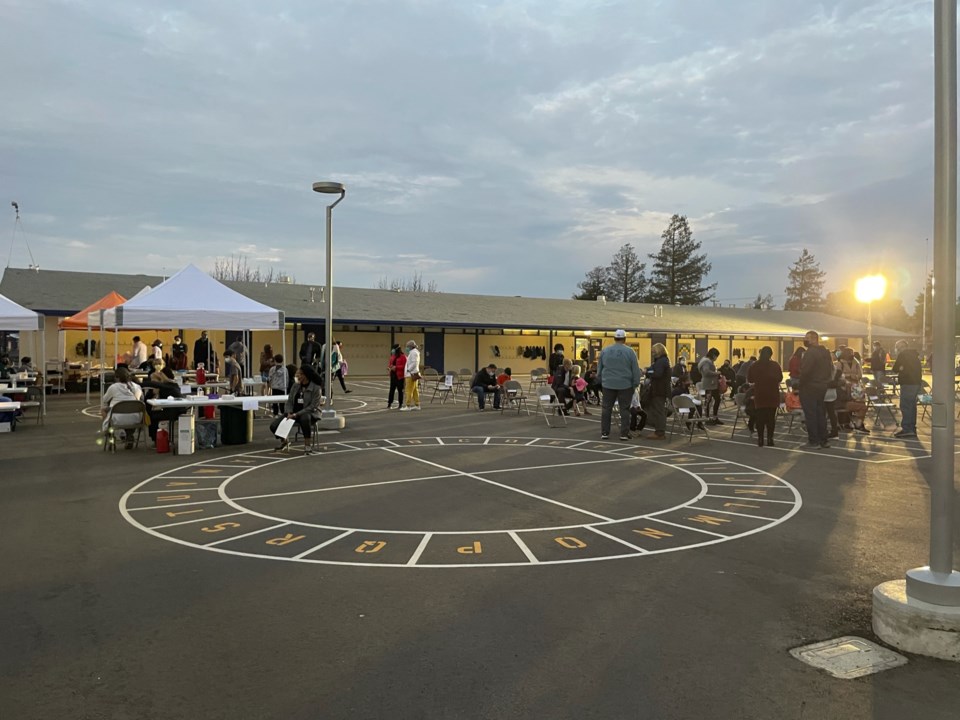 As night began to fall and parents and nurses squinted at the suddenly hard-to-read paperwork, school administrators scrambled to find more light. Families leaned against the gym wall outside the clinic, using their phones as flashlights to complete consent forms. One mother complained about the lack of signage and said she wished she'd known to complete the consent form ahead of time. A father seemed exasperated as he tried to herd his son towards the entrance.
Others greeted each other in a mix of Spanish and English, making small-talk or advising recently vaccinated children to get a good night's sleep.
"I'm feeling good," said Eric, who was there with his daughter, Isabel. "We're excited for this."
Asked if he'd been looking forward to vaccines becoming available to kids, Eric said he was, adding that his daughters too were eager for the shot. Isabel's older sister, who recently turned 12, got her first dose right after her birthday.
"Her older sister was like, 'Oh my god, I get my shot!" he said. "After the cake and presents, of course."
Romilia, who came with her two children, said everything was going well, and she was looking forward to getting the shot along with them.
"We're all getting vaccinated," she said in Spanish. "It's good for protecting yourself from the disease."
A second clinic is scheduled on Thursday, Dec. 9 for the next round of shots. Although Quintana told the Pulse the district has "nothing confirmed at this time," they have requested another vaccine clinic and are waiting to hear if Safeway will continue its partnership with schools.
"Our superintendent, our district is interested in providing this access to our families, to our students," he said. "So should there be an opportunity to do so, we would definitely welcome that opportunity."