For many young Iranian-American girls, the conversation around bodily autonomy begins early.
Though her eldest daughter Neeka, now 5 years old, was born and raised in the United States, Niloofar Mansourian said she's already talking to her about human and religious freedoms.
"Bodily autonomy is a human right…The hijab is a personal decision that should not be made or enforced by a government," she said. "That's how we actually explain the situation to our children: In Iran there is no choice and therefore it is wrong."
Unlike her own daughter, Mansourian said, "The women in Iran, at 9 years old, are told to wear a scarf, without a choice. So, at 9 years old they have become sexualized because they're told: Your hair represents misogyny. Your hair represents oppression. And you must cover it."
This fight for autonomy reignited in Iran last month with the death of 22-year-old Mahsa Amini, and has since spread to nations around the world.
Just two weeks after Amini died at the hands of Iranian police, she became the focal point of an emotional candlelight vigil on Redwood City's Courthouse Square.
A crowd of nearly 70 residents gathered in the plaza Monday evening to honor the young woman's life, exchanging hugs, tears, words of comfort and fervent calls to action.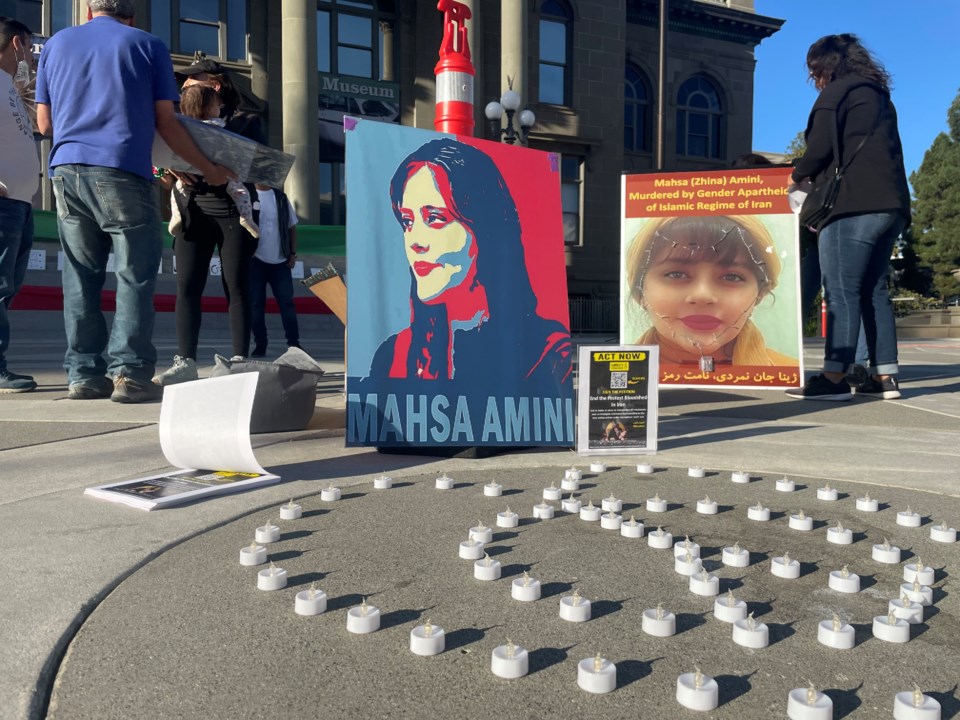 "The significance of this event is the mantra: woman, life, freedom," said Mansourian, a mother of three and one of the organizers of the vigil. "This is women-led. Women are at the frontlines, fighting a war against a theocratic, tyrant regime."
Amini was arrested by Iran's "morality police" last month for allegedly not wearing her hijab properly, per the country's strict dress laws. Her death three days later, on Sept. 16, which authorities attribute to a "heart attack," became an international symbol of the continued oppression faced by women under the Iranian regime. The Government of the Islamic Republic of Iran has been in power since the Iranian revolution overthrew the Pahlavi dynasty, the nation's last royal dynasty, in 1979.
Tens of thousands of protestors in cities around the world took to the streets to express their anger and frustration on Saturday. Many women cut their hair or burned their hijabs in direct defiance of Iran's strict laws.Mansourian said she was gratified to see such a strong turnout among Redwood City residents.
According to Persis Karim, chair and director of the Center for Iranian Diaspora Studies at San Francisco State University, somewhere between 1-3 million Iranians live across the United States. In the Bay Area alone, she estimated the population of Iranian and Iranian-American residents is easily 100,000, though she said that's a "pretty rough number."
"There hasn't been a formal census" of people from Middle Eastern origins, she said. "We know more about how many people left Iran than we do about where they live and how they identify."
Part of that is the result of long-standing stigma around Middle Eastern politics and culture in the U.S. In 2017, the Census Bureau recommended adding a Middle Eastern or North African, or MENA, category to the national census. However, the Trump Administration overruled the suggestion and excluded the category from the 2020 Census.
The bigger problem, Karim said, is that "Iranians are very traumatized people." The majority of Iranian expatriates left after the 1979 revolution and hostage crisis, she said. As a result, "people felt ashamed, embarrassed, humiliated and afraid to identify themselves in any visible way as Iranians because there was so much bad press."
"Iranian Americans are part of the thread of the American flag," Mansourian said. "We shouldn't forget how we show up for each other. And Redwood City should take this as a moment to rise because that's who we are as a community and as a people."
Global uprising
For more than two hours, a large Iranian flag stretched the width of the entrance to the San Mateo County History Museum. Decorating the steps were signs displaying the movement's message—Woman, Life, Freedom—written in eight different languages, from Hebrew to Chinese. In the center of the plaza, the organizers arranged a candlelit altar with poster-sized photos of Amini and a petition against the Iranian government. As attendees gathered around, members of the Iranian-American community spoke, sang, chanted and prayed in a mix of English and Persian, or Farsi as it's known to native speakers.
Among the speakers were event organizers Mansourian and Sharareh Ghahremani, who honored the victims in Iran and called on the local and global community to condemn the ongoing persecution.
"Tonight we honor all the women in Iran who have been unable to express themselves, who are unable to go into the streets feeling safe, who have to worry about what they wear, what they say, what they do—solely because of their gender," Ghahremani said, addressing the crowd from a microphone at the base of the museum's steps.
Amini was "brutally killed, unjustifiably killed," Ghahremani continued. "She had her whole life in front of her, but it was taken away. And she is not alone."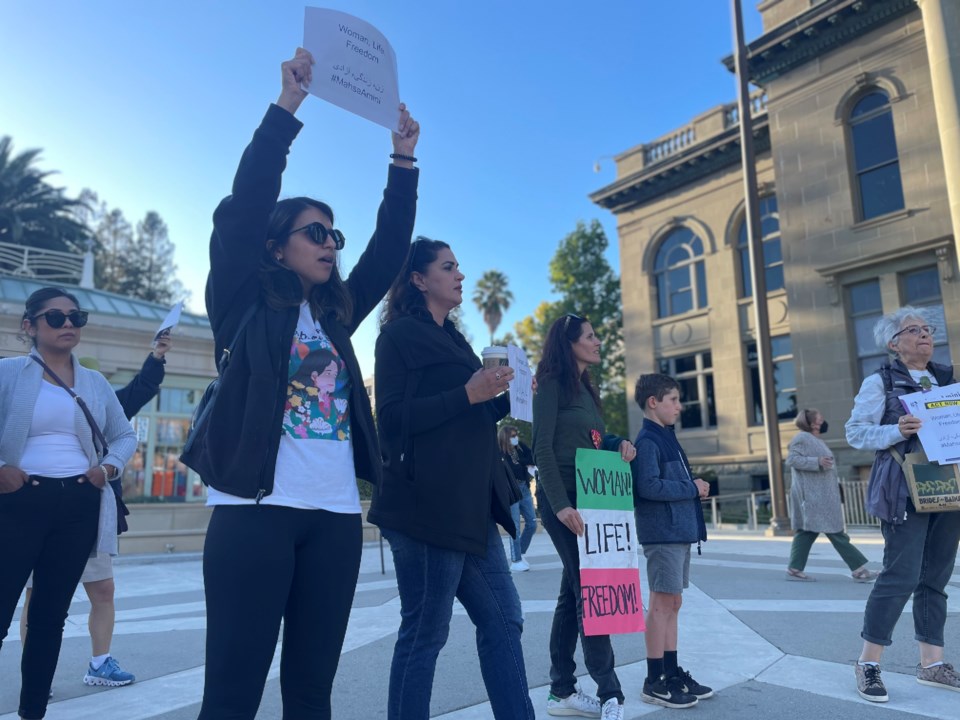 Demonstrations have erupted in cities throughout Iran, resulting in injuries or death to a rising number of civilians. As of Sept. 31, Iranian state media reported around 60 deaths, but the Oslo-based organization Iran Human Rights said that at least 133 people have died since the protests began. Other rights groups estimate the number to be much higher.
At Tehran's Sharif University, one of the nation's premier STEM institutions, a student-led demonstration appeared to end in violent clashes Sunday, as riot police surrounded the protestors, firing less-lethal rounds and injuring or detaining an unknown number.
"Imagine that happening in Harvard or Stanford. Nobody would stand still for it," Ghahremani said. "It would be cried out all over the world. Yet no one knows about all these students who have been taken away."
No sides
Mansourian, who met her husband 18 years ago on the third anniversary of the Iranian student protests—at the time the most violent action since the beginning of the Iranian Revolution—said history was repeating itself.
"What we saw in 1999 is happening right now," she told the Pulse.
Taking to the microphone with her young daughter strapped to her chest, Mansourian urged the crowd to stand up for the women in Iran.
"To someone who says we cannot take sides on this issue, I want to remind them what side you land on when you say that," she told listeners to emphatic cheers and applause. "Human rights is not on the table. Human rights is a universal principle. Human rights was founded in the Persian Empire in 550 B.C.," she said, referencing Cyrus Cylinder, an ancient clay artifact referred to by some scholars as the "first bill on human rights."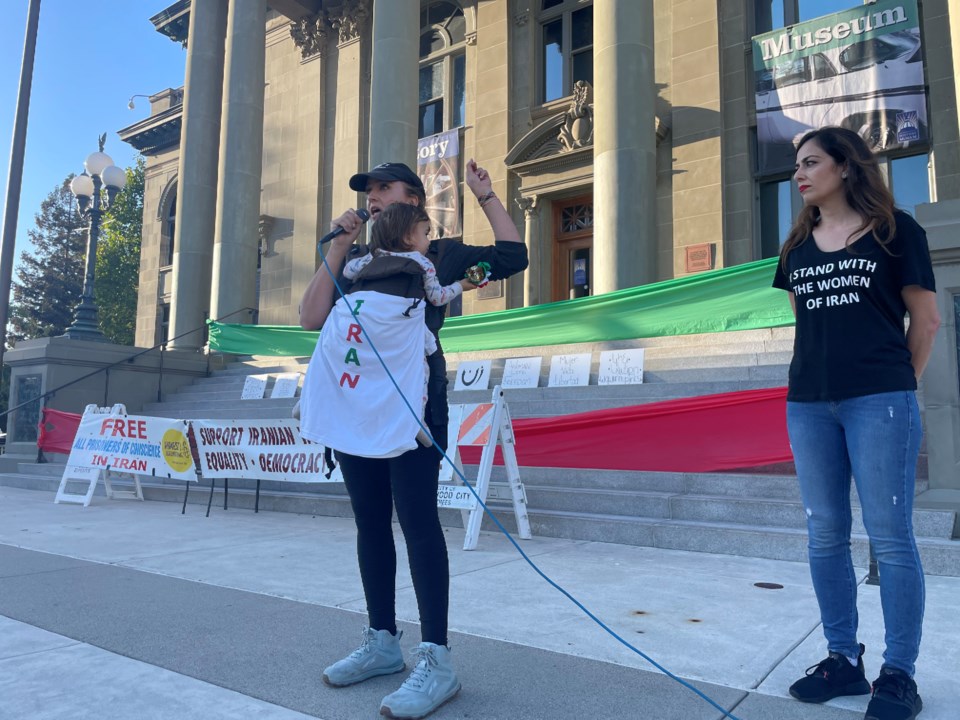 "Look to your left, look to your right—we have women, we have children, we have men, we have all different backgrounds," she said. "There is no negotiation that they should not be protected in the name of liberty, freedom and justice."
There are "no sides to this issue," she continued. "When you meet someone and they ask: Well, tell me what side are you on? Say: Well, I am a human being, there is only one side."
During her speech, an older Black man, who identified himself as Antonio Buckley, entered the plaza, pointing and shouting condemnations at Redwood City Police Chief Dan Mulholland, who was in attendance.
"The chief of police of Redwood City is a racist," he yelled. "He's a racist, and it is a disrespect to anybody talking about human rights."
After several minutes, Mansourian regained the crowd's attention. She acknowledged Buckley and said his presence was a reminder of the rights at stake in Iran.
"May we all have the freedom to speak freely in front of our police," she said.
State Sen. Josh Becker also spoke during the vigil.
"It's time now to stand up to this regime," he said.
"People are literally putting their lives on the line," he continued. "The least that I can do and we can do is stand up and say that we see the protestors, we see what's going on, we see the violence that's being committed and we stand with the people of Iran."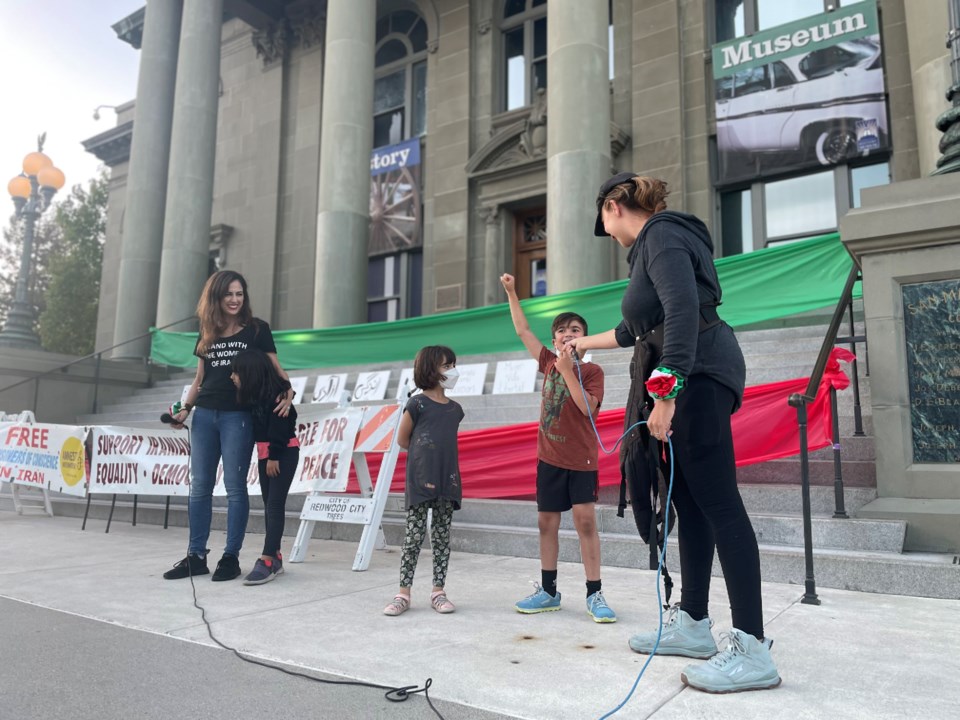 Several other speakers of all ages braved the crowd.
One man, Moe Moghadam, tried to speak but was overcome by emotion and stepped away with a sob. A resident of the Bay Area for 40 years, he calls it his second home, even as he continues "fighting for what's left" in his home country of Iran. He returned to the microphone several minutes later to lead the crowd in a solemn call-and-response alternating between English and Farsi. "Freedom for Iran, democracy for Iran," he repeated.
Mansourian's son, 8-year-old Kourosh led a chant of zan, zandegi, azadi, meaning "woman, life, freedom" in Farsi, his smile wide and his fist high in the air.
Eleven-year-old Dario also approached the microphone to share his own story.
"One night, my mom told me about this Iranian problem and I asked why would Iran do such a cruel thing. My mom said: 'It's not about wanting them to wear their [headbands], it's about wanting them to not have freedom," he said. "And just that saying made me infuriated."
"I might be Italian, and I might not have any relationship to Iran, but donna vita libertà!" he said, chanting the movement's rallying cry in Italian.
The days since Amini's death have weighed heavily on Minu Javan-Khoshdel. Born in Iran just a year after the revolution, she and her family fled political persecution, eventually settling in Germany.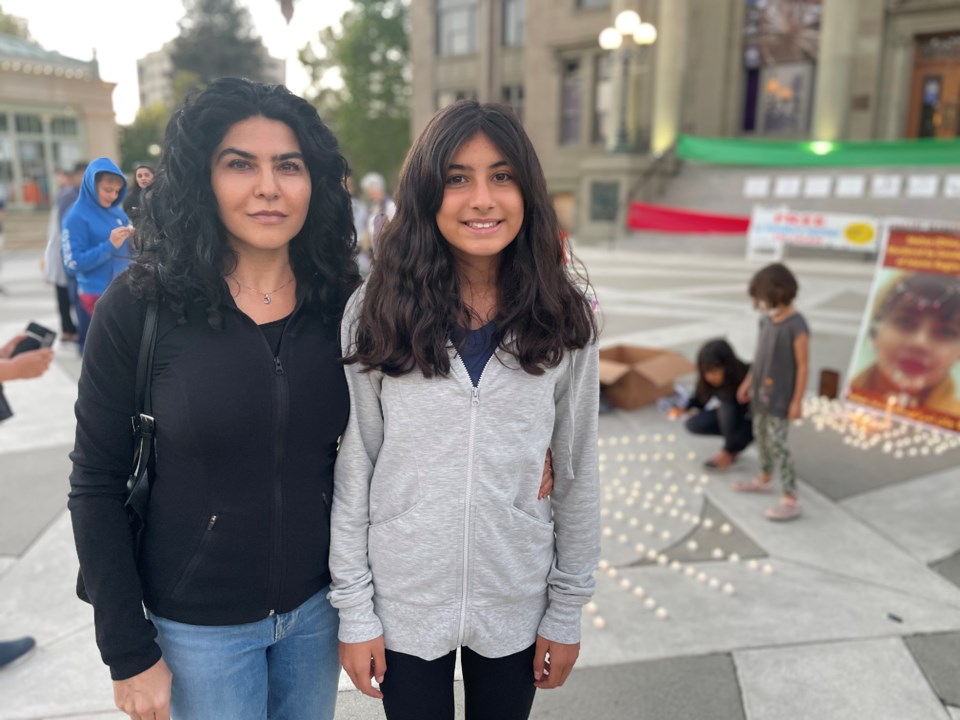 "That's the story of a lot of Iranians. We're all over the world because of the revolution, because of the people in power, because we would have been silenced if we had stayed," she told the Pulse.
The latest news and the recent deaths, she said, are no shock to the Iranian community but rather a continuation of the oppression and brutality that Iranian citizens have endured for more than four decades. But for Iranians around the world, many of whom have never even been to Iran, she said, enough is enough.
"We're not only heartbroken and sad but we're angry and furious," she said. "I've been exposed to this all my life, ever since we left, we know how the people are suffering…That's why I haven't been able to stop crying. These are our sisters and brothers."
Javan-Khoshdel brought her 12-year-old daughter, Vida, whose name means life, to the vigil.
"I want her to understand that all we can do right now is show up," she said. "This is the least we can do."