Less than a month after former Council member Michael Smith announced his resignation to attend to family matters, Redwood City's district 4 has a new representative.
Elmer Martínez Saballos, 26, a planning commissioner and lifelong Redwood City resident, was appointed to the position in a unanimous vote during the Aug. 22 city council meeting. The council appointed him over opponents Eugenia Joyce Porter and John Marini; he'll be sworn into office on September 12.
Vice Mayor Diana Reddy made the motion, seconded by Lissette Espinoza-Garnica, to appoint Martínez Saballos.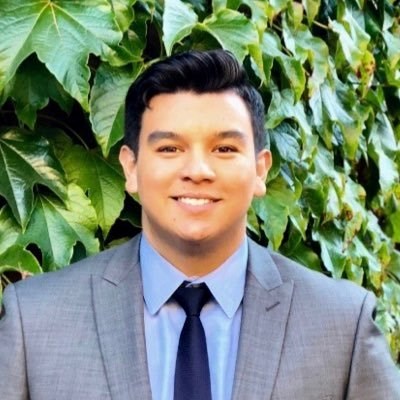 "Elmer mentioned a significant list of previous experience, and it's important to note, those experiences were incredibly diverse," said Mayor Giselle Hale.
"Despite being young in years, you are deep in experience," she added. "That's very much something council will be able to take advantage of at this time. There's plenty to do."
Raised by Central American immigrants who met at Sequoia High School, Martínez Saballos spent most of his life in the Palm Park and Stambaugh-Heller neighborhoods. He described himself in his candidate statement as "a product of our local schools" and said he was "intimately familiar with the struggles residents face in order to work, study and live in our community." He graduated from UC Santa Barbara, becoming the first in his family to earn a college degree.
Housing, transit infrastructure and community safety are the key issues Martínez Saballos seeks to address as an incoming council member. In his candidate statement, he said he was committed to serving the "most vulnerable residents," in particular, with affordable housing, green space, recreational programs, sustainable transportation and safety net programs.
"I'm deeply rooted in this community, and I want to play a bigger role in how our city tackles the challenges, both local and regional, that are impacting our residents using my skills and perspective to ensure that all voices are heard," he told the council.
As a planning commissioner since 2020, he said he had intimate knowledge of the city's development proposals and had experience with land use initiatives, policies and zoning regulations. Currently a senior policy associate at ReadyNation California, an early childhood education advocacy organization, Martínez Saballos also served as a legislative staffer to Assembly member Kevin Mullin and former State Sen. Jerry Hill.
District 4 begins south of Jefferson Avenue and encompasses the Redwood Junction "Five Points," where Woodside Road and El Camino Real meet. The district, made up largely of Latinx members of the community, has a total of 11,102 residents. Of those, less than 40% are of voting age, and 62% make an income of $75,000 or less.
Several council members, including Reddy and Hale, expressed gratitude and admiration for the other candidates.
"Two individuals that I have personally never met, came in, applied for this important seat and blew us all away," Hale said.
"When I see candidates of this quality, it continues to reaffirm the quality of people we have in Redwood City."