UPDATE: As of 1:40 p.m. Thursday, the Edgewood Fire was 95% contained, according to Cal Fire, up from 90% containment Thursday morning. Power has been restored to most affected customers, according to the PG&E website.
******
A day after flames erupted, the Edgewood Fire burning alongside a county nature preserve has been reduced to 20 acres and is 42% contained, according to Cal Fire officials.
"Forward progress has stopped, and we have good control," said incident commander and Battalion Chief Bob Simmons Wednesday afternoon. With a complete fire hose line around the fire's perimeter, Simmons said firefighters are working on putting out internal hotspots. "I would say we're in a mop up stage. But we're still improving containment lines."
The cause of the fire remains unknown and under investigation, according to Simmons, who couldn't comment on any theories.
Meanwhile, roughly 1,300 residents in the area are still without power. According to a PG&E outage map, power was expected to be restored at 3 p.m. today, but the energy company is waiting on fire investigators for the go-ahead to access a nearby PG&E substation on Cañada Road. There's currently no estimate for when that might be, according to Cal Fire officials.
The firefighters are hoping to wrap up most of their efforts by tomorrow evening, according to Simmons.
"We'll still have what we call 'patrol status,' so I'll still have a couple of engines out here," he said. "For a few days we'll have little smokes pop up as the fire burns into the old root systems. So we'll have to keep an eye on that."
***
On Wednesday morning, the Edgewood Fire had been reduced to 20 acres with 20% containment, according to a briefing from Cal Fire officials.
"The structure threat has been mitigated, and they're in mop up today," meaning extinguishing any residual fire to prevent spread, said Cecile Juliette, public information officer for the San Mateo County Fire Department and Cal Fire CZU.
The blaze, which erupted Tuesday afternoon in a region bounded by Woodside, Redwood City and Edgewood Park & Natural Preserve, caused local evacuation orders and left thousands of Peninsula residents without power. Evacuation orders have been lifted, allowing residents to return home Tuesday evening; however nearly 3,500 customers remain without power, according to a PG&E outage map.
Four firefighters, including two from Cal Fire, one from the national guard and another from a local city force, suffered minor injuries and were transported to Stanford hospital. They have all since been released, according to a Cal Fire CZU official.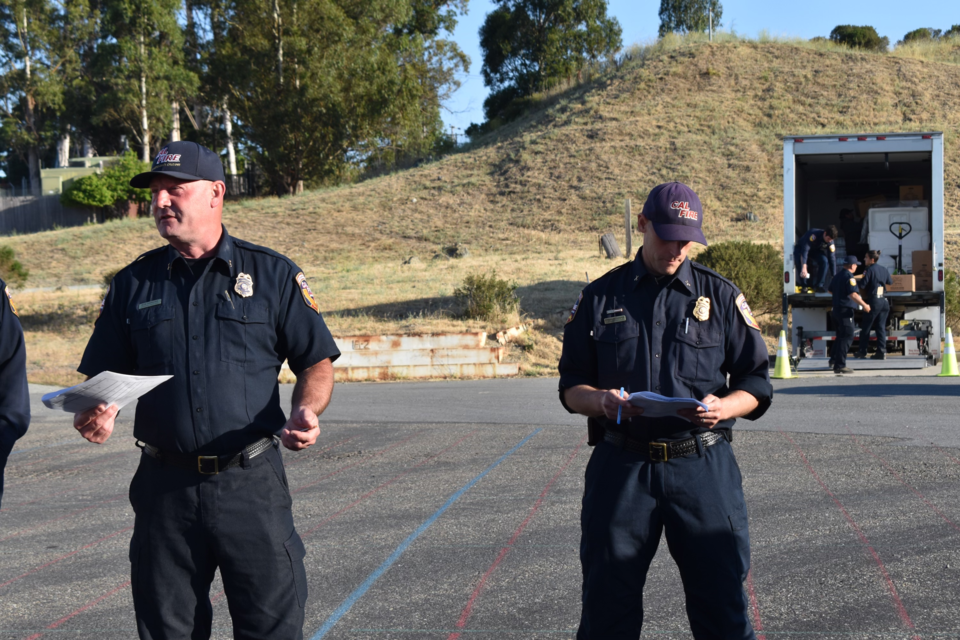 Juliette said that Wednesday's milder weather, with a max temperature of 96 degrees and winds up to 10 mph, are "good conditions" for the firefighting crews. Still, she added, they'll be keeping an eye on afternoon wind patterns, which can shift unexpectedly and dramatically change the course of a fire.
As for today's plan, she said "the firefighters were told to stock up on water, stay hydrated and work on improving containment lines."
Emergency responders from around the Bay Area have come out to support the local Cal Fire CZU team. As of Wednesday morning, 60 personnel were on-scene, including strike teams from Cal Fire SCU, LNU and Mendocino, as well as hand crews from Marin County Fire, Monterey Bay and Blue Ridge.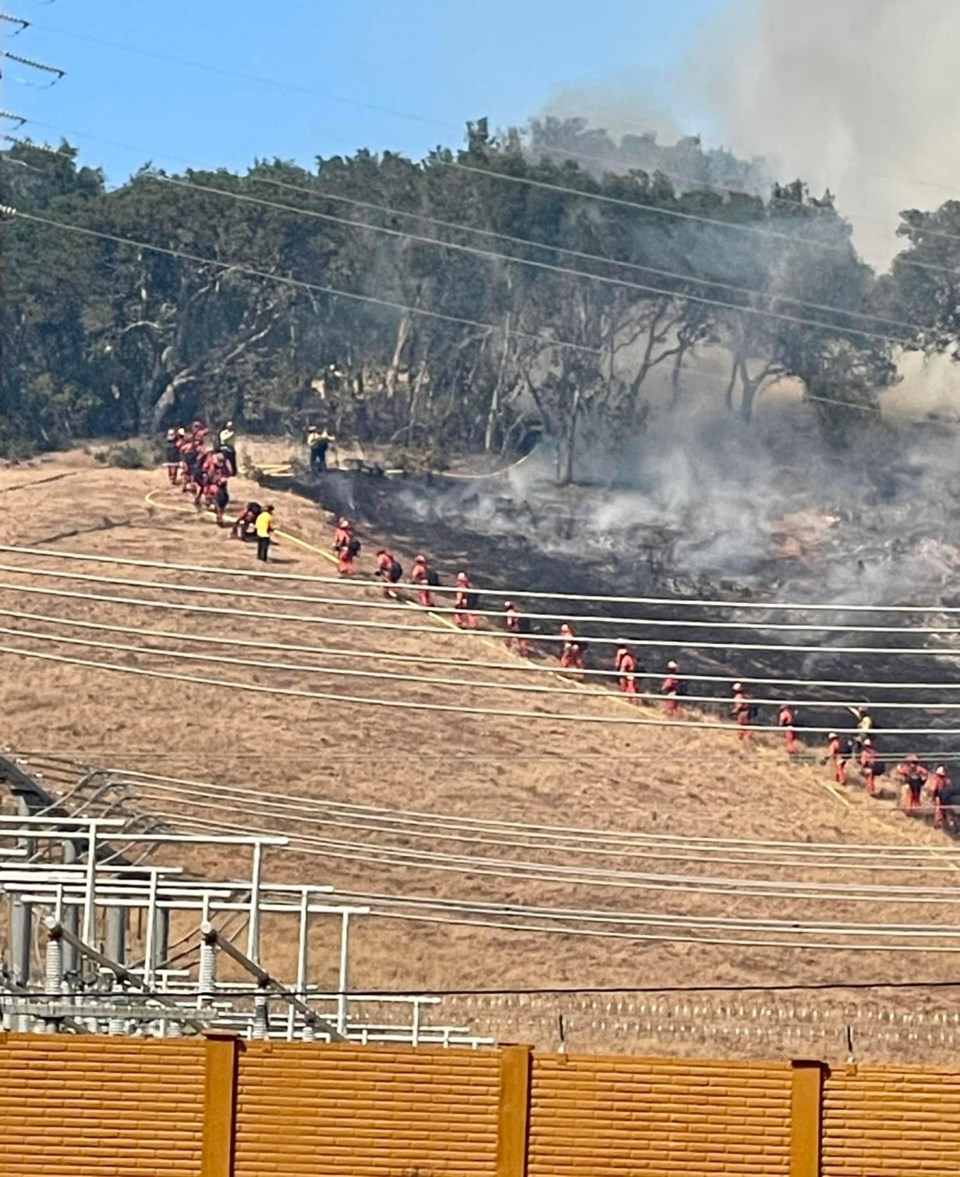 Incarcerated firefighters from the Ben Lomond Conservation Camp, including 23 inmates and three fire captains, were also battling the blaze. Ben Lomond is one of more than 35 "fire camps" statewide that provide on-the-ground support to emergency responders. Inmate firefighters earn $2.90-$5.12 per day on regular assignments and $1 per hour on emergency assignments, according to their website.
Though officials could not comment on the nature of the firefighters' injuries, Juliette said they were working right up next to the fire, battling hot temperatures, steep hills and heavy gear and equipment.