Redwood City Mayor Jeff Gee and members of the city council on Monday delivered the State of the City, addressing key issues from housing to transportation and how the city will reevaluate and restructure its city resources amid a major financial shortfall after the city lost an estimated $82 million in revenue over three years because of the COVID-19 pandemic.
Gee said that to move ahead in 2023, the council must reimagine how the city will provide for its residents, businesses and visitors.
Vice Mayor Lissette Espinoza-Garnica and Council member Alicia Aguirre highlighted housing and homelessness as this year's top concern again.
Reimaging City Services and Resources
Facing a financial deficit, city services and resources like service delivery will be studied on their levels of performance, equity, and optimization. Council member Diane Howard said the city is committed to "reimagining how we provide those services to adapt to new and different community needs."
"And prepare for a changing future," she added.
Gee echoed the sentiment and said the resources would have to be used correctly and managed carefully.

"The hard news is that during the pandemic, our city lost $82 million in revenues," said Mayor Gee. "This is a big deal when our annual operating budget is $165 million."
Gee also said that the City is looking for new revenue streams and will have to step out of "traditional ways" to provide the resources the community needs.
Housing and Homelessness
With Redwood City becoming the first jurisdiction in San Mateo County to have its housing element approved, Redwood City staff will begin implementing various programs outlined in the housing element this year. And there are key timelines since the housing element will continue on for eight years or till the year 2031.

"Our first implementation item will be zoning and municipal code updates," said Vice Mayor Lissette Espinoza-Garnica. "We look forward to sharing our progress with the community in the coming months."

Aguirre said that Redwood City had implemented San Mateo County's vision of "functional zero homelessness" in Redwood City, referring to the Navigation Center, which is scheduled to be completed later this month.
"[It] will provide 240 units of non-congregate emergency shelter for single home adults and homeless adult couples,' Aguirre said.

While the Navigation Center will replace the Maple street shelter, the goal will be to provide short-term housing and resources on site, such as intensive counseling.
Transportation
Council member Chris Sturken spoke on the topic of transportation.
He laid out the three goals, which include creating an action plan for implementing policies to prevent deaths or injuries caused by vehicles; the second goal is aiming for zero emission trips.
"And finally, regional mobility – to ensure that Redwood City is considered in all strategic regional transportation initiatives," Sturken said. "Think high speed rail, Caltrain electrification, Dumbarton rail, potentially and more."

There was an update on which agency would be leading the effort to reconstruct the Highway 101/ 84 interchange; the City of Redwood City would be the lead agency in partnership with Caltrans and the SMCTA

Sturken brought up the grade separations by the railroad tracks in the Transportation Initiative to prevent bottlenecks. He said that with the help of Nuestra Casa, an equity and social justice non-profit in East Palo Alto, the city gathered nearly 500 responses in favor of grade separating all six rail crossings.
Youth and Children
Council member Elmer Martinez Saballos gave an update on the youth and children Initiative. One of the programs, Purposeful Action Creation and Engagement or P.A.C.E., has led youth from the transitional ages of 12 to 24 to form positive relationships with community leaders, Redwood City Police and the Bike Life movement youth.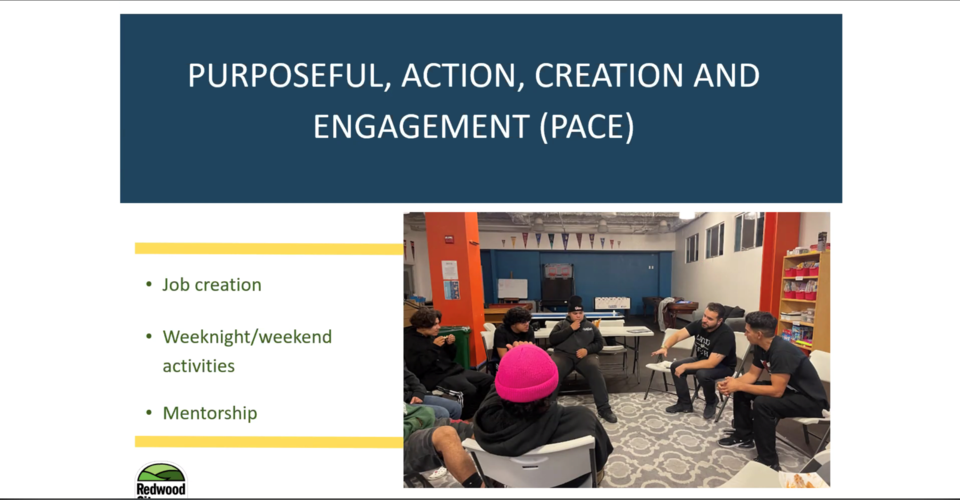 Martinez Saballos also brought up the downtown library park in which a feasibility study identified several city owned parcels as future open spaces to serve the downtown area.
He said that over 1,100 survey responses were received on topics such as park character, formation, preferred amenities and features.
The consultant team, he said, is in the process of developing the final preferred plan for a final community meeting to be held before May 2023.

The last updates Martinez Saballos laid out are the Hoover Park and the pool prevention project. A vision includes an improved playground, water recreation area, a teaching pool and more, but a final design will be released later this year.
Clean Energy and Climate Change
Council member Kaia Eakin highlighted the steps Redwood City has taken in following the climate action plan but noted that the city will add in new capital projects like the conservation, clean or electrical programs, such as rebates for buying a heat pump.

Eakin said the city and OneShoreline have collaborated to implement flood and sea level rise mitigation projects.
"This includes work on the many levees in Redwood City that are an ever greater risk due to sea level rise," Eakin said.
Eakin said it also includes a sea level rise run vulnerability assessment, which would build on prior regional studies to develop recommended action.

Last week, Redwood City council heard a series of updates from the City Manager, detailing upcoming cost-saving decisions such as making spot treatments on potholes, having a budget of $1 million for ergonomic furniture and upcoming public works projects, including the reconstruction of a sewage treatment plant that's estimated to cost $900 million.
This State of the City address was held hybrid for participants at City Hall and on Zoom.
Click here to access Zoom details for the State of the City.