At least 60 residents of the Sequoia Trailer Park, fearing eviction, attended a meeting on Thursday evening with county officials to discuss the long list of code violations they received in the last few months.
Outside the Connect Community Charter School Multi-Purpose Room in North Fair Oaks, where the meeting took place, tenants told the Pulse they started receiving violations for everything from unsecured propane tanks to non-compliant sewer lines earlier this spring. Residents—some who have lived in the park for several decades—said that this was the first time they'd ever experienced a county inspection.
One such tenant, Jessica Contreras, has lived in the park for 10 years since moving from a nearby shelter. After receiving a violation for an improperly installed A/C, she decided just to remove it, fearing eviction if she didn't.
"It's an oven," she said of her trailer now.
Ester Hollander, a resident of more than 30 years, has never seen such an inspection. To comply with county regulations, she had to move an accessory unit in front of her trailer and can no longer open her shed door.
"They destroyed everybody's lives," she said.
According to residents, the county began delivering the code violations to the park's residents in March. Several weeks ago, they sent a petition, signed by 75% of the park's residents, asking the county "to create a transparent process to formally rescind code violations that are impossible or unsafe to correct, to guarantee that a financial assistance program will pay for needed repairs and to hold park management accountable for the real health and safety issues in the park," according to a press release.
One of the problems, the tenants said, is that it's unclear what the timeline is for compliance—and what happens if they don't. They were hoping for more clarity from the county during Thursday's meeting.
Mary Whitney, a lifelong Redwood City resident and three-year tenant of the trailer park, said she thinks the county should either forgive the violations or provide residents with the resources to fix them. She estimated that it would cost her several thousand dollars to get up to code.
But Steve Monowitz, San Mateo County community development director, assured the residents that the county would do everything in its power to support them in addressing these code violations. He said he understood that not all changes—such as relocating trailers—would be possible.
Still, Monowitz said, tenants are ultimately responsible for bringing their homes up to code.
"It's important to demonstrate you've done everything in your means to address the code violations," he said.
But according to residents, the long list of code violations is just one of many gripes it has against the county.
While the county is asking residents, who collectively pay over $1 million a year to use the land under their homes to replace accessory units and secure propane tanks, the trailer park is struggling with old electrical systems, flooding and major sewage leaks.
"Literal sewage," Whitney said. "It stinks. There are flies."
Monowitz said that the county is aware of these issues and "expects a full and complete assessment of park infrastructure–electrical, sewer, waste water" from the park management.
One resident, voicing the fears of many, asked what would happen in the meantime. If the park management fails to fix sewage and electrical issues, he asked, "what happens to all of us that live there?"
"It's not our intention to red tag the park," Monowitz said.
Residents seem skeptical of the county's promises to support them through this process. Many described months or even years of racism, harassment and neglect from park management. They're fed up and fearful.
"Yes, I'm afraid to speak out," Whitney said. "But these are our homes."
Residents also expressed confusion about conflicting regulations. Many purchased accessory units or stationed their trailers according to the park management's direction. Why, after so many years, did they suddenly have to move everything to meet county codes?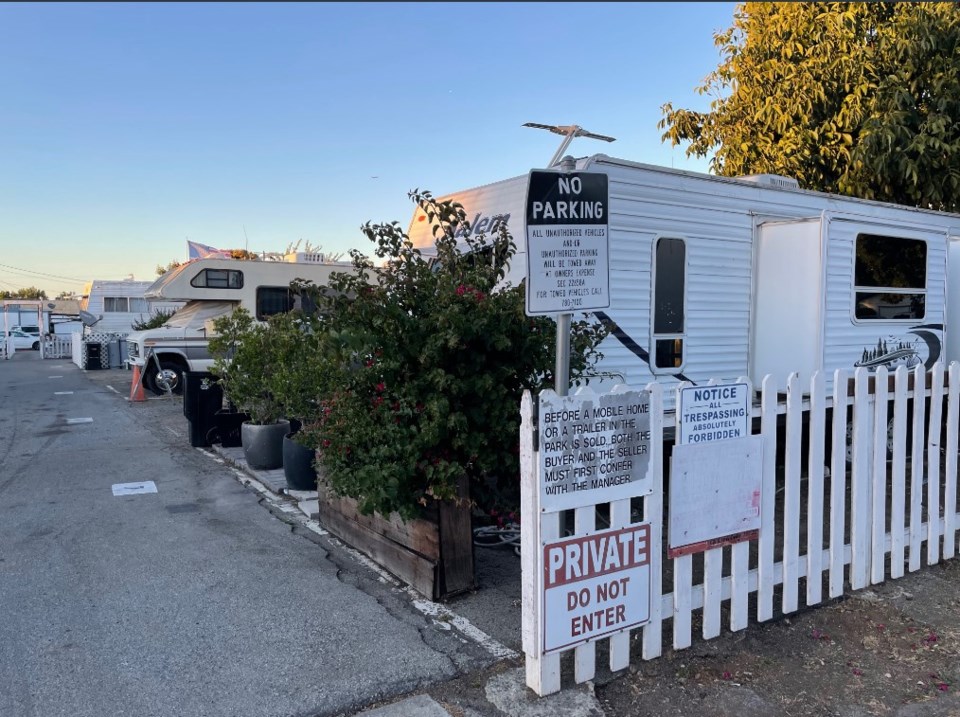 After two hours, the meeting closed with a final call to action.
"I want to know, where's the county's accountability?" Whitney said, pointing at Monowitz.
"You have authority, we don't," she said to applause. "We're residents. We've done the work. We need you guys to do the work."