Residents from throughout San Mateo County are calling on the Board of Supervisors to enact greater checks and balances on the power of the county sheriff's office.
Sixteen members of Fixin' San Mateo County, a local grassroots organization, whose goal is to create civilian oversight of the sheriff's office and establish a county inspector general, spoke during Tuesday's Board meeting, urging the supervisors to pass an ordinance to do just that.
"Currently, the sheriff's office reports to no one. Independent and effective civilian oversight is common sense, good government," North Fair Oaks resident and FxSMC member Becca Kieler said during the public comment.
"It will protect civil rights," she added. "It will support effective policing, ensure transparency and greater accountability, and it will save taxpayers money and help to build a more positive relationship between the community and the sheriff's office."
A 2020 investigation by the Half Moon Bay Review found that fewer than 10% of use-of-force cases in San Mateo County went to trial. The publication further reported that, during District Attorney Steve Wagstaffe's decade-long tenure, none of the 52 officers who were involved in a total of 19 fatal use-of-force cases were charged.In 2020, the Bay Area News Group analyzed data that revealed that, while Black residents make up 7% of the total population of San Mateo, Alameda, Contra Costa, San Francisco and Santa Clara counties, they accounted for 27% of those killed by police in the same region since 2015. Latino residents also made up a disproportionately high percentage of police killings.
Roughly ten residents from as far as Pacific and Half Moon Bay gathered outside the Hall of Justice in downtown Redwood City for an in-person press conference preceding the event. During the brief rally, Fixin' San Mateo County Board Chair Jim Lawrence, Belmont resident and activist Trina Patton and Reverend Ben Meyers spoke.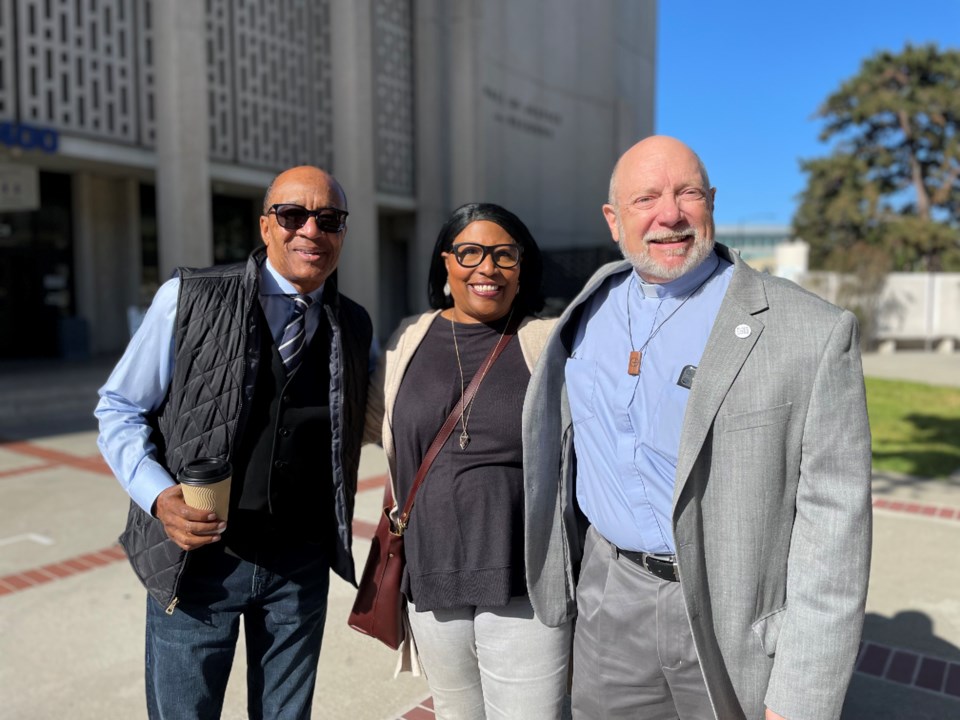 "What if our Board of Supervisors had recognized the need and installed a civilian oversight board and inspector general's office five years ago?" Lawrence wondered.
He referenced the Taser-related deaths of three San Mateo County men in 2018, including Chinedu Valentine Okobi, a 36-year-old Black man who was stopped by sheriff's deputies while walking in Millbrae and died after being Tasered, beaten and pepper sprayed. "Would the three unarmed people of color tasered to death still be alive?" he asked.
Fixin' San Mateo County has been meeting regularly since May 2021 and officially launched its campaign on March 26. The goal is to establish a board that would coordinate with an official inspector general, who would "investigate incidents of excessive force, deaths in custody, and racial profiling trends," according to their website. Both the board and the inspector general would have independent subpoena power and would issue public reports as well as review and recommend policies.
While no supervisors have expressed public support, the organizers are hopeful.
"We believe there are members on the board who see value in this, want to explore it further and are willing to have dialogue about it," said Patton.
Limited quantitative research has been conducted assessing the effectiveness of civilian oversight boards, which follow different models with varying degrees of authority, according to a recent report published by the National Association for Civilian Oversight of Law Enforcement (NACOLE). Data published by the United States Department of Justice showed that, while most oversight agencies (78%) experienced high engagement with their law enforcement executives, the rates of action differed across jurisdictions, with less than half (46%) believing that law enforcement frequently implemented the recommendations.
The prevalence of civilian oversight has grown significantly since 1975, when only five agencies existed nationwide, according to NACOLE. As of 2021, more than 160 oversight agencies operate in cities and counties around the nation, according to an assessment from the Council on Criminal Justice's Task Force on Policing.
In California, where at least 22 oversight boards currently exist, state Assembly Bill 1185 was approved in September 2020, authorizing counties to establish a sheriff oversight board, either through direct supervisor action or a vote by residents. The members of Fixin' San Mateo County hope to drum up enough support on the board to pass an ordinance establishing this oversight. "This would bypass the unnecessary expenditure of dollars for this, which to all of us seems to be a no-brainer," said Meyers. "But our next step is to bring it to the ballot, which we're prepared to do."
During the board meeting, members of the public spoke emphatically about the need for greater transparency, accountability and public trust in local law enforcement.
RJ Jennings, a resident of Half Moon Bay, spoke about the origins of law enforcement and its continued effects on society—including in his own life.
According to Jennings, law enforcement was "born out of returning slaves to the plantation," he told the board.
"When that's in the DNA, it's hard to change. So let us be a part of what is needed for 2022 and beyond," he continued. "So that I can tell my 3-year-old son—I don't have to have the conversation with him on how to be Black when getting pulled over here."
With the primary election just weeks away, both sheriff candidates, Captain Christina Corpus and incumbent sheriff Carlos Bolanos, have voiced mixed support for some form of civilian oversight of their office. Bolanos said he looked forward to sitting down with Fixin' San Mateo County to discuss ways of increasing transparency and bringing in new perspectives.
"As a law enforcement professional, I have to be open and willing to have those discussions with the various groups and members of the community," he said, adding, "I don't see a model where a group of residents is going to tell me necessarily what to do."
Corpus said she wants to establish a Sheriff's Office Community Advisory Board to facilitate more community oversight of law enforcement activities.
Emphasizing the importance of including a diversity of stakeholder perspectives, she has proposed bringing in representatives from the northern, southern and coastal regions of the county.