For the second year in a row, Mexico's celebration of independence passed with little fanfare or acknowledgment in downtown Redwood City's Courthouse Square.
Despite initial disagreement, the Latino Community Council Of Redwood City (LCCRC)—a nine-person planning committee—ultimately decided to cancel Fiestas Patrias, one of Redwood City's most well-attended annual events, due to COVID concerns.
"Fiestas Patrias is an extremely important—and has been a successful event for many years, not just for Redwood City, but cities in and around San Mateo County," said longtime committee member Ernie Schmidt. "It's definitely an event that we will continue to do. Just in 2021, we didn't feel that it was the right thing to do."
The city reached out to the organizers back in March for a decision about whether they'd be hosting the event in September. After some discussion via email, the committee voted to hold off until 2022. Not everyone supported the decision, however.
"I was not in agreement with that," said Connie Guerrero, who has helped organize Fiestas Patrias since the beginning. "I did have COVID concerns, but it's such a beautiful celebration."
Guerrero acknowledged that the Latinx community has been disproportionately affected by COVID. According to San Mateo County's COVID dashboard, almost 40 percent of reported cases were among Latinx residents, despite the fact that county-wide only about 24.5 percent of the population identify as Hispanic. A report from the Center for American Progress published in March revealed a significantly higher economic impact on California's Latino population, noting that many Hispanic women, in particular, are unemployed or working high-risk service jobs.
But health isn't the only consideration, said Guerrero, who believed Fiestas Patrias could have been celebrated safely.
"The fact that [the city] had Oktoberfest on September 16 was something that I also heard was upsetting to our community," she said.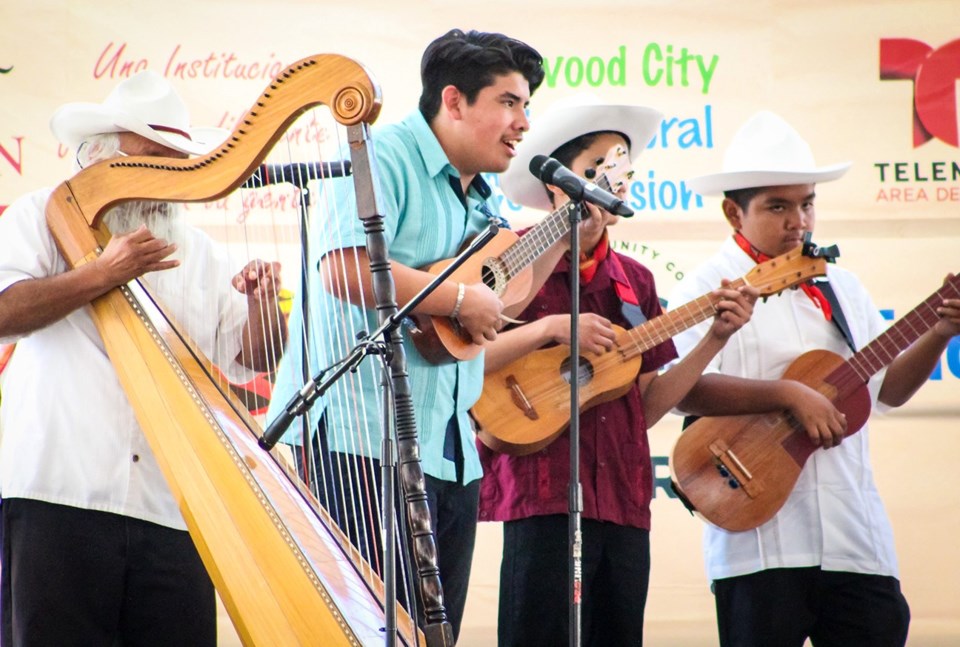 Fiestas Patrias, meaning "Patriotic Holidays," is celebrated annually on September 16 to commemorate Mexico's independence from Spain. The tradition began more than 200 years ago with a priest named Miguel Hidalgo.
"History says that night of September 15, 1810, [Hidalgo] rang the bell of his church to invite all the people of the city of Dolores to raise their flags," said Julio Huerta, Consul for Community and Cultural Affairs at the Consulate General of Mexico in San Francisco. According to Huerta, Hidalgo's so-called Grito de Dolores, or Cry of Dolores, "called for the entire population to begin the battle of independence." To this day, chants of "Mexicanos, viva México!" are an integral part of the celebration.
What has since become a fixture in the community, Redwood City's Fiestas Patrias started as a small gathering at the Veterans Memorial Senior Center. Arnoldo Arreola, now one of the leading organizers of the event, was invited to attend their celebration back in 2007.
Along with two of the other leading organizers, Guerrero and Isabel Jimenez, Arreola observed "a very small event," that was "more like a dinner." He wondered why it wasn't being celebrated somewhere everyone could participate.
"I asked [former councilmember] Barbara Pierce why that wasn't being brought out to the community, and the response was, 'are you willing to do it?'" recalled Arreola, who's lived in Redwood City since 1965. "So we said, 'Yes! If we can do this, we can put it together. Let's try it out, see if it works.'"
Arreola, Guerrero, Jimenez, and the rest of the LCCRC began coordinating with Redwood City International and the Parks, Recreation and Community Services Department to organize the city's first official event.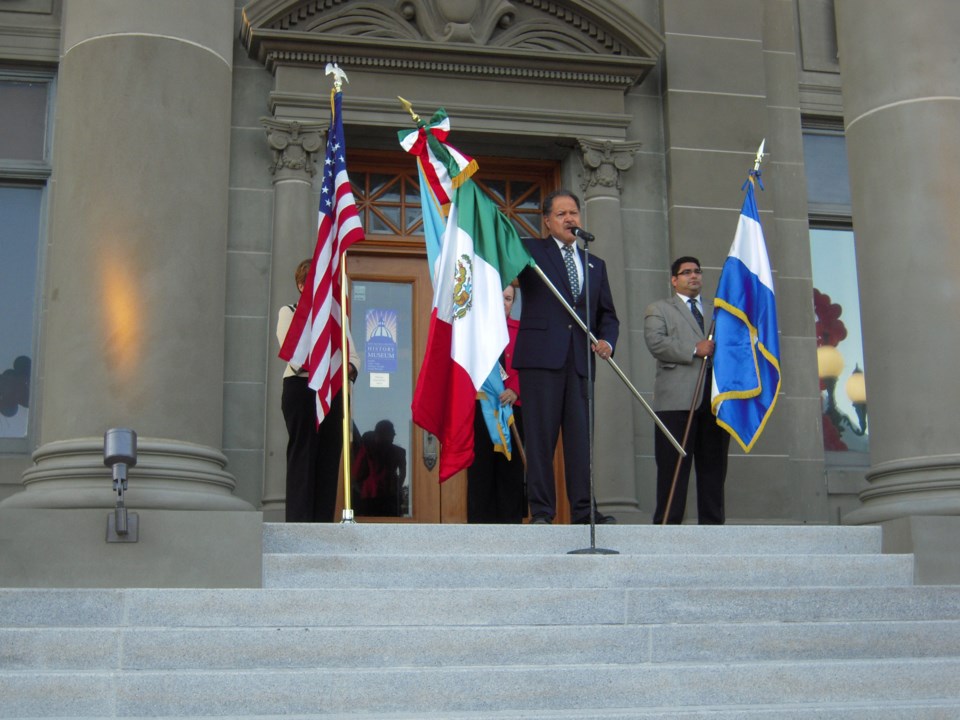 "It was chaotic," Arreola said. "It was very stressful, very tiring. There was a lot of planning to go into it."
The planning committee spent the next year coordinating with city officials, contacting performers, and designing the program, which would include an opening speech by Redwood City's then-mayor, Alicia Aguirre, performances by Ballet Folklórico México Vivo and a mariachi band, as well as civic ceremony. They also made an effort to invite other consulates, including El Salvador, Guatemala, and Nicaragua, to join them for a larger celebration of Latin independence.
The team had some money, but not much, so they asked local businesses for help. "One of our major sponsors was Chavez Market," said Arreola. "We went out into the community and raised the funds."
Then the big day came.
"We thought, when we got our permits, we would pull maybe 300, 400 people," he said. But, in the end, the turnout far exceeded their expectations. "I think it was times ten...It was a huge event. Out of the downtown events at that time, we had one of the biggest ones, if not the biggest one."
The event was a success, recalled Arreola. Despite "a few glitches here and there," he said, "it came out beautifully." The Consul General of Mexico at the time, Carlos Felix Corona, even visited from San Francisco to give a speech and lead honores a la bandera, the official flag-raising ceremony. According to Arreola, Corona promised to return every year after. "He said, 'Whenever you guys have it I'll be here.'"
Since then, thousands of people gather for the ceremony in Courthouse Square each year, while Hamilton Street becomes the main hub for vendors selling traditional crafts and food from local Mexican restaurants.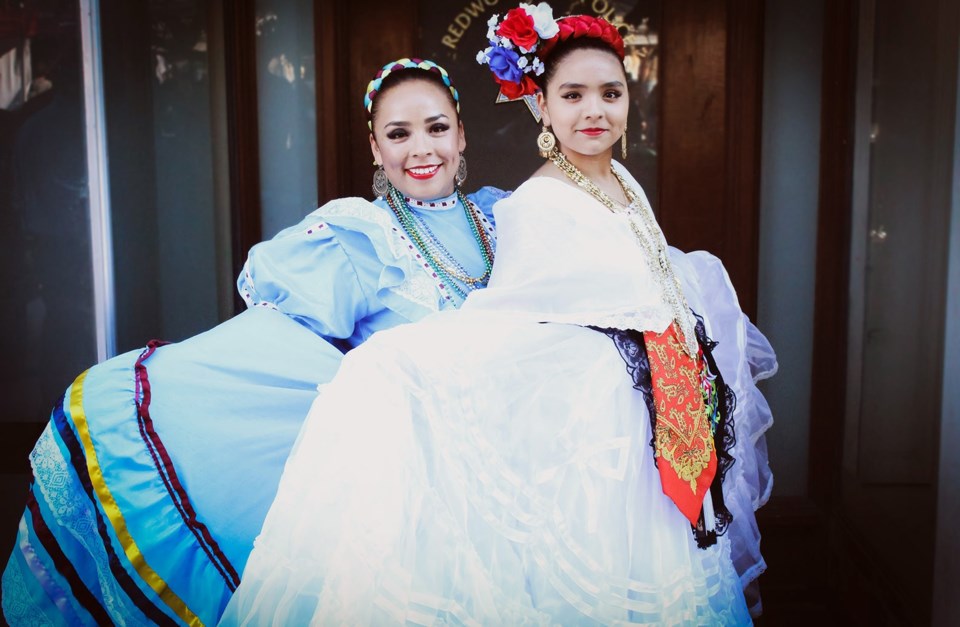 Last year marked the first time Fiestas Patrias was canceled in 12 years.
For Lucas Wilder, assistant director of the city's Parks, Recreation & Community Services, the biggest concerns were logistical. Unlike Oktoberfest, a ticketed and fenced event that occurs over the course of several days, Fiestas Patrias is more like a street festival, with some 2,000 to 3,000 people in attendance every year.
"With the size of the crowd that Fiestas Patrias typically attracts, there's no way to make that work within the footprint of Oktoberfest," said Wilder. "The tradition of the event and how it's hosted, if you were to limit and ticket it, wouldn't be quite the same thing."
Ultimately Arreola thinks canceling was the right decision. "I've had a lot of people—friends of mine—call me asking, 'why didn't you do this?'" he said. "There was a lot of uncertainty. I'm more play it safe than sorry."
But for her part, Guerrero disagrees.
"I think it was just easy for some people to say, 'No, let's give it another year,' not really thinking about how the community would feel not having the opportunity to celebrate," she said.
She added that this is a reminder of the work still to be done.
"There's an ongoing struggle in our community," she said. "We need to make sure that we have people that are raising those concerns and raising our voices."
Though Arreola hasn't started planning next year's event yet, he promises to deliver: "It'll probably be big."
~
Leah Worthington is the lead reporter at the Redwood City Pulse, a local news site dedicated to providing accurate and timely news to the Redwood City community. Leah can be reached at lworthington@rwcpulse.com, on Twitter, and by phone at 650-888-3794. To read more stories about Redwood City, subscribe to our daily Express newsletter on rwcpulse.com.